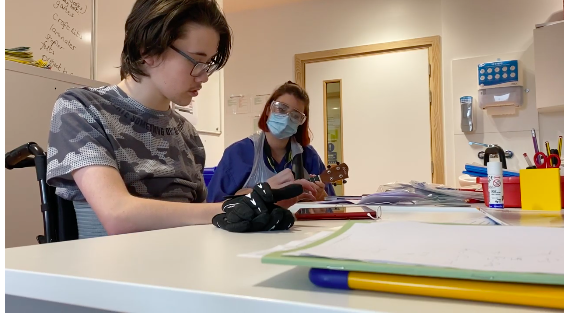 "When I first met Ethan he wasn't enthusiastic about music,
was quite closed and I was told that his mood had been low."
Music as Medicine is a partnership project with Alder Hey Children's Hospital, delivering participatory music sessions for long term patients. The aim is to improve patients' quality of life and musical skills during their stay in hospital. Eleanor Mills, bassoonist and member of the LMN group Chameleon, joined the team of LMN musicians working in Alder Hey in September 2019.  New to working in a hospital setting, she was mentored by LMN musician Pip Bryan for 6 months before leading her own programme of one-to-one sessions with individual patients. During the project, Eleanor worked with Ethan at Alder Hey Children's Hospital for 7 weeks. In their first session, she introduced him to GarageBand on an iPad. Ethan became incredibly enthusiastic about making music, and shared with Eleanor the fact he used to play guitar. This kickstarted an iPad studio session, during which they worked together to record the James Bond theme tune.
Ethan then started composing his own songs, choosing and playing the chord progressions, creating his own drum beats and bass lines, then exploring melodies. By the end of the collaboration, Ethan was creating and editing parts on the iPad and playing the keyboard for the first time.
"It was incredible to see the difference in his confidence and enthusiasm from his first week
and he picked up notes and chords extremely quickly, playing over his own track."
Over the seven weeks, Eleanor and Ethan built up a good relationship, and Eleanor says it was "extremely rewarding" to watch Ethan's confidence, interest and willingness to try new music and instruments grow. "For someone who does not always express his emotions in many words, his early feedback card said it all."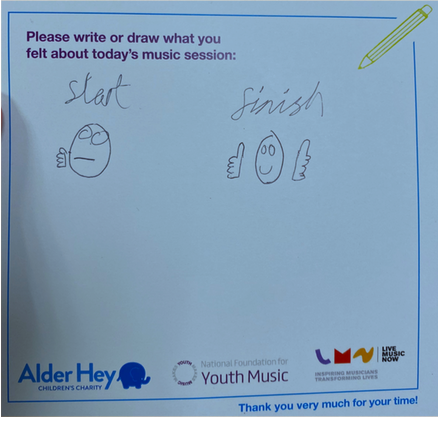 Ethan's improvement in mood was often commented on by Alder Hey staff,
and music is now something he wants to actively carry on in the future.
"Over the project I've seen incredible changes in his attitude and abilities in music. He has told me several times that he looks forward to the sessions and they have a noticeable change on his mood."