In May 2021 two celebratory concerts rounded off a collaboration between Live Music Now and Apple Blossom Lodge, Armagh in Northern Ireland, a home for men with a range of complex mental health issues.  
The concerts were held as the culmination of a pilot programme, funded by Arts Council of Northern Ireland's Arts and Older People Programme, exploring how music could be delivered remotely on a one-to-one basis.  Musicians Deirdre Galway and Louis McTeggart held six weekly musical sessions via Zoom, working at an individual level with four residents, supported by staff. iPads, loaded with accessible apps were also provided, and within days, men in their eighties were using GarageBand. Other residents were facilitated to access music online, with Live Music Now's weekly Facebook livestream 'Music in Care' and other resources.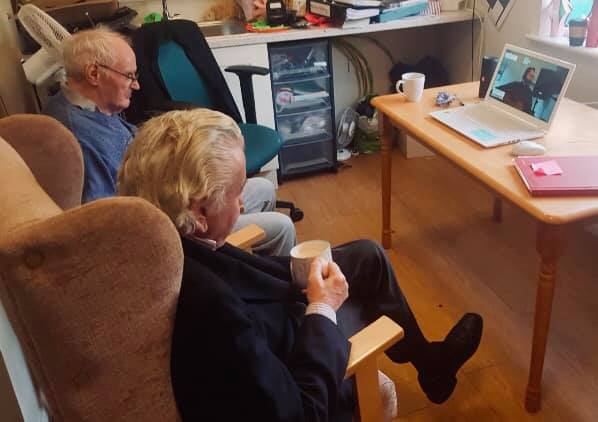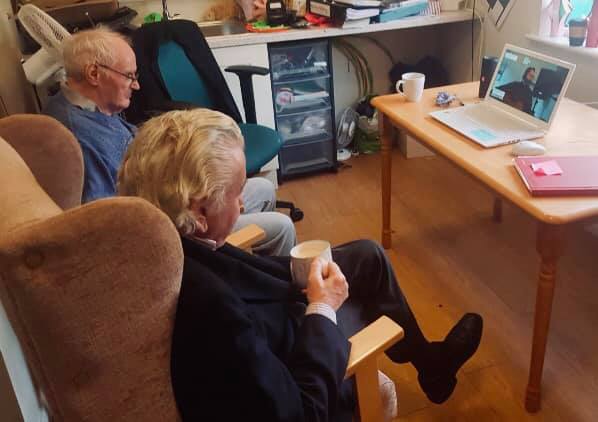 Participants take part in an online session led by Louis McTeggart.
The musicians were mentored by Gary Day, who worked with them to overcome some of the technical issues and developed their confidence to adapt their practice for one-to-one delivery.  
Live Music Now and Apple Blossom Lodge worked closely with Gary and the musicians to evaluate the sessions with an external evaluator, Dr Sarah Mawby. This report is now available to read here.
Designed to improve mental health and wellbeing, stimulate social interaction between residents and provide the men with a sense of agency and purpose, the project exceeded expectations with some remarkable results. 
Through Deirdre's repertoire of Irish traditional music and Louis' guitar-playing, residents became highly engaged and looked forward to seeing the musicians. Rather than the screen acting as a barrier, it allowed for connection between musicians and residents, and meant Live Music Now could continue delivering its work at a time when in-person visits were not possible. The residents took their digital tools and turned them into instruments: one rediscovered his musical past through a steel guitar app, playing along with Louis and writing five songs of his own during the project…
"

It has taken him to a place with music he thought was lost forever."

                                                                                             
Another surprised staff by bringing out and playing on a real harmonica. Below, a family member of one of the participants told Live Music Now…
"It's the one thing that he's been involved in, in the five years since he's been here."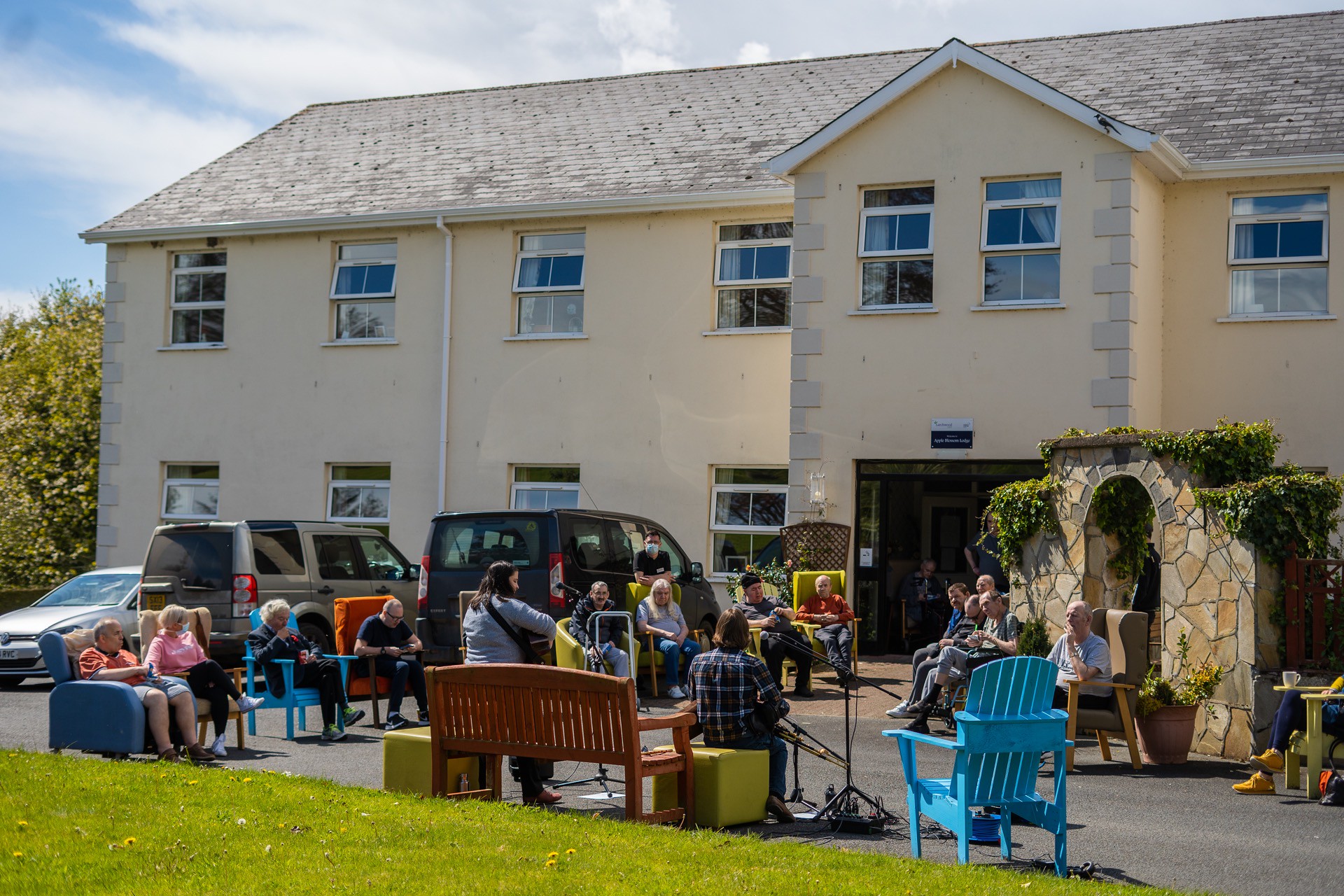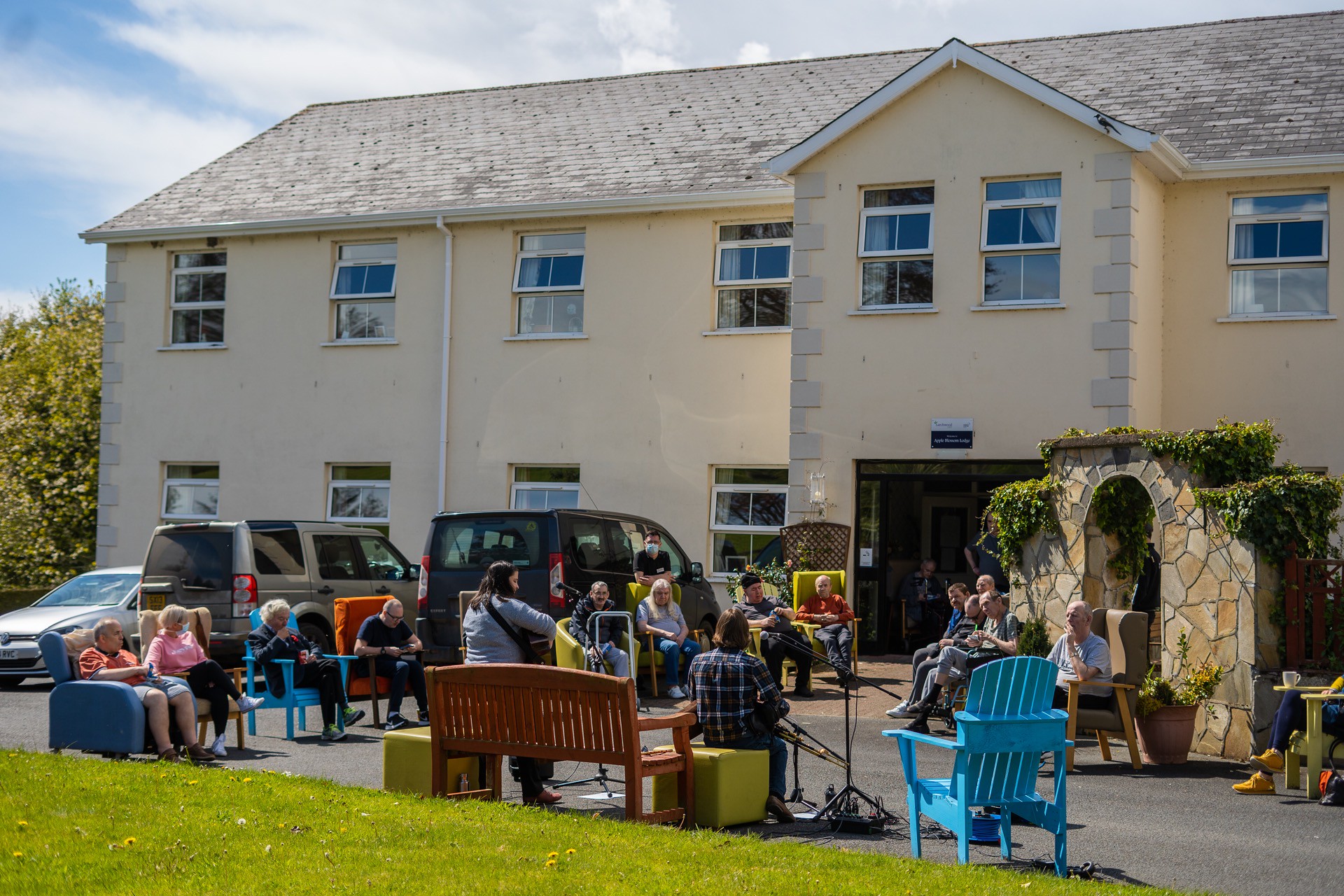 Residents of Apple Blossom Lodge enjoy the sunshine and a performance by Deidre Galway and Conor lamb in 2o21.
The benefits across the entire care home were astonishing. It offered residents a sense of purpose and motivation, and care home staff commented that the project had "encouraged social interaction between the residents through music." Staff also mentioned there had been "a lot less disruptive behaviour", freeing them up to provide better care for all residents. Working closely with the four, staff were able to build up rapport, while expanding their care toolkit at the same time. It also boosted staff morale, with one member commenting: "It puts you in a good mood as well, because you're sitting there and bopping along."
The impact long outlasted the visits, and staff told Live Music Now"They're still singing!" 
 The impact on one individual in particular was remarkable. At the outset the staff's expectations were very low with how this man would respond or engage. He typically avoids social interaction, can be volatile and neglects personal care. Not only did he respond to the music sessions, and take part in every one, he became cooperative and indeed proactive in his personal care. When the musicians came to the centre for an in-person performance, he came downstairs to meet Deirdre and staff said the encounter was profound and moving.   
The project was rewarding for musicians too, providing them with work in a difficult year and the experience and skills required to translate their musical offering and communicate through a screen. After playing with the man who used his steel guitar app to engage with the music, Louis said it felt more like jamming with a fellow musician than playing to a participant. 
Louis McTeggart played a live performance to residents of Apple Blossom Lodge, a number of whom participated eagerly. 
Conclusion
The project with Apple Blossom Lodge demonstrates the success of online music-making when conducted one-to-one with staff support. The provision of iPads became an important aspect of the project too. Live Music Now are now working to secure further funding to continue the project.