Donate
Donations are the simplest way to help us bring the gift of music to those whose circumstances would otherwise deny them the benefit.
There has never been a better time to support Live Music Now!

How to give
Making a donation to support Live Music Now couldn't be easier. Please visit www.justgiving.com/livemusicnow to pledge your support, and don't forget to add Gift Aid if you are a UK taxpayer. It doesn't cost you any more, but increases the donation Live Music Now receives by 20% as it allows us to reclaim basic tax on your donation.
You can personalise your donation by specifying a particular area of benefit – either a social group, a group of musicians, or a geographical location. You can make a gift in memory of a loved one, or to celebrate a life in music. Making a donation couldn't be easier. You can send us a cheque made out to Live Music Now and send it to Live Music Now, West Wing, Somerset House, Strand, London, WC2R 1LA. Or you can donate online.
A regular gift is the most powerful way to ensure lasting benefits for the people we work with. Make a regular donation by completing and returning our Standing Order Form.
You can also make donations to Live Music Now everytime you shop online through various websites, at no extra cost to you. We've put together a simple guide to show you how.
What your donation supports
could pay for a musician to attend a training event on working with older people or children with special educational needs.
could pay for a mentor to attend the first performance by a new LMN ensemble.
could pay for a concert by a soloist in a residential home or special school.
could pay for an LMN ensemble to visit an isolated rural community, where people are affected by loneliness issues.
could pay for two performances by LMN musicians in a residential home or special school.
Why help LMN?
With the number of older people living in the UK increasing, and the ongoing rise of cases of dementia, many people are losing their connection with the world around them. Through their participation in LMN performances, they are able to reconnect with life, as songs and familiar tunes unlock memories, experience periods of lucidity and recognition of family members all of which improve their wellbeing.
Children with special educational needs are restricted from many of the creative and musical opportunities mainstream children take for granted, due to their specialist support needs, access issues and disabilities. LMN is able to provide these musical experiences and creative learning opportunities in a supported school environment enabling every child to meet their full potential as creative music-makers.
Emerging professional musicians are facing the most challenging employment situation for a generation and many exceptionally talented musicians may leave the profession due to economic challenges. LMN can help to prevent this by providing musicians with the training, support and paid performance opportunities they need to establish themselves, and continue to contribute to the vibrant cultural life of the UK.
By making a donation to LMN you can help address all these challenges, and help us to continue inspiring musicians and transforming lives.
Payroll Giving
Payroll giving can be one of the most tax efficient ways in which you can support LMN and the groups we work with, as you will benefit from the maximum tax break available.
If you want to support us through your payroll, you will need to talk to your employer to check out the arrangements they have set up.
You then agree with your employer that a specified amount will be deducted from your pay each month (or whenever) before tax is calculated and then donated to the specified charity. The deduction is made after the calculation of National Insurance Contributions (NIC) but before the deduction of Pay as You Earn tax (PAYE). In effect, you will get the entire tax relief on the donation straight away at your top rate of tax.
To encourage companies to set up Payroll Giving schemes for their staff, the Government set up the Quality Mark scheme to recognise and reward employers. The Payroll Giving Quality Mark programme was launched in January 2006. The programme recognises and rewards organisations for making Payroll Giving available to their staff.
Give a Gift of Shares
Donate shares the easy way. Giving shares allows you to offset the market value of the assets against your income before calculating tax, and you won't be liable for any Capital Gains Tax.
Contact Emily Roberts on 020 7759 1803 or email [email protected] to find out the simple and safe way to give shares, or contact HM Revenue and Customs for more information.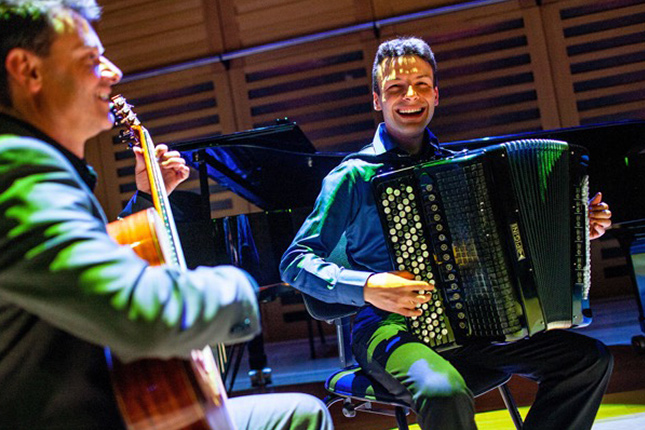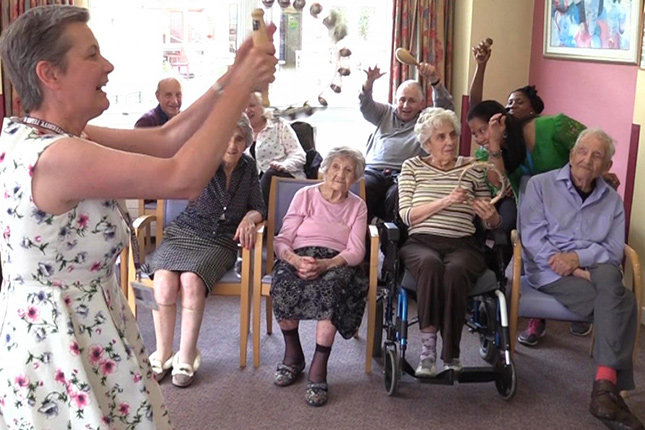 Help Live Music Now to reach more people by fundraising for us with family, friends and colleagues. Fundraising could be as simple as organising a coffee morning, or as wild and wonderful as a sponsored dance-till-you-drop.
The Just Giving website is full of ideas to have some fun and raise money for LMN's work.
Christine McNeal walked 192 miles from St Bees to Robin Hood's Bay in two weeks, raising over £450 for Live Music Now by setting up a challenge page on Just Giving.
"I chose Live Music Now because I'm a musician and I know what a difference music can make to your life – especially live music. I sing with the Halle choir and have played in orchestras and bands of various sorts, so would love to think that the money I have helped to raise has helped some people be inspired by music." Christine McNeal, LMN supporter
A legacy allows Live Music Now to continue its work for generations to come.
Leaving a legacy to LMN brings long term benefits, whether for a single participatory performance or a year of music events in a care home.
Legacies are tax efficient, and are deducted from your estate before inheritance tax is calculated.
There are various types of legacy that you can make. If you would like to talk this over with us, please contact us on 020 7759 1803 or [email protected]
Gift Aid allows us to claim the income tax you would pay on your donation. If you are a lower rate taxpayer, a £50 cash donation could be worth £62.50 to LMN, and if you are a higher rate taxpayer, your donation of £500 to LMN could be worth £625 to LMN and yet only cost you £375. All you have to do is to print and complete the Gift Aid declaration and send it with your donation, or indicate that you agree to Gift Aid being claimed when you donate online.
Making a donation couldn't be easier. You can send us a cheque, made out to Live Music Now, and send it to: Live Music Now, West Wing, Somerset House, Strand, London WC2R 1LA.
Alternatively, you can donate online, or make a regular donation by completing and returning our Standing Order Form.