Live Music Now is part of a movement bringing creativity and the arts into healthcare environments, enhancing the well-being of patients, visitors and healthcare professionals alike.
Our evaluation data of our work in Hospital public and ward settings shows:
Improvement in patient, visitor, staff mood & general atmosphere;
Reduction in patient feelings of isolation/ loneliness & anxiety;
Increased patient engagement indicated by smiling and positive interactions with others;

Below, Live Music Now musician Henry Webster talks about his experience working at North Middlesex University Hospital and Basildon University Hospital and the people he met while doing so, in Summer 2023.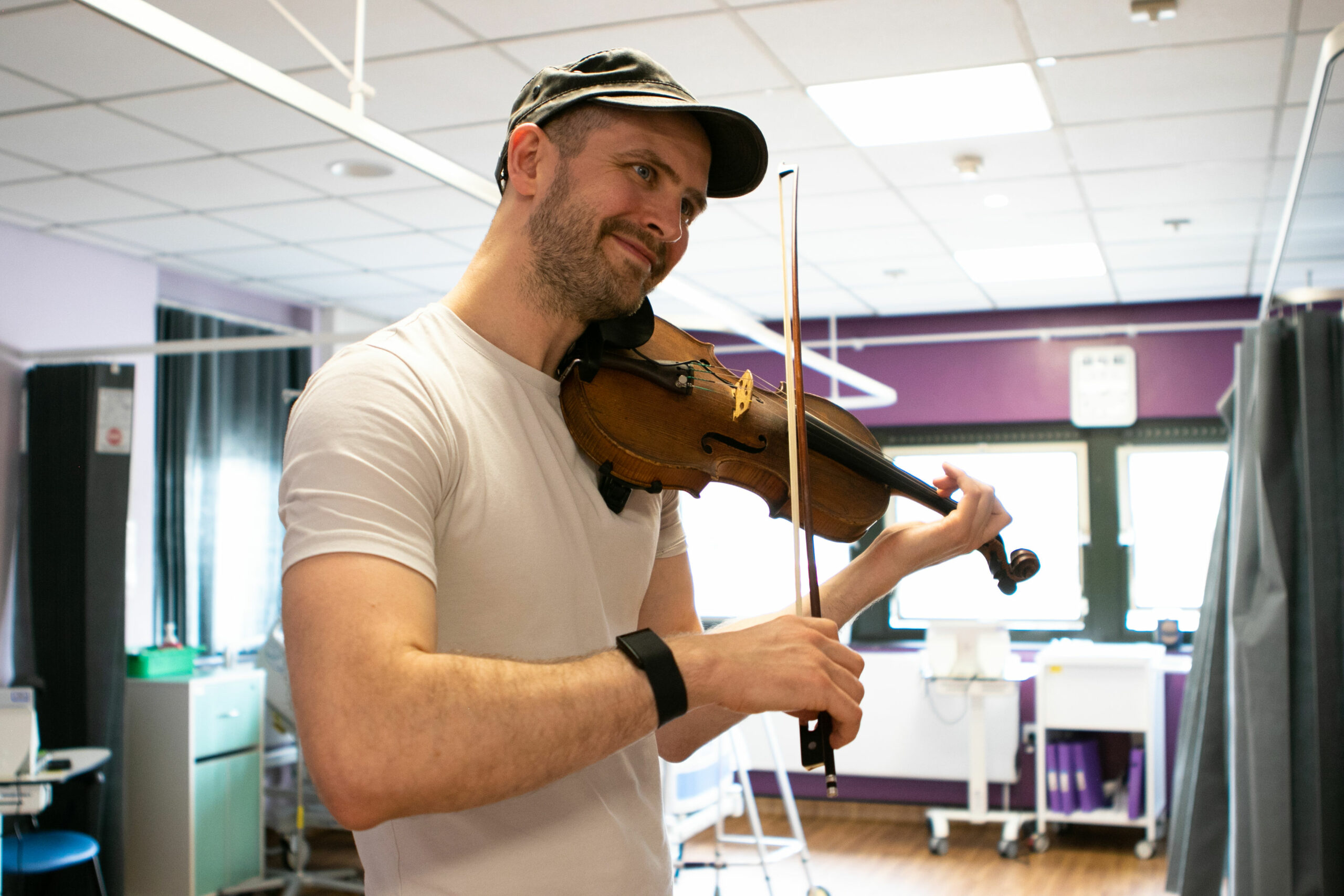 Henry writes:
'In this line of work whether it be in clinical, special education or care settings, it isn't an exaggeration to say that every single day we see incredible responses from participants. In my experience, some of the most profound responses have come from work in hospitals.'
'At North Middlesex University Hospital… as the weeks have progressed, it is evident that word has spread that there is a violinist visiting the wards. When I arrive, the staff seem to expect me and are very forthcoming with trying to direct me to certain patients they feel would benefit the most. This additional reassurance is always a welcome reminder that my work is having an impact as, despite having done hundreds of concerts in hospitals at this point, the nerves are diminished very little from when I did my first hospital performance years ago.'
Below, Henry reflects on musical interactions that took place during the hospital residencies.
Music For All Tastes
A couple of ladies requested some very pianistic pieces that were definitely not suitable for the viola. (They were good sports, so I told them how darned awkward they were for making such requests!) I often offer people the options of "something more energising or something more calming" to give people a sense of autonomy over what is going on in their space. In this instance, I played them some very happy and energetic folk tunes. When I wandered over to an older gentleman opposite who was sitting in a chair opposite, he was forthcoming with the fact he "only likes classical music". I got the sense that he thought I could only play folk music (and would really rather that I didn't). He didn't have any specific request, so I suggested some Bach which he was very happy about. I played him the Andante from the Violin Sonata No. 2 in A Minor. To me, this piece feels like the closest thing to prayer without words. This evoked a very strong emotional response from him. I could hear him sob as I played. When I finished, he was incredibly thankful.
A Chance Musical Encounter
I got a bit lost looking for the ward I was meant to be playing on and happened to meet a lovely and very sharp older lady called Anne who was playing the piano in the main atrium. I chatted to her briefly and we played some pieces from the book of organ music she had been playing from. They were received with great applause from nearby members of the public who seemed to delight from this spontaneous performance as much as we did! It was just such a joyous, wonderful bit of serendipity, and Anne was a total delight to meet and play with – so positive, warm and musical.
A Conversation About Metal
Sometimes the interaction is as much about the conversation as it is about the music. During one visit, I met a teenager who was knitting, her mum at her bedside. She was initially very shy, but I did my usual combination of a bit of friendly chatter and playing some music, and she slowly came out of her shell. We talked about music, that she was into metal. Her confidence grew throughout our conversation to the point where she manage a little snigger when I mentioned the sort of bands I was into at her age. She said that she wanted to learn the electric guitar, and I encouraged her enthusiastically while also reassuring her mother that you can play loud guitars silently through headphones.
Unlocking A Hidden Voice
On a ward for adults with dementia, as soon as I entered the room, gently plucking my instrument as I always do, one gentleman started singing excitedly, so I accompanied his simple song on the viola. There were three other patients in his room, and he wanted me to play to another man who he thought would like it.
"He hasn't got long left" he winked to me in a whisper. So, I played and he sang very beautifully for quite some time. I would play something, then we would do something together, and this went on for well over half an hour. Eventually the man the other side of the room recognised what was going on, and that we were playing specifically to him. He opened his eyes and smiled. Judging by the reaction of his family who came in later, this was a brilliant response. When I left the bay, I asked the nurses whether the singing gentleman usually sang, to which they replied "no". I left the ward with his voice still echoing down the corridors.
A Shared Moment With Music
Toward the end of an afternoon, I wandered past a side room and looked in. A lady in her 60s gave me an inviting smile back, so I came in and, after her request of "something calm", played her a version of The Lark Ascending by Vaughan Williams. I fully committed to this performance and, if I may be so bold, it showed. She closed her eyes and lay her head back on her pillow with a smile on her face as she let the sound drift over her.
"That was beautiful" she said at the end.
"Isn't it such a beautiful piece?" I replied – I usually try to position myself as a third party between the patient and the music. I feel this facilitates a deeper interaction with the music – particularly in one-to-one interactions like this – as it then becomes a shared experience where we are both participating as the audience.
"Yes, absolutely beautiful" she beamed.
Of the Critical Care Unit at Basildon University Hospital, Henry said: 'The setting… has proven particularly challenging – all but four of the beds are all in the one long room, which means that the sound of the music drifts from one end of the room to the other and takes away the element of surprise I would usually have when I entering a bay, for example.'
A Surprisingly Pleasurable Interaction
On my first visit to this ward, there was one patient who the staff later told me they were quite nervous about me seeing as he had been quite difficult at times due to his having Asperger's Syndrome. They hadn't warned me about this, but we had a great time; I would never have known. He asked me to play some things that I really couldn't play – metal music really isn't something one violin can really do any justice at all – but I played him various things that were unfamiliar to him which he enjoyed, as did the friend who was with him. He was also surprised that he liked it, expressing how much better it was than he thought it was going to be. This is quite a common response, albeit one that's not usually delivered quite so directly. Comments such as "I actually really enjoyed that" or "I don't really listen to violin music but that was lovely" would seem to indicate that even those who are initially sceptical find the interaction meaningful and beneficial.
The Healing Properties Of Music
On one occasion, I met a lady who was at her husband's bedside. He had been mostly non-communicative for the past two weeks. She told me that they had sat in a restaurant in St Mark's Square and watched someone playing the violin when they were on holiday in Venice – so I played some of the classical favourites that would have been the sorts of things a busker might have performed. She also mentioned a trip they took to Ireland, and I played them some Irish tunes too. The man made very slight movements with his hand, clearly an attempt to clap along to the music. I left them to see other patients, and when I walked past his bed again twenty minutes later, he was sitting up in bed surrounded and encouraged by delighted members of staff.
But Can You Play…?
One characterful patient was rather sceptical the first time I met her and her son. But she was impressed enough in our first meeting that the following week she had some requests, or "challenges" for me – some pop songs that I no longer recall. She was there again when I next came to visit the ward and was very forthcoming with suggestions of things to play. It was as though she had been waiting for me to return so she could make more requests to try and test me. On this occasion she was very grateful that I made attempts to play what she had requested and was very receptive to some additional suggestions of less familiar music. It was nice to meet the same patient and be able to build a relationship with them over the course of several weeks.
Reliving A Musical Childhood
I met a woman in her mid-30s who was very happy to see someone playing music on the ward. She requested I play her some Disney songs. She told me how she did lots of musical theatre performing as a teenager, so I also played her various pieces from musicals too. We talked for a little while about music, art, theatre, and our shared appreciation of classic Disney, and for a short while she was some place other than a hospital bed. She requested "A Whole New World" from Aladdin, which she tearfully filmed me playing to her.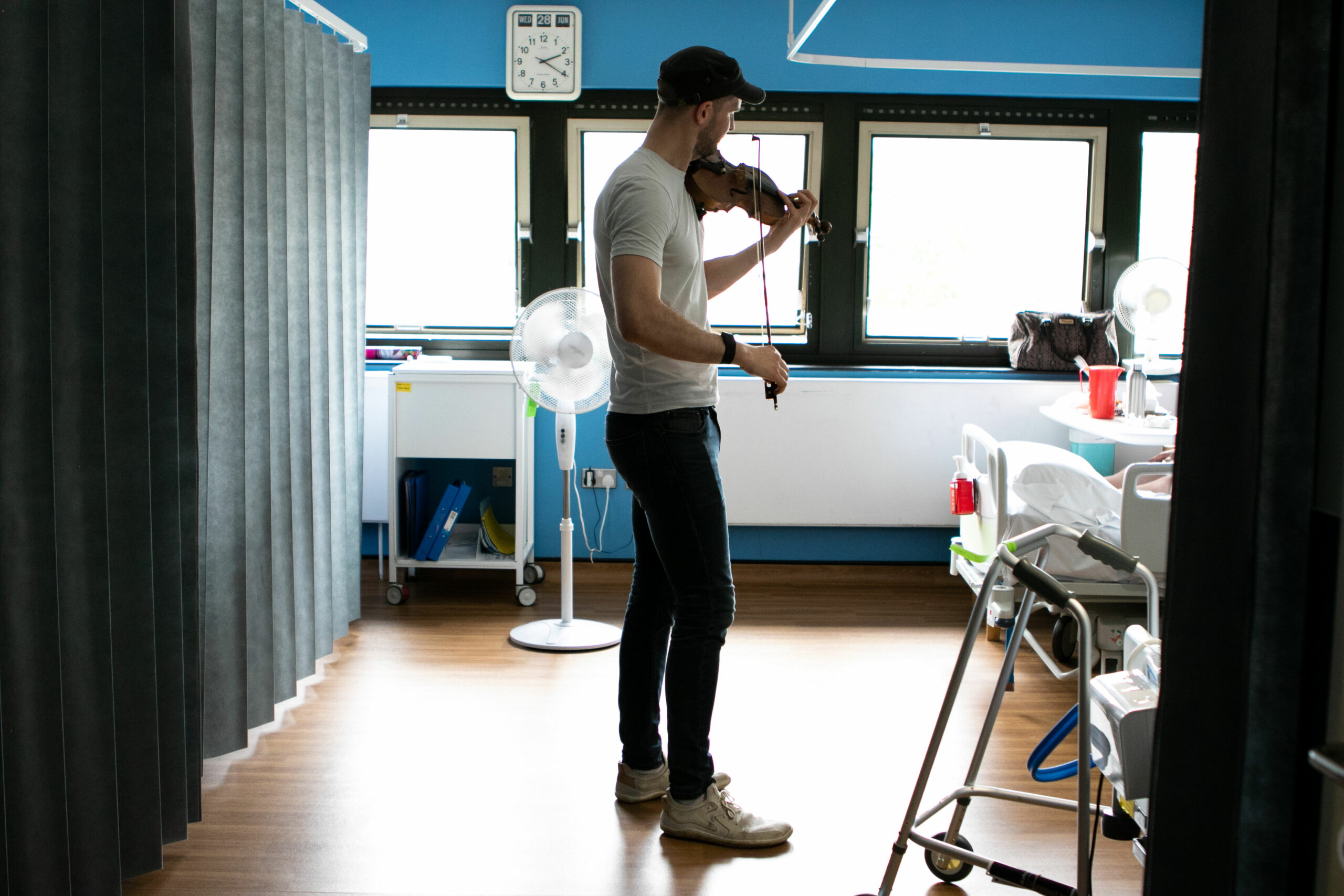 Deep Success With A New Approach
For one of my sessions, instead of playing known repertoire or take requests, I chose to improvise everyone their own piece of music. Sometimes I told them this was what I was doing, other times I didn't, but either way, these were some of the most successful interactions. I think one of the reasons music can be so powerful is because it can transcend the specificity articulated within language, and instead works at the level of something deeper, something we might call spiritual. So much of communication is beyond spoken language. Sometimes in places like hospitals, it can be difficult to find words which are consoling, genuine or able to lift people out of their suffering and into a moment, but through this approach these patients were able to connect with this stranger with his viola and be momentarily someplace else.
Feedback about Live Music sessions:
Music in CCU made me feel 'very happy and positive.' DF, patient
'Music was enjoyable and the Musician was a nice bloke.' DS, Patient
'Very nice to see my Uncle smile after everything he has been through. Fantastic idea and Henry the musician was lovely.'  Patient's next of kin
'Lovely and very soothing, really enjoyed it.' 75yo female family member
'Music was unexpected and a pleasant relief.' 75yo male patient
'I'm in so much pain but you cheered me up.' 66yo male patient
'YOU MADE MY DAY' 'Sensational and melodic.' Patient in bed 13.
'Made my day too. Many thanks.' Nurse looking after patient in bed 13