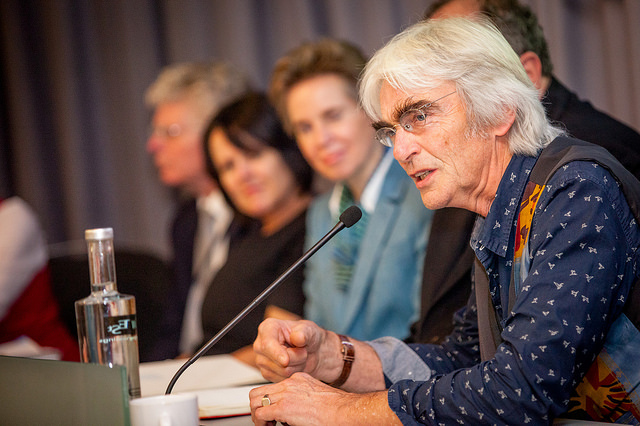 Live Music Now at the Royal Society of Medicine – 16 November 2015
Professor Grenville Hancox, Artistic Director, Canterbury Cantata Trust, UK
Grenville Hancox suggested that singing for people with motor disorders especially those with Parkinson's offers physical, emotional and psychological support. Drawing upon six years developmental work and research he presented evidence to suggest that not only pleasure is derived from singing but positive personal changes that are not the result of pharmalogical intervention.
Selected video links showed during the presentation included:
Biography
Professor Grenville Hancox has enjoyed a long career in music education, performance and research. As Head of Department and Professor of Music whilst at Canterbury Christ Church University he collaborated in ground breaking research with Professor Stephen Clift and as a consequence co-founded and directed the Sidney De Haan Research Centre for Arts and Health. Six years ago he founded with colleague Roger Clayton Skylarks, a singing group for people with Parkinson's. After leaving the university he founded the charity, Canterbury Cantata Trust, with the strap line "caring through singing". He has co-authored publications concerned with singing and wellbeing and continues to work to realise his dream of singing on prescription. Awarded the MBE for services to music in 2005 he is Honorary Professor of Music and Wellbeing at the University of Kent.
References
1. Dunbar, R., Gamble, C. & Gowlett, J. (eds) Lucy to Language: the Benchmark Papers. OUP 2014
2. Gamble,C., Gowlett, J. & Dunbar, R.: Thinking Big: The Social Evolution of the Modern Mind. Thames & Hudson. 2014
3. Dunbar, R.: Human Evolution. Pelican. 2009
4. That et al; Neurologic Music Therapy Improves Executive Function and Emotional Adjustment in Traumatic Brain Injury Rehabilitation
5. Abel, Charmers and Baird Group singing in Parkinson's: A qualitative study of Quality of Life
6. Clift,S.,Hancox.G, (2001)The perceived benefits of singing: findings from preliminary surveys of a university college choral society .  Royal Society Promotion of Health