Since March 2012, almost four hundred older people across Northern Ireland are re-living happy memories every month, thanks to Live Music Now Ireland's Music and Memories programme.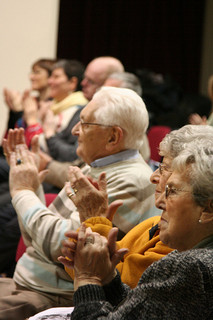 Courtesy of a generous grant from the Arts Council of Northern Ireland's Arts & Older People workstream, 120 musical sessions will be delivered at ten venues across NI over the course of a year. Six venues are residential care homes, looking after people with the broadest possible spectrum of age-related needs. Four venues are Rural Community Networks (RCNs), which facilitate regular social gatherings for older people living independently.
Naturally, the programme aims to give pleasure to those attending the sessions and to build experience for LMN's talented young alumni. However, it it also seeks to measure in some detail the impact that engaging with music has on older people's emotional wellbeing.
Participants – in some cases with help from their carers – completed an anonymous entry questionnaire at their first session, which asked them to rate how confident they felt about engaging with the arts, as well as some personal questions about their emotional wellbeing, with particular emphasis on mood, isolation and loneliness. Exit questionnaires will revisit the same themes when the programme ends in March/April 2013, and it is hoped that there will be a marked improvement in how much enjoyment participants are getting from life as a result of the LMN sessions.
Venues were carefully selected in close liaison with the RCN as well as via an analysis of Northern Ireland's care home demographics, to ensure to ensure that the highest areas of need were being catered for.
"Northern Ireland has a high percentage of people living in rural settings", said LMNI's Regional Director Ian Antsee. "For older people living independently, this can lead to severe isolation and loneliness, as socializing involves travelling several miles to the nearest village and can be even more difficult in winter months".
"Residential care homes catering for older people from these rural settings often have populations drawn from a wide geographical radius with no shared history, which can lead to severe loneliness and disorientation, even in a busy and cheerful care setting."
Thankfully the Arts Council, the RCN and the staff of rural care homes are alert to these problems and are taking steps to address them through dedicated funding of projects, events and – crucially – transport, to help older people stay connected.
"We know from our residents that they often want to be socially engaged but may have lost confidence in the period leading up to them coming to live with us", said Glendun Residential Care Home Nursing Manager Roisin McKay. "Music is a fantastic way of breaking down barriers and helping people who are feeling lonely or isolated to come together through sharing the experience of being part of an audience.
"It also helps them relive and remember happy times in the past, which in turn can stimulate conversations and lift their mood for days", added Roisin. "We call our Live Music Now session days "Happy Saturdays!"
The programme is being delivered by two of LMNI's hardest-working ensembles: the Victoria Geelan Trio, specializing in jazz and swing, and the Brown O'Boyle Trio, specializing in traditional Irish music. Both groups are working hard to meet the requests of their increasingly engaged and participative audiences, tracking down long-lost tunes and ballads from the dancehalls and radio waves of yesteryear.
"When we began the programme, we thought we might be playing the same material month after month", said composer and pianist John Leighton, a member of the Victoria Geelan Trio. "Instead we're constantly being kept on our toes by audience challenges to find a song someone loved in their youth and have it ready to perform at the next session. It's great to see audience members growing in confidence and visibly enjoying the sessions more and more."
"We look forward to seeing some very useful data at the end of the programme", concluded Ian, "and meanwhile we're all thoroughly enjoying the process".
Watch this space for an update at the end of the project in the Summer.