At the launch of Live Music Now's 2020-21 Annual Report, new CEO Janet Fischer and Executive Director Nina Swann outlined the lessons learnt during the pandemic and a radical new way of working for the 44-year-old organisation, which leads the field in creating transformative musical experiences for older people (many living with dementia), children facing disabling barriers, families living through challenges, and carers and key workers supporting others. As one of the nation's biggest employers of freelance musicians, Live Music Now sets out to enable the nation to lead musical lives.
"The impact of COVID-19 has not only dramatically affected our work in the short term but has triggered a reappraisal of the needs of the communities we serve and the way in which we serve them"
"We needed to think afresh about the wider sector in which we operate and tackle some of the key issues our participants and workforces experience. Crucially this means developing new and existing partnerships, diversifying, and increasing the resilience of our workforce and organisation, and taking our place as a national voice for change. After several months of consultation internally and with partner organisations, public agencies, and communities at large we have developed an ambitious new Strategic Intent for Live Music Now." – CEO Janet Fischer
At the heart of the new Strategic Intent is the belief that Live Music Now is an organisation that delivers transformative social impact through music. It creates this through its most valuable asset – its 230 professional musicians – together seeking to serve the ever-increasing need from communities facing social exclusion and disadvantage, both across the UK and internationally.
Live Music Now's vision is to become a recognised leader in positive, lasting social change by harnessing the connective power of exceptional music.
This will be achieved this through three commitments:
Supporting the musical lives of people experiencing challenging circumstances, disadvantage and social exclusion.
Developing and supporting a workforce of professional musicians to ensure quality of practice and the best outcomes for the communities served by Live Music Now.
Advocating and evidencing the transformative benefits of live music on learning, development, health and wellbeing.
"Through engaging experiences, our musicians inspire and support people to live musical lives and to find happiness through liberating musical encounters creating life-affirming memories."
"Live Music Now was founded by musician Yehudi Menuhin and philanthropist Sir Ian Stoutzker, with a belief that everyone has a right to live fulfilling musical lives. Today Live Music Now's work is underpinned by research, cross-sector partnerships, advocacy and the professional development of musicians across England, Wales, Northern Ireland and in the international community."  – CEO Janet Fischer
This change in focus will be driven by five key national projects working across England, Wales and Northern Ireland.
Inspire – Live Music Now's flagship project working with special education school provision and Music Education Hubs/Services across the UK to provide residencies and workforce development that improve opportunities and quality of life experiences for disabled children and young people with additional learning needs.
Live Music in Care – Live Music Now's residency model with a workforce development framework for Adult Social Care settings which aims to make care settings happier places to live and work.
Lullaby Project (in partnership with Carnegie Hall) – Pairing musicians and new parents, the Lullaby Project focuses on perinatal mental health and supporting families facing complex challenges which will expand nationally with further NHS partners.
Songs & Scones – A community-based monthly concert model bringing together isolated and lonely older adults through partnerships with voluntary sector organisations and local authorities to support healthy, safe, independent living for older community members.
Including Me – One-to-one sessions delivered by Live Music Now musicians for families and individuals experiencing challenging circumstances including older men in care settings and families with children with additional learning needs and mental health challenges.

 
At the launch event, Janet Fischer was joined by members of the Live Music Now team and key partners representing a cross section of the charity's work including: Sir Vernon Ellis, Chair of the Live Music Now Board of Trustees; Nina Swann, Live Music Now Executive Director; Karen Irwin, Live Music Now Strategic Director for Children and Young People; Sarah Withey from Dalemead Care Home; Craig Stephenson from South Wales Gay Men's Chorus; Jo Ward from Cheshire and Merseyside Women's Health and Maternity  Partnership; and Live Music Now musicians Jali Bakary Konteh, Conor Lamb and Dierdre Galway of Réalta.
Douglas Noble, Live Music Now's Strategic Director for Wellbeing also launched Live Music Now's 2021 Christmas fund-raising campaign, focused on expanding its Songs and Scones events across the UK.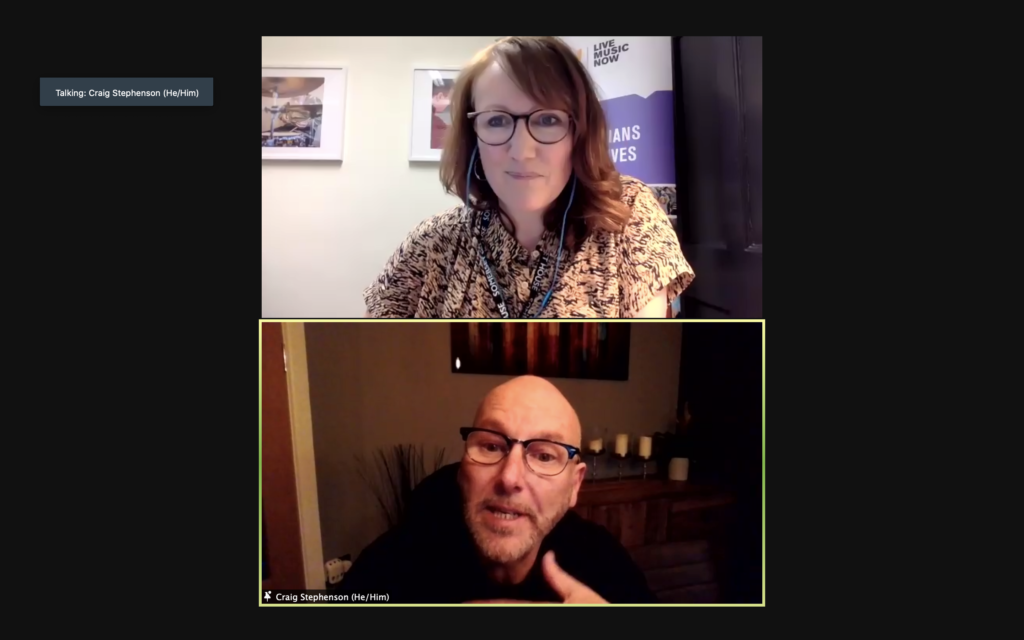 Links and resources:
Watch a recording of the launch event here.
2020-2021 Year in Numbers