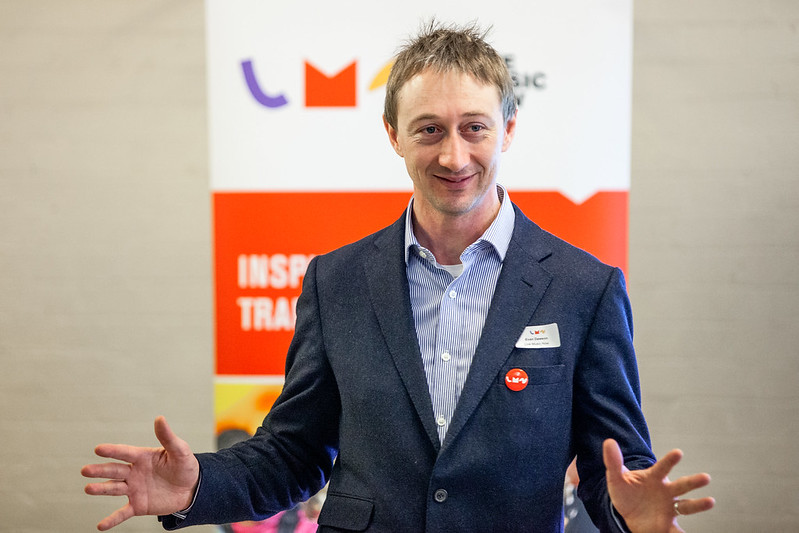 Evan Dawson will shortly step down as LMN's Executive Director, after seven years in the role.
During Evan's leadership, the organisation has come a long way. It has delivered over 27,000 music sessions, working with over 1,000 professional musicians, reaching over half a million older people and children with special educational needs and disabilities.
The content of this work has changed significantly, in response to partnerships with academic and sector-leading organisations and practitioners, with a much greater focus on evidence-based practice for people living with dementia, autism, loneliness and other challenges; whilst also preserving the innate creativity of LMN's talented musicians.
LMN led conferences at the Royal Society of Medicine in 2015 and 2017; the international Menuhin Centenary celebrations in 2016; published its own research; and it created the "A Choir in Every Care Home" initiative, to broaden access to music amongst all care homes, which is still going strong.
LMN was a Finalist in the annual Charity of the Year Awards, and was twice a Finalist in the RSPH Health and Wellbeing Awards.
In response to the recent Covid19 pandemic, LMN's team has quickly transformed all their work to provide online services for care homes and families with disabled children, which will add to LMN's work for years to come.
Evan will take up the post of CEO of the Royal Photographic Society in July. Nina Swann, currently Director of LMN's South East Branch and Musicians' Development, will become Acting Executive Director, until recruitment can take place later in the year.
"Evan has made a huge contribution to the growth of Live Music Now. There is much greater understanding today of the impact that music can make, but there are still large numbers of vulnerable people who are not given the opportunity to benefit from it.  Evan has passionately sought to increase Live Music Now's sustainable reach, in partnership with others, and has led the way in putting in place the right people and structures to take us there.  I have very much enjoyed working with Evan.  He will be much missed."  Sir Vernon Ellis, Live Music Now Chairman
"I had the pleasure of working closely with Evan for over 5 years.  Full of enthusiasm, he had the desire to see that the scale of our work should not only be more widely known but that it should be validated by the scientific community. He felt that the scheme should not only celebrate its own achievements but make the therapeutic benefits  of music as an intervention be generally known and understood by the world at large.
He leaves behind his many friends and colleagues who will wish him well and that his deep interest in photography will now be fulfilled In his new appointment." Sir Ian Stoutzker, Live Music Now Founder-President
"It has been a huge honour to lead LMN during the past few years. I will greatly miss the camaraderie of its trustee, staff and musician family, whose expertise and dedication have taught me so much. There are so many LMN "moments" I will carry with me – of children, older people and musicians whose lives have been profoundly touched or even transformed through music. I know that Nina and the LMN team will continue to create countless more moments like these over the coming months and years, bringing inspirational music projects to people and communities throughout the country." Evan Dawson, Live Music Now Executive Director (2013-2020)