For 45 years, Live Music Now has been at the forefront of delivering social impact through music. Bringing together musicians and those living and working in care settings, as well as children and young people with additional learning needs, Live Music Now supports communities traditionally facing social exclusion and disadvantage with the transformative power of music.
One key learning from our extensive experience is that a highly-trained workforce of professional musicians is vital to deliver this work effectively.
For this reason, Live Music Now is today announcing a new industry-facing offer of training frameworks for musicians working in care settings and schools, developed over 45 years through experience, collaboration and research.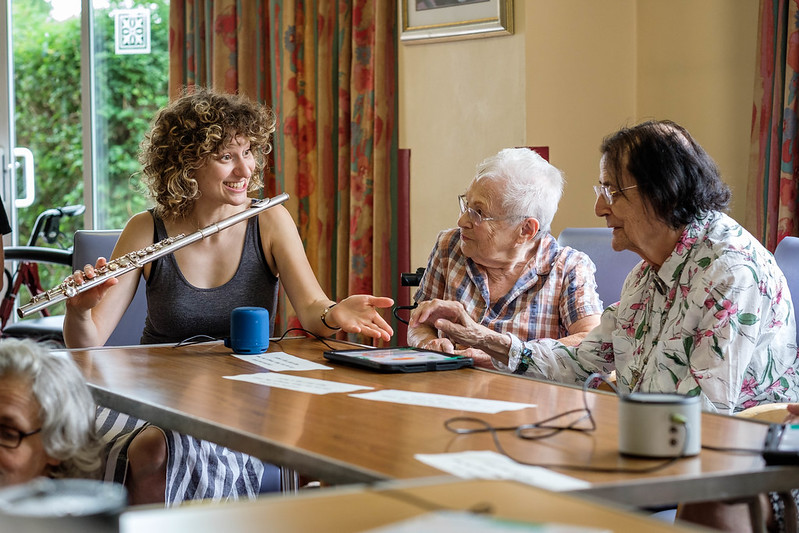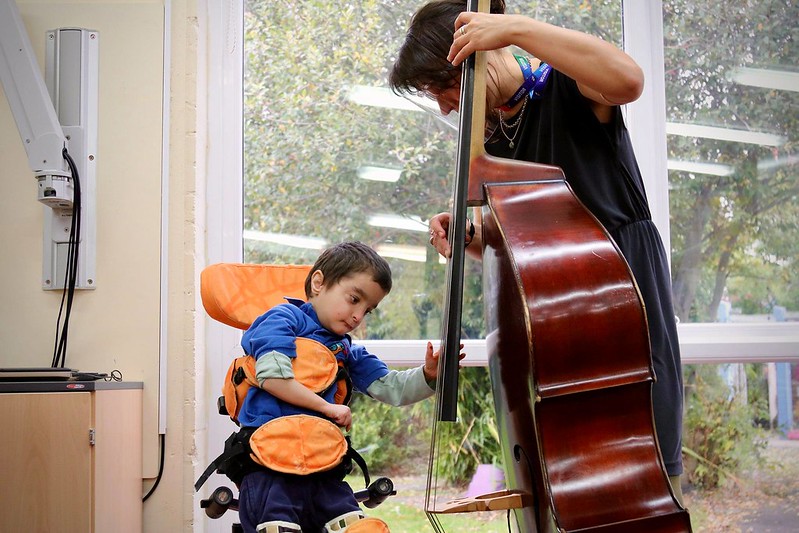 Live Music Now's training frameworks for musicians are evidence and needs-based, informed (and constantly refined) through direct input from musicians, educators, academics and frontline care professionals. Expert-led training is supported with a bank of resources and training activities, and encourages musicians to deliver the most effective work while leaving space for artistic creativity and individual repertoire.
Four key competency areas underpin Live Music Now's delivery of high quality participatory live music activity:
Preparation
Content & Techniques
Engaging Participants
Reflective Practice

These competencies are mapped across three progression levels, as musicians move from delivering one-off sessions towards delivering longer-term in-house residencies and staff development training in settings.
"We are delighted to have worked as a partner of Live Music Now for some years. Their program of activity with trained professional musicians, supporting people living and working in care settings for older people is a glowing example of the power of music.
NAPA members have helped inform the content of their training frameworks for musicians and helped ensure their approach is needs and evidence based, and aimed at achieving the best experience and outcomes for those involved." – Hilary Woodhead, Executive Director, NAPA
Should you have any questions or be interested in organising Live Music Now-led training for your organisation, please contact Live Music Now Chief Executive Janet Fischer ([email protected]), or Live Music Now Strategic Director for Wellbeing, Douglas Noble ([email protected]).
About Live Music Now
Live Music Now is a charity working and campaigning to create inclusive, measurable social impact through music. By harnessing the power of music, and evaluating its impact, we advance musical practice and change how we understand and support underrepresented and vulnerable people in our society. Our work is evidenced as enhancing health and well-being, building skills and confidence, and increasing engagement and equity of opportunity by recognising the potential of every individual.
We connect professional musicians with older people (many living with dementia); children and young people facing disabling barriers; families living through challenges and carers and key workers supporting others. Through engaging experiences our musicians inspire and support people to live musical lives and to find happiness in liberating musical encounters creating life-affirming memories.
Live Music Now was founded by musician Yehudi Menuhin and philanthropist Sir Ian Stoutzker with a belief that everyone has a right to have access to music. Today Live Music Now's work is underpinned by research, cross-sector partnerships, advocacy, and the professional development of musicians across England, Wales, Northern Ireland and overseas.