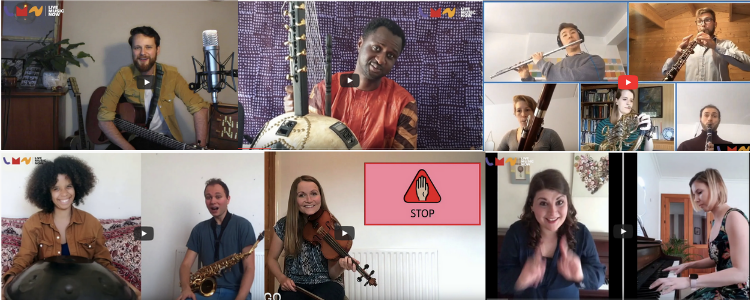 Just prior to the lockdown in March 2020, Live Music Now (LMN) South East had achieved their most successful year to date with 838 music sessions reaching more than 15,000 people in special schools, care homes, hospitals and day centres.
In March the majority of our work came to an abrupt end, and our thoughts have been with the staff at these organisations who have worked tirelessly to support the people in their care.
Despite the crisis the last few months have been an opportunity for us to innovate and to look at our work with new eyes and inspiration. We have developed (in consultation with our target audiences) an online music offer for care homes, special schools, disabled children and their families.
The two main elements of this programme are:
Interactive live music sessions 1:1 or for groups/classes using video conferencing software
For some music residencies that were already underway we were able to move them online.
Nicola Lyons and Maz O'Connor are both undertaking year-long residencies at special schools in London as part of their Inspire Level 3. They have been able to move some of their work online by delivering 1:1 and class live video sessions as well as producing video resources for use at home and in school.
"I would definitely recommend the live stream when other options are not available to help to lift the spirits and bring people together with music." 
Ensemble Hesperi were in the middle of a twelve-week residency at Park Avenue Care home. Care staff were keen to keep it going and the duo were able to deliver their weekly sessions using video conferencing software. You can read more about the residency here.
"I think music in any form is always a winner, whether with musicians coming to Park Avenue or now with live stream. It brings people together. Both the live stream and residency so far has been very successful. Although we miss having M-J and Tom here in person, I would definitely recommend the live stream when other options are not available to help to lift the spirits and bring people together with music."   Lifestyle Coordinator, Park Avenue Care Home
At the end of March we received funding from the Haberdashers' Benevolent Foundation for a residency at Queen's Oak care centre in Peckham with singer-songwriter Zoe Wren.  Zoe was able to live-stream her music sessions.
"Online sessions have been great to keep giving the residents the chance to hear live music and to sing along and dance."
"I missed being able to move around the room and interact individually with people, but Marilyn was a really vital part of the session as she went around and did just that, encouraging more dancing and singing along. Virtual sessions are giving me a fresh appreciation of the importance of having staff who are on board with the project and its aims." Zoe Wren, LMN Musician
We have also been able to offer some one-off interactive concerts to care homes and have received some very positive feedback.
"I just wanted to send a message to thank everyone at Live Music Now for the wonderful afternoon we had with Emily and James! It was the best thing that has happened to us in a very long time! It was an absolute breath of fresh air to see them and listen to them sing/play. The residents and staff loved every second! I'm so impressed with how well it all works on Zoom. Because we know Emily and James so well already it felt really natural and as if they with actually in the room with us! We were able to reach lots of residents using 3 tablets, even though many of the residents are still in their own rooms. The resident I was sitting with during the afternoon kept saying "I love this one!" as the music started. It's such a wonderful thing to watch someone's day being made like that!" Activities Coordinator, Dalemead Care Home
"The [pre-recorded] concert is fantastic- the children will love it!"
In June we were approached by The Village School in Brent to create a video for their One World Week.
"The [pre-recorded] concert is fantastic- the children will love it! Lovely interactive ideas, great sound quality. We are VERY happy with this, thank you! AND all the other new films too. I am so grateful for all this work. Due to the need to operate in bubbles when we return in September, a certain amount of our music provision will be virtual and live streamed still so all these resources will be really useful."  Teacher, The Village School, Brent
With support from City Bridge Trust and John Lewis Foundation we have been able to repurpose some funding towards commissioning pre-recorded music videos for special schools and care homes.
We decided not to run auditions this year so that we can focus on the 138 musicians in LMN South East by providing them with paid opportunities, mentoring and training.
The majority of our musicians lost over 75% of their income overnight…
The majority of our musicians lost over 75% of their income overnight, and many are not eligible for help from government as they have not been self-employed for long enough. One of the first actions we took was to pay musicians for cancelled LMN performances up until the start of the summer term.
"Thank you for offering the payment of fees for this [cancelled concert]. It is greatly appreciated by all of us at this extremely difficult time." Heather Wrighton, LMN Musician
We developed guidelines and training for our musicians in how to use technology to produce online music sessions, encouraging them to adapt their practice to this new context. They embraced this new way of working and the opportunity it allows to engage with new audiences. We arranged webinars which have allowed musicians to come together to discuss their work and share ideas with LMN staff and other musicians.
"I just wanted to say a big thank you to LMN for keeping us all in the loop and for involving us in discussions and events like the one today. Of course LMN's priorities are rightly focusing on creating content and creative opportunities for the vulnerable groups of people who LMN works with. But I just wanted to say that it means a lot to me, and I'm sure it means a lot to the other musicians, to have events like this where we can spend some time with and talk to other musicians. One of the hardest things about the current situation is feeling a bit 'out-of-the-loop' and isolated as a freelancer. So it's been really great to have these sessions to feel part of this LMN team and to give us something to look forward to in the week!" Rosie Bowker, LMN Musician after taking part in a webinar
We recently received funding from the Noel Coward Foundation and D'Oyly Carte Charitable Trust that will allow us to expand our online programme with care homes.
For more information about Live Music Now's work in the London and the South East, contact Rosanna Kwok, Acting Branch Director: [email protected]