Live Music Now's 'Music As Medicine' is up for a Bags of Help grant from Tesco stores in Yeovil. Tesco's Bags of Help scheme gives grants of up to £2,000 for community projects like ours – all raised from the sale of carrier bags in Tesco stores.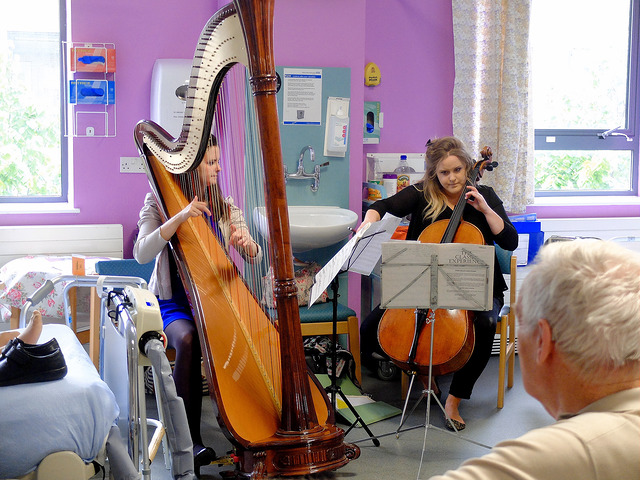 Our 'Music As Medicine' programme will deliver high quality live music sessions in St Margaret's Hospice, Yeovil, to support residents and day patients through the therapeutic benefits of live music.
The public votes in Yeovil stores from January – March to decide on who should receive the awards. Please support us in your local store and tell your friends!
Our approach
Live Music Now trains young professional musicians to work in community settings such as care homes, hospitals, hospices and special schools. Our work has been endorsed by the Care Quality Commission and we have twice been finalists for an RSPH Arts & Health Award. Our musicians include a variety of instruments and genres, sessions are participatory and include opportunities to explore instruments, request music and join in by playing percussion, singing or movement – allowing residents to experience the benefits of live music beyond simply entertainment.
Live Music Now's distinctive approach has been developed over 40 years, realising the vision of our founder, Yehudi Menuhin. We support inspirational young professional musicians to use their talents for the benefit of those who are otherwise excluded from the joy of experiencing live music.
How you can help
The project with the highest number of votes across your region will receive £2,000, the second placed project £1,000, and the third placed project £500. Please vote for us in one of the below Yevoil stores – voting will open from Wednesday 1st January 2020 to Tuesday 31st March 2020:
Tesco Express, Abbey Manor, BA21 3TL
Tesco Express, Ilchester, BA21 3BL
Tesco Extra, Yeovil, BA20 1DL
Tesco Express, Cavalier Way, BA21 5UB
To vote, you will need to make a purchase within store of any value. You will receive one token per transaction and it's not necessary to purchase a carrier bag in order to receive a token.