Yehudi Menuhin's vision inspired Live Music Now organisations around the world
Following Live Music Now's launch in the UK in London in 1977, founder Yehudi Menuhin extended the scheme to a number of European countries, including Germany, where the Munich branch was the first to be established in 1988. Austria and Switzerland followed, along with Live Music Now initiatives as part of organisations with wider remits in Chicago and Washington. Since his death, Live Music Now in the UK has helped support the start-ups of new branches in Denmark, the Netherlands, Bulgaria, Musica Para Todos (Music for All) in Chile and PRISMA in Mexico (founded by LMN alumnus Morgan Szymanski).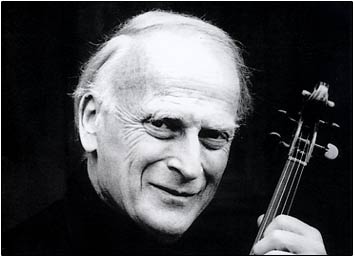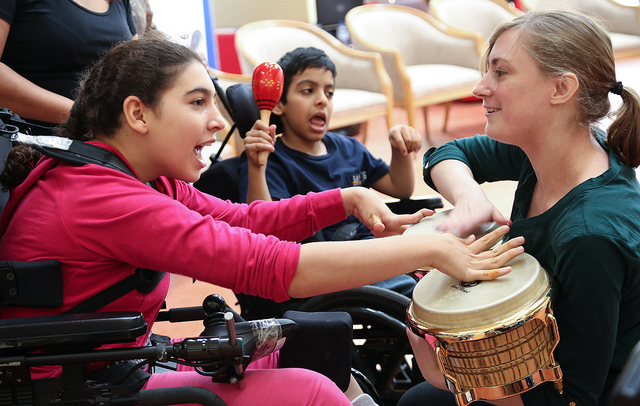 International exchange and residency opportunities for LMN musicians
Live Music Now's international portfolio includes regular exchange of musicians across the European branches in support of professional development and peer-to-peer sharing of best practice.
A number of residencies have taken place in other countries, offering musicians who are part of the scheme unique opportunities in personal and professional development .The Live Music Now Mumbai Residency is happening for the third time in 2015, with traditional musician Jen Austin working with street, slum and special needs children through five strategic partners in India. In Abu Dhabi, Live Music Now musicians have been regular visitors over recent years to develop specially tailoured projects with children with additional support needs as a partner of ADMAF (Abu Dhabi Music and Arts Foundation). The latest residency programme in Abu Dhabi was led by the Spencer-Strachan Duo in January and March in 2015. Also in 2015, a Live Music Now singer, Marie Claire Breen, will take up the first award in collaboration with The Saltire Society to further her research on singing and cystic fibrosis in New York.
Live Music Now's International Development programme is supported by Creative Scotland and led by Live Music Now Scotland Director, Carol Main. Live Music Now Scotland is a regular partner of the Scottish Government, particularly in showcasing Scotland's talent internationally.
For more information about Yehudi Menuhin and his extraordinary legacy, please visit the official website of Yehudi Menuhin.