Live Music Now launches a year of celebrations to mark thirty years of music-making in Northern Ireland. Since 1992, the charity has been bringing the joy, health and well-being benefits of music to young and old across Northern Ireland, and in particular to children with disabilities and older people facing isolation and loneliness. Live Music Now musicians deliver over 300 sessions per year, engaging around 10,000 people through jazz, pop, classical, trad and contemporary music-making.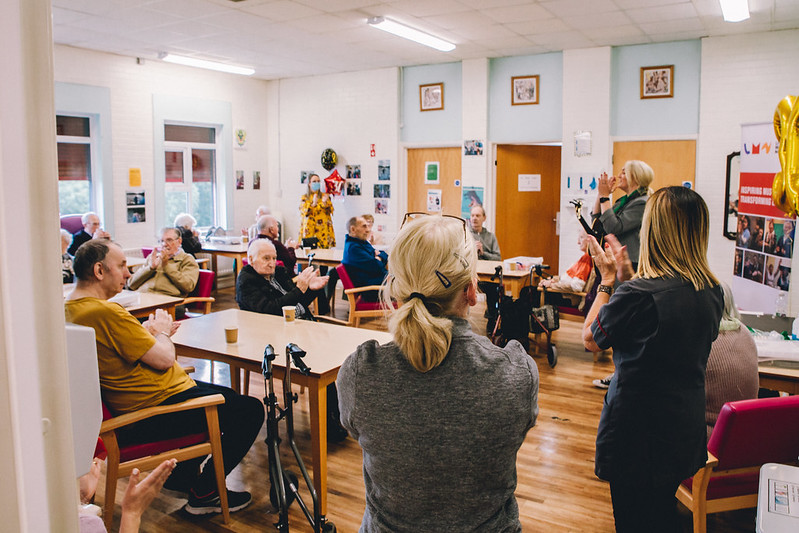 Most recently, musicians delivered 30 concerts to older people attending day centres across Belfast. To get the party started, musician Amanda St John joined older people attending Glencairn Day Centre for a rousing bit of singing, craic and dancing, followed by birthday cake and a cup of tea. Paula McHugh, Arts in Health Manager, from Belfast Health and Social Care Trust said,'
'It has been a joy to welcome Live Music Now musicians back into our Older Peoples Services in recent months, delivering 30 sessions to mark their 30th year.  Engaging performances by the LMN musicians have helped residents, service users and staff, to connect again, through music, movement, singing and chat!  The Belfast Trust, under its Arts in Health Programme, has been working in partnership with Live Music Now for many years and continues to develop the partnership to offer the wellbeing benefits to those we support.'
Lorraine Calderwood, Arts Programmes Officer, Arts Council of Northern Ireland, said,
"Congratulations to Live Music Now on celebrating this milestone birthday of 30 years.  Thanks to The National Lottery players, Baring Foundation and Public Health Agency, the Arts Council of Northern Ireland has been able to support Live Music Now through our Arts and Older People Programme, a pioneering arts and health scheme which aims to provide meaningful opportunities for older people to participate in the arts, enriching their lives for the better.  More recently, the programme has focused on delivering arts activity within care home settings, working with residents living with dementia and their carers.  Live Music Now has provided excellent projects in this area, helping to improve the health and wellbeing outcomes of older people across Northern Ireland through the arts."
Chair of Live Music Now in Northern Ireland, Norma Sinte, said,
'We are delighted to mark this milestone and share the celebrations with some of the people with whom our musicians work. Music is a powerful way of connecting and communicating, transcending age, ability and circumstance. Our musicians work in care homes, day centres, special schools and mainstream schools, hospitals and community centres. This year is set to be our busiest ever, with well over 300 sessions across Northern Ireland, and we look forward to sharing the music with many more people, in a number of exciting projects in our anniversary year.'
Here's a lovely Happy Birthday message from Live Music Now Northern Ireland musician Hannah and Ciaran, an Including Me programme participant in Belfast.
To find out more about Live Music Now, visit livemusicnow.org.uk