"Music as Medicine" is a Live Music Now partnership project with the Arts for Health team at Alder Hey Children's Hospital in Liverpool.  Over the past four years, eight Live Music Now musicians have been trained to deliver bespoke, interactive music sessions for long-term patients in the hospital, with funding from Youth Music.  For many patients, the music sessions have helped to take their mind off their illness and provided an enjoyable activity, shared with family members.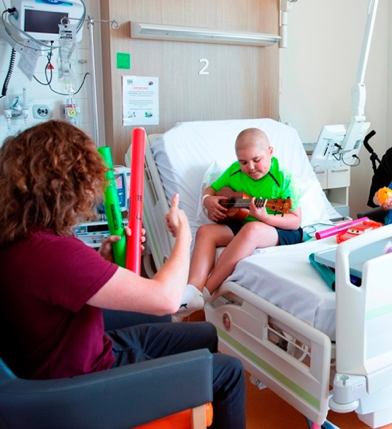 Mason is a ten-year-old boy who is being treated for cancer at Alder Hey Children's Hospital, spending many months in and out of hospital.  As part of the "Music as Medicine Project 2018", Live Music Now guitarist, Ben Sayah, worked with Mason over a period of two months.
From the very first meeting, Mason showed great potential and enthusiasm for music-making.  Ben introduced him to the ukulele and started to teach him some basic technique. By the end of the session Mason could play two chords. He said afterwards:
"The music session improved being at Alder Hey because it took up some of my day so I wasn't bored. It helped me to forget my illness because I was focusing on the music. It made me realise I liked the ukulele."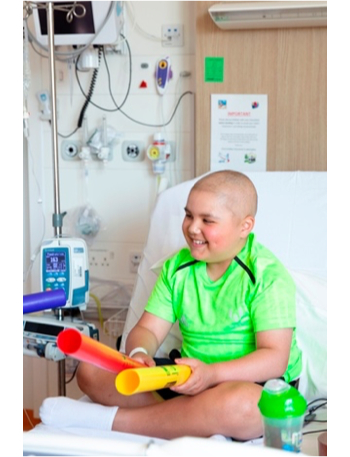 The second time Ben saw him, Mason was a daycare patient.
His Mum said he was excited when he heard that Ben was in the hospital doing music again.  During the session, Mason told Ben that he'd been listening to 'Perfect' by Ed Sheeran, so Ben set about teaching Mason all the chords for this song on the ukulele. Mason managed to play the whole song from beginning to end, supported by Ben's guitar accompaniment and his Mum playing frame drum. He was very happy with his achievement.
For the third session they decided to get more creative, creating five new melodies or 'breaks' using colourful "Boomwhackers". In future sessions, Ben would continue to expand Mason's repertoire of chords on the ukulele, and encourage his song writing skills.
The music sessions were invaluable to Mason, helping him to deal with a life threatening and life limiting illness. His mum commented on how he would look forward to his music sessions with Ben, and how the sessions would take his mind off his illness.
Photo credits: Leila Romaya
Live Music Now: Musical Mentoring at Alder Hey Children's Hospital – short film from Live Music Now on Vimeo.