Artists need special skills to deliver projects in community settings, including care homes and schools. Evan Dawson explains how Live Music Now supports musicians.
This article first appeared in Arts Professional, on 12 April 2018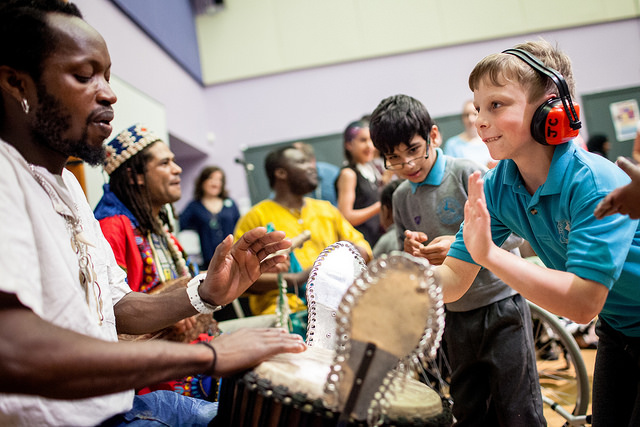 This is an exciting time to be involved with participatory arts in community, healthcare and education settings. The launch of the Culture, Health and Wellbeing Alliance and numerous reports and evidence reviews have emphasised the importance of arts and culture to society and personal wellbeing.
However, as demand increases for evidence-based opportunities for people to participate in the arts, the sector must consider whether it is ready to provide the supply. In particular, we need to know who should be delivering this work, what standard of training is appropriate, how much support is needed, and what fees are reasonable to charge. These are difficult questions, but at Live Music Now (LMN) we have been grappling with these for some time.
Artistic excellence
We believe that participatory music programmes should strive to be of the highest possible quality regardless of who is in the audience, with artistic excellence and integrity at the forefront, and informed by academic research.
Over the past 40 years, we have selected and trained thousands of professional musicians to work in community, healthcare and special education settings, helping to sustain and shape their future careers. Musicians are auditioned throughout the UK, coming from diverse backgrounds and genres. They stay on the scheme for no more than five years, so that we can continue to build the participatory music workforce.
Most of those working in the care sector understand why quality matters. Andrea Sutcliffe, Chief Inspector of the Care Quality Commission, says: "The arts are really important to me in my life. I don't see why that should be any different when I'm old, or when I'm living in a care home."
In most cases, people will benefit the most from music engagement if it is sustained and regular. The potential demand is therefore very high, so a pragmatic approach suggests that we need to find a strong balance between professional and volunteer artists and musicians, but this should not be to the detriment of the quality of the art being created.
There are many different approaches being explored at the moment and our solution for care homes is called A Choir in Every Care Home, training care staff to work alongside our musicians, and then to lead singing sessions informally throughout the working day.

Training and support
Leading group music activities in settings, such as special schools or hospitals, can be very rewarding, but it is not easy. This is particularly the case where clinical outcomes are being sought or individuals are living with life-limiting conditions.
Our scheme is carefully structured. It starts with an intensive induction period of audience-specific training sessions (delivered by leading practitioners and our alumni musicians), as well as performances in supportive venues, to help musicians understand the needs of audiences and teach them to deliver interactive performances.
This is followed by mentoring and specialist project-based training. Musicians are encouraged to reflect and engage with other musicians, including our alumni musicians and mentors. All of the training is reviewed and informed by leading academics and practitioners. We also work with music colleges and HE institutions to ensure that the scheme is understood and promoted to students, and in some cases is included within their professional development modules.
As well as training, the holistic care of artists working in this field is important. The work can be emotionally demanding, and careful project management and regular communications are important to the mental wellbeing of artists, just as you would expect to see with nurses or teachers.
We have a team of staff and mentors managing this work who keep in regular contact with musicians and the locations they visit. Having this opportunity to discuss their experiences and reflect on them is an aspect of this work that is highly skilled and often overlooked. However, if done well, these experiences can help artists and musicians to flourish.
One of our alumni musicians Melvyn Tan said: "Finishing your studies and graduating is really only the beginning. The learning never stops. LMN gives one the opportunity to perform in many different and sometimes challenging situations and surroundings, but I felt I learnt so much from my experience, not least the fact that I was also bringing music to many parts of the community who had never experienced or been to a live concert performance before."

Payment levels
Setting payment levels is always a delicate subject. Organisations like the Musicians' Union (MU) have been clear in setting recommended minimum rates to protect professional artists from being exploited, ensuring their fees reflect the high levels of training, preparation and expertise involved. As artists find themselves working more and more in publicly run settings, such as hospitals, schools or care homes where budgets are tight, they may come under more pressure to compromise professional payment rates.
We publish our rates for musicians each year, using standard fees across all activities, which are reviewed by the MU. Chris Walters, Education Official at the MU, says: "We are pleased to be working closely with LMN on setting rates of pay for its practitioners. Outreach and participatory work can be some of the most demanding work undertaken by musicians, and LMN is taking the lead on providing fair pay, training and support for this."
We are approaching a huge opportunity for the arts sector to have an impact on the health, wellbeing and happiness of a large part of UK society. As an arts sector we risk squandering this opportunity if we cut corners now by neglecting the needs of artists in the movement.