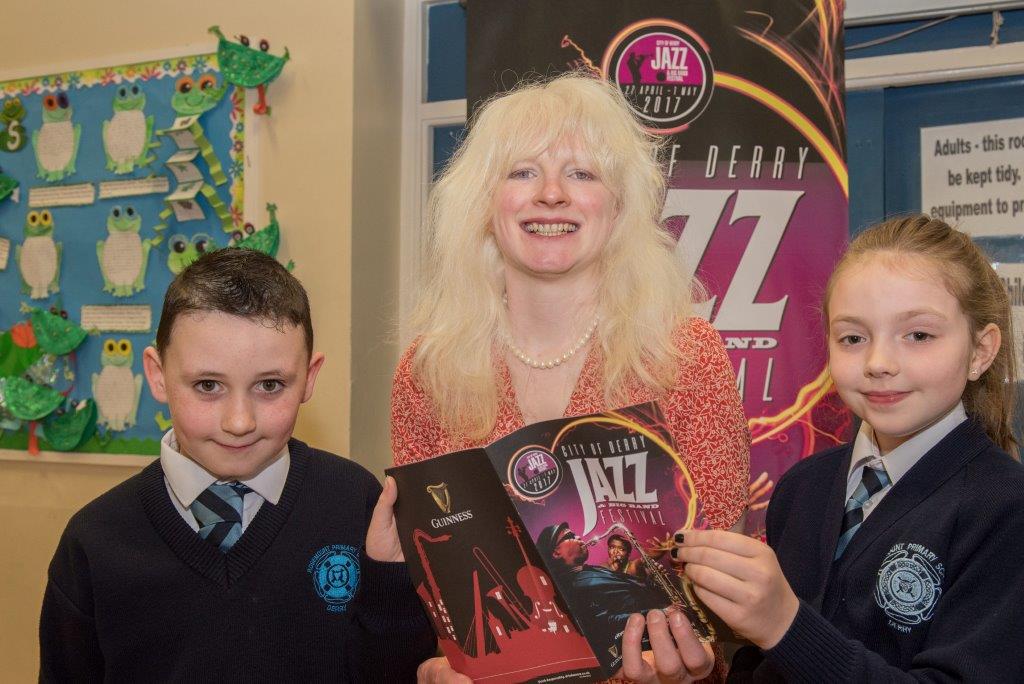 Leading music charity Live Music Now is undertaking a mammoth outreach programme to over 4,000 local schoolchildren as part of the build up to this year's City of Derry Jazz and Big Band Festival.
Delivering half hour interactive sessions of jazz music, with acclaimed local singer Victoria Geelan and pianist Neil Burns, the initiative has been commissioned by Derry City and Strabane District Council and aims to introduce youngsters to the genre and encourage them to make their own music.
Live Music Now was formed in 1977 by renowned violinist Yehudi Menuhin to nurture young musicians and bring the joy of live music to new audiences.
LMN Northern Ireland Branch Director Alice Lewis says the scheme, which is hosting over 30 sessions at 16 Primary Schools in the Derry area, is a perfect fit for them. "We're so excited to take part in this project. The sessions so far have been great fun and the kids have loved getting involved. Jazz is new for most of them and they've responded really well. They've even made up their own classic blues riff to 'Woke up this Morning'. They're having a lot of fun but they are also learning more about the music and its history. Hopefully some of them will go on to become jazz fans and get involved in the festival locally. It's an innovative way to promote the festival and I'm sure they will go home and tell their parents about it and encourage them to go out and enjoy some jazz over the May Bank Holiday Weekend."
Festival and Events Officer at Derry City and Strabane District Council, Andrea Campbell, said they were delighted with the response of the schoolchildren who have participated in the scheme to date.
"The schools workshops have been a hugely successful and the children have responded enthusiastically to Victoria and Neil's interactive performances. It's a great way to introduce jazz to young people in a relaxed and fun environment and raise awareness for the Jazz and Big Band Festival. Excitement is already starting to build for the Festival and we are delighted to be bringing live music acts to over 50 venues and over 300 musical acts over the May Bank Holiday weekend."
The City of Derry Jazz and Big Band Festival will feature five days of live music throughout the City and District from 27th April to 1st May.
The packed lineup will be headlined by household names Imelda May and Hot Chocolate and will be complimented by a number of workshops and education programmes that aim to bring Jazz to the community.
For all the latest news and event updates check out City of Derry Jazz Festival on Facebook, or follow the Twitter page @derryjazzfest.
The full programme is available online at www.cityofderryjazzfestival.com.
For details on any remaining accommodation deals during the Jazz Festival contact www.visitderry.com.