I was privileged to be part of the Live Music Now Scheme for three years with my group the Kosmos Ensemble. We had just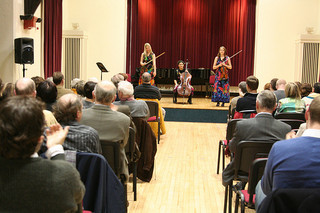 graduated from music college and the experience was invaluable. We toured Great Britain working with children with special needs, children from disadvantaged backgrounds, at hospitals, prisons and care homes. It helped us all to develop skills which I continue to use in my career every day such as being able being able to talk and interact with audiences, dealing with promoters and stage experience that we wouldn't have had any other way.
We had some amazing experiences while being on the scheme – we were often told in care homes by the residents and by their relatives that the music was more beneficial than drugs and in one concert a lady who had been unable to speak, or sign, or communicate in any way managed to make the connection with our music and 'signed' for the first time. The carers were all in tears. We often experienced really positive responses in our concerts with children – carers telling us that they had never seen them so calm and focused and how it helped with lessons after our sessions. It has given me a long term interest in the power of music and the effect it has on the brain.
It was so rewarding to feel we were benefiting society through the power of music and since leaving Live Music Now I was determined to continue work like this through other outreach programmes such as 'Lost Chord' for dementia sufferers and independently with Kosmos. Kosmos has been getting more and more successful, performing in halls such as the Southbank Centre, on BBC Radio 3 and recently signing with Ikon Arts management and personally I am releasing four CDs this year and performing concertos in such places as China and South Africa. I believe that none of this would have happened without the support of Live Music Now.