All Together Now, a music club for families with special needs, took place at the mac (Midlands Arts Centre), Birmingham from February to November 2012.
This pilot project was devised in response to parental frustration at the lack of opportunities for families of children with special needs to enjoy the same musical event together. Live Music Now musicians led monthly music sessions specially tailored for families, where all responses to the music were welcomed and encouraged. In the short film below, the organisers (Sharon Hopwood, a local parent, and Jayne Allen, LMN Project Manager) talk about the power of music to draw people together and the importance of LMN's interactive approach in promoting the therapeutic benefits of live music.
"The All Together Now sessions draw each of my children into the moment and gives them the freedom to be who they are. I come away feeling inspired and happy and so do my kids. Thank you." Parent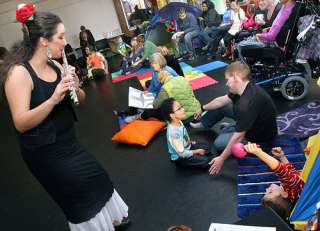 The project was funded by an Awards for All grant from the Big Lottery Fund, together with grants from The Grantham Yorke Trust and Baron Davenport's Charity.
For information on how you can help to fund future All Together Now projects, please contact Karen Irwin at [email protected].