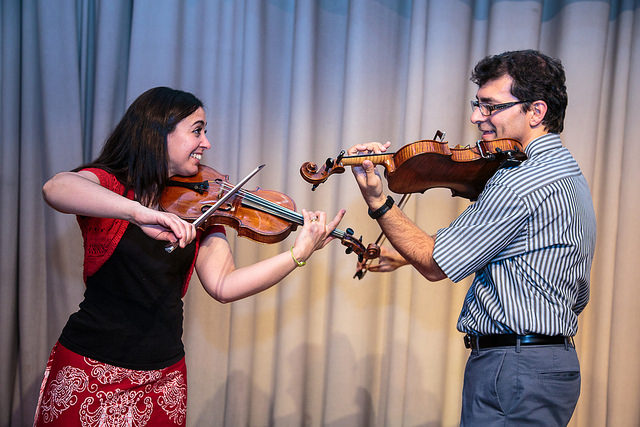 "When I was working with Kokila I felt better as I was playing with a professional musician after such a long time. She gives much confidence by her words and the way that she teaches. She has also encouraged me to start communicating with other musicians via a chamber music ensemble course in City Lit. Thanks the Forum and dear Kokila." – Raja
Raja is from Iran where he was a professional violinist in one of the leading orchestras. When we met him in 2011 he had not played the violin for several years due to harsh and discouraging experiences both in Iran and in the UK. Over three years, Raja was mentored by LMN alumni and violinist Kokila Gillett as part of LMN's On A Good Day project.
This extract from the external evaluation of On A Good Day illustrates how the mentoring project has supported both his musicianship and wellbeing through re-engagement with music, making connections and developing confidence:
"The early stages of the mentoring relationship were concerned with encouraging the participant to re-engage with the violin and practical tasks such as repairing his broken instrument. However by the end of the first year the participant was playing again, obtained a distinction in his Grade 7 violin exam and performed at an event organised by The Forum and The Refugee Council. In the second year, having been granted refugee status, the participant was encouraged by Kokila Gillett to access a chamber music ensemble course at London's City Lit. At the end of Year 3 he performed at the On A Good Day celebratory performance at The Forge and was reported to have formed a duo with another musician with whom he was starting to seek performance work."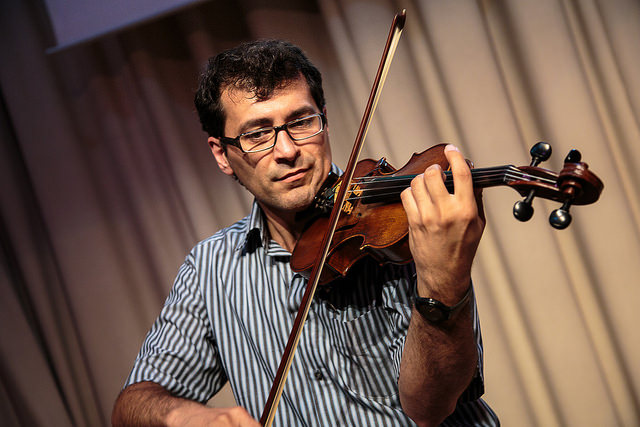 Launched at the end of 2011, On A Good Day aimed to improve well-being for Londoners living with mental illness and mental health problems. Between September 2011 and June 2014 Live Music Now delivered a total of 220 music sessions reaching over 1,000 beneficiaries and involving 60 LMN musicians and alumni. Sessions took place in 25 mental health settings including psychiatric units, residential and day settings that work with a range of vulnerable people including older people, refugees and asylum seekers, and the homeless.
Funding for On A Good Day was generously provided by City Bridge Trust (Y1-Y3), The Adrian Swire Charitable Trust (Y2) ad The Brook Trust (Y2&Y3). For a full copy of the evaluation report, please email [email protected]