Live Music Now Wales has been working with local fitness guru Olwen Jones to bring music and fitness to care homes across Wales.
Keep Moving is a programme of gentle armchair exercises developed by former P.E. teacher Olwen Jones. Born in March 1928, Mrs Jones is a resident at Grwp Cynefin's independent living facility Awel Y Coleg, Gwynedd.
When Mrs Jones first moved to Awel-Y-Coleg in September 2013, she witnessed many of the other residents struggling with mobility issues as well as exhibiting early signs of dementia. She also noticed a lack of engagement with physical and creative activities. In order to address this, she decided to use her experience as a Physical Education teacher to develop a series of gentle "armchair exercises" that can be completed either standing or from the comfort of a chair. The exercises range from simply warming up the hands, to raising the arms and legs in a full body stretch. The moves are grouped into sequences that are completed in time to a musical playlist of up-beat tunes.
Mrs Jones began demonstrating these exercises to her fellow residents once a week, with a view to improving the mental and physical health and well-being of participants. The exercise class, which she named Keep Moving, is always followed with tea and a chat to ensure that residents take advantage of the opportunity to socialise and build friendships. Mrs Jones believes that the conversations participants have after each session are just as important as the exercise, because regular communication can help to combat loneliness and isolation, a common issue that older people face, especially when living alone or in care.
Keep Moving gained popularity and eventually Mrs Jones also took it upon herself to deliver a second, faster exercise class in the local community centre for older people living in the community.
Mrs Jones contacted Live Music Now Wales during 2019 with a request for some assistance regarding her Keep Moving classes. She explained that although she felt she could continue to run the activity indefinitely, she knew that eventually there would come a point when she must stop. Without her there leading the exercises, she thought the other residents would cease to meet and would lose motivation to maintain their own physical fitness. To prevent this from happening, she asked Live Music Now to help her create a professional Keep Moving film that could be used at Awel-Y-Coleg and for her community class in her absence, to ensure her legacy continues. She also expressed a desire to share the film with other care settings and told us that "the completion of this film is the only thing on my bucket-list".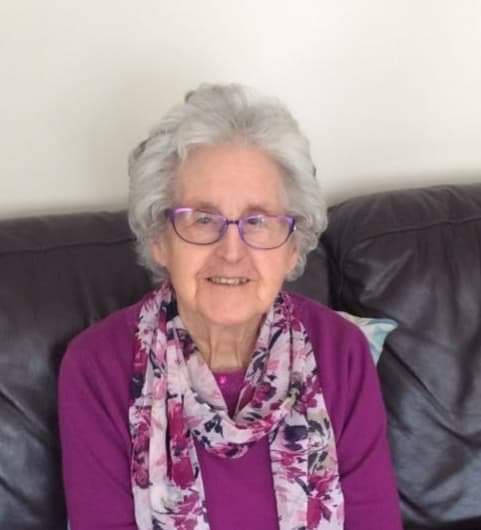 Retired P.E. teacher Olwen Jones, creator of the Keep Moving armchair exercise program
Throughout the pandemic, Live Music Now Wales adapted to the situation and worked closely with Mrs Jones to create a film of these exercises, demonstrated by dancers Helen Whittle and Georgie Pettit and featuring traditional Welsh music performed by LMN musicians Lowri Thomas (viola) and Megan Morris (harp). The film was funded by The Rotary of Bala and Penllyn, Blakemore Foundation, North Wales Freemasons Charity and Bala Lodge of Freemasons.
On Thursday 27th May this year, to celebrate the completion and launch of the film, Keep Moving will go live on Zoom! Funded by Gwanwyn Festival, LMN Wales will be running two Keep Moving events for older people living in care and the community. The events will be delivered in English with some Welsh translation.
Private session for care homes only – 2pm on Thursday 27th May 

Please email

[email protected]

for Zoom meeting details.

Public session for older people in the community – 3pm on Thursday 27th May. Register in advance for this Zoom webinar here.

After registering, you will receive a confirmation email containing information about joining the webinar.
Download a copy of the leaflet in English or Welsh below.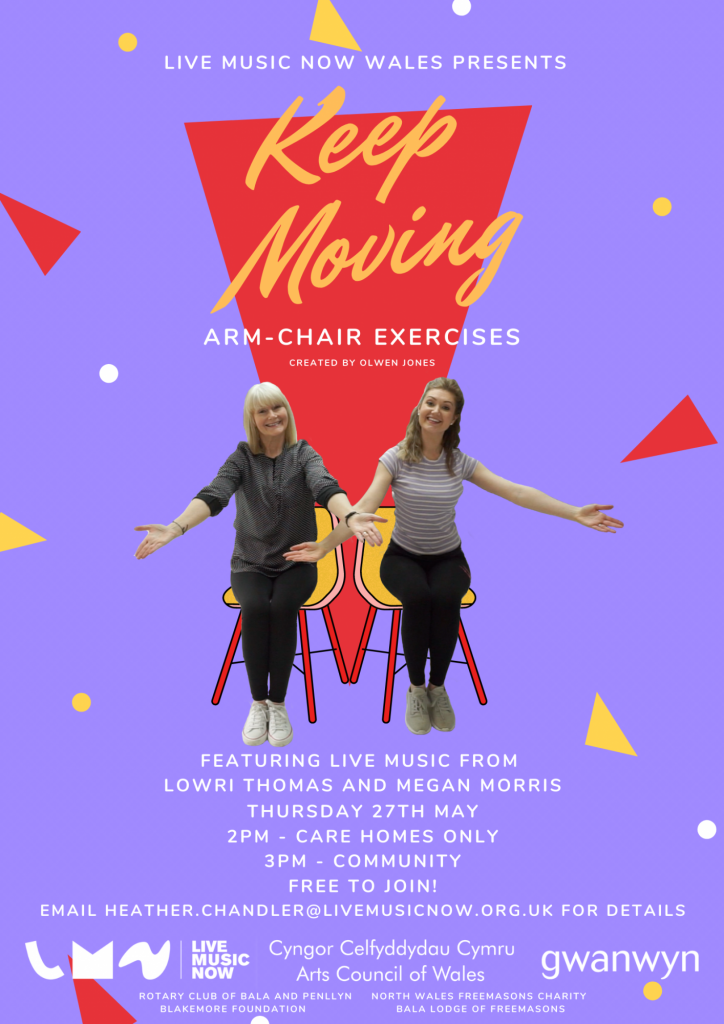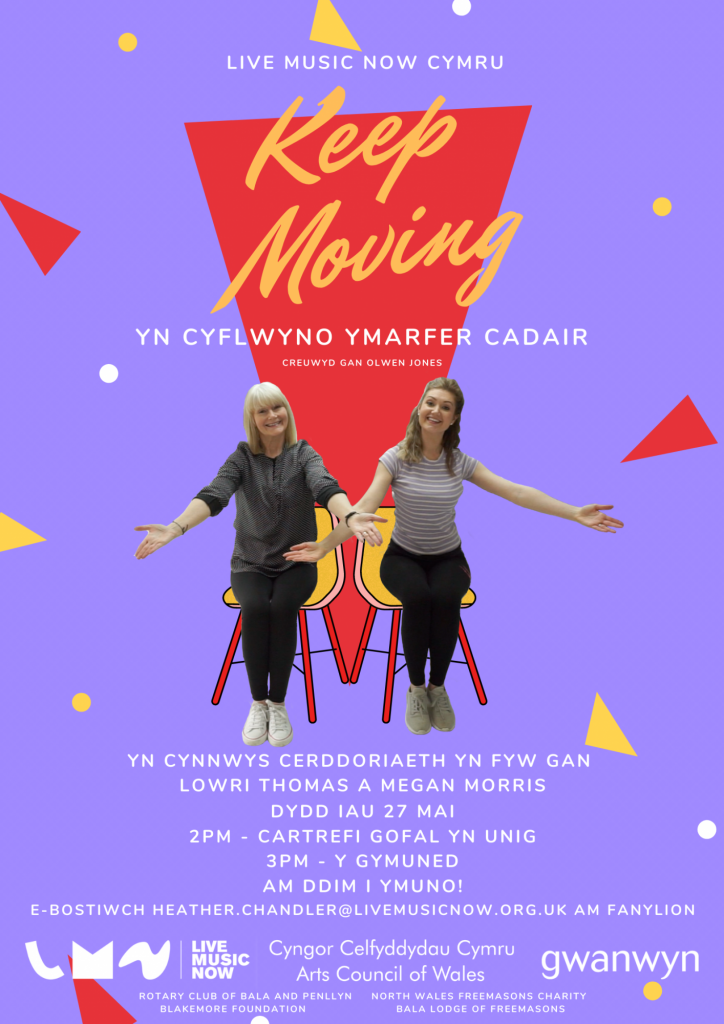 From the 27th May, the Keep Moving film will be available as a free resource for improving physical fitness and well-being. You will be able to view it on our YouTube channel, or if you would like a digital copy emailed to you, please email [email protected].