LMN at Bristol Children's Hospital
For the past year, LMN has been regularly visiting the wards at Bristol Children's Hospital, bringing a variety of different musicians, all funded by The Grand Appeal. On 8 January 2020, I visited with LMN harpist Megan Morris.
The arts programme at the hospital is led by Lynne Barlow, who met Megan and me at the entrance, and guided us around throughout. She said:
"Music has become an important and integral part of the Arts Programme at the Bristol Children's Hospital and is widely enjoyed by patients, their families and staff; it contributes hugely to the wellbeing of everyone in the hospital and provides distraction for patients who are in pain or coping with long periods of treatment. The musicians provided by Live Music Now are always responsive to the needs of children and young people and interact so well with them, it's a joy to see children enjoying the music and dancing and singing along with the musicians."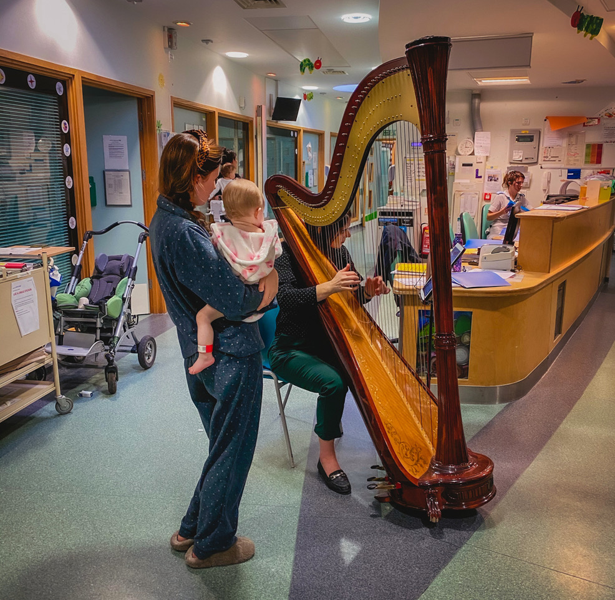 Megan, Lynne and I spent over two hours going from ward to ward, starting in the Intensive Care Unit, and gradually making our way upwards. Many of the children there were very small and poorly, with doctors, nurses and concerned parents nearby. Some were in private rooms, and others in more open wards.
In each location, we experienced a similar reaction. The atmosphere was quiet and clinical to start with – but when Megan started to play, people's doors opened, and patients, family and hospital staff started to congregate, and interact with us, and with each other. Very quickly, a sense of "community" emerged in each place, with conversations flowing between everyone, including the patients themselves in some cases. It was very moving, particularly as we could see and hear this changed atmosphere continuing after we moved on.
In some wards, the children were well enough to move around, or had siblings, who were intrigued by the harp. Megan gave them some lessons, and one little girl even managed to sit and play the theme from her favourite film. They were totally enchanted, and for a short while it felt like they weren't in hospital at all. They were all having fun together.
Megan said "I think the two girls really stuck out for me. When I was playing in the ward they sat really close to the harp then when I was asked to move to play inside the door of a little boy's ward the girls picked up their chairs and plonked them down by me! They were then helping me choose my music and singing along with me.
"There was a father carrying his baby in the intensive care unit and came close to the harp and he was mesmerised and the Dad said that his heart rate went down and he became very calm."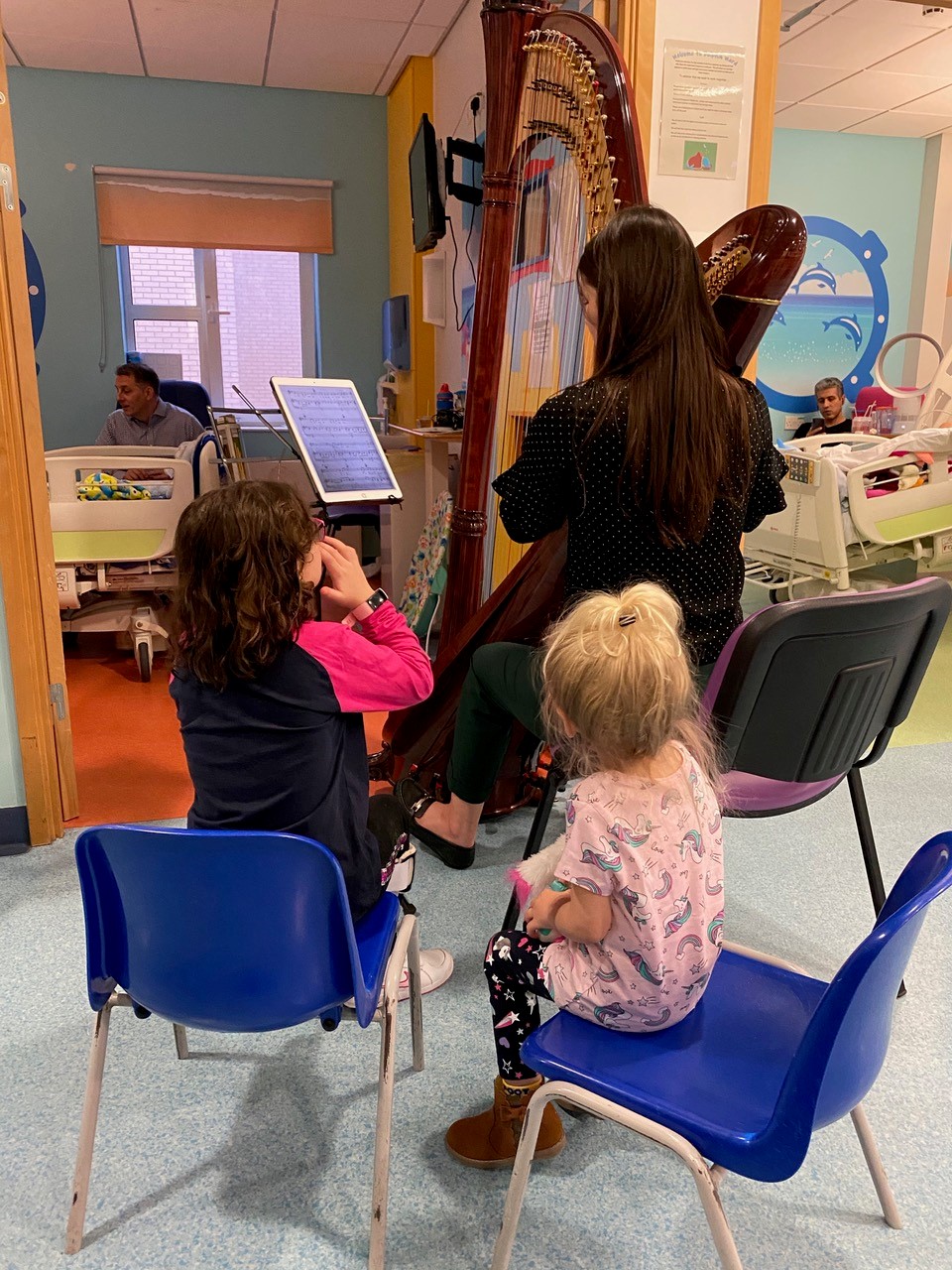 Many people (patients, staff and family members) came to tell us that the visit had been the highlight of their day. For me, it was hugely rewarding to see the impact that LMN's work can have, for so many people, in such a short amount of time. Even in the very best hospitals, the clinical environment means that patients can lose their sense of involvement in the world around them, which can really affect their morale. Music can help bring some of this back, sparking their imaginations and helping them feel hope for the future.
We are working in several hospitals around the UK, in a variety of different ways, and working carefully with them to evaluate the impact that music engagement can make on recovery times and other health measurements. However, it will always be these individual stories that matter most; and I left Bristol Children's Hospital that day with a great sense of purpose to keep supporting LMN's wonderful musicians and staff to do this vital work.
Evan Dawson, Executive Director, LMN
Photographs taken by Joanna Wyld.