Live Music Now has been working in partnership with Alder Hey Children's NHS Foundation Trust (Liverpool) since 2014, delivering a programme of participatory music sessions for long-term patients at the hospital, supported by Youth Music.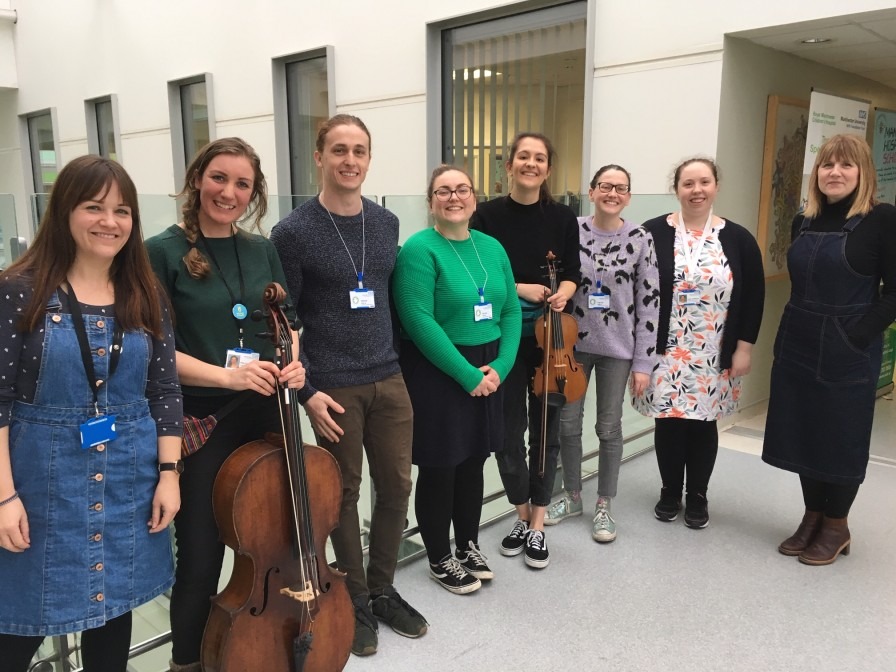 The programme has enabled 11 LMN musicians to gain new skills in the delivery of musical activities in a paediatric healthcare setting.
Last month, three of the musicians had the opportunity to meet up and share practice with colleagues from Lime Music for Health who work at Royal Manchester Children's Hospital.  Vicky Charnock, Arts Coordinator at Alder Hey, talked to the LMN musicians about what they learnt.   
LMN Musician Ben, who's been working at Alder Hey said "As a music practitioner, everyone has their own style of delivery, and observing others is a great way to reflect on one's own practice and add ideas to it. This can be as simple as ideas for repertoire and approaches on making music with a young person but its also a great opportunity to share musical activities that can work for a range of ages, abilities and stylistic preferences."
Arts Coordinator Vicky Charnock commented "It was really beneficial to make time to come together to share ideas, approaches and experiences and see how other organisations deliver their music in health programmes.
"I would highly recommend this approach to informally sharing practice and it's worth building this into the project budget at the start to enable this to happen. We are now looking forward to hosting Lime Music for Health's musicians at Alder Hey later on in the year."