I believe music should play a greater role in society, for the greater good of everyone.
During the past five years, the team at Live Music Now have regularly consulted with leading academics and doctors. We wanted to ensure that the latest research about the neurological impacts of music directly fed into our training programmes for musicians, and then into our projects and delivery, and evaluation. As well as being excellent musicians and communicators, all LMN musicians are fully trained and supported to work in the challenging places they go. They don't just give "concerts", they deliver engaging and interactive performances, using very nuanced techniques, stimulating memories, new ways of communicating, and much more.
But this research and evidence is not without controversy. I have heard many times from people in the arts that there is a vast body of rigorous and persuasive evidence to show the efficacy of music in healthcare settings. And I have heard many times from people in the NHS and Department of Health that the evidence base is simply not rigorous or persuasive enough to justify any public investment.
With this in mind, led by Dr Peter Freedman, we partnered with the Royal Society of Medicine to find the truth. At a packed event on 16 November 2015, we heard from leading researchers in five different fields of neurology; a personal perspective was given by Professor Martin Green of Care England; there was a beautiful solo cello performance by Hermione Jones; and finally a chance for all the delegates as well as LMN alumnus musician and creative music leader Julian West to engage in an animated and very creative discussion with the panel.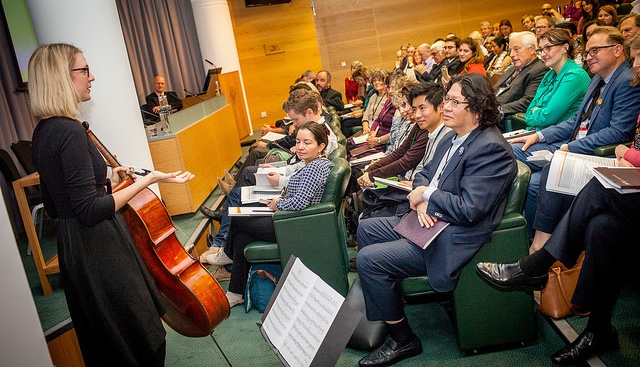 LMN cellist Hermione Jones
There were some tough messages, particularly by Dr Magee and Professor van Wijk, who took us through the Cochrane Review of evidence in this area, showing us how little of the research is considered to be of sufficiently high standard. However, some of it has reached the mark, providing hope new research will continue to demonstrate that music has important health impacts. This is itself a big step forward.
We have seen countless times through LMN's work that music can provide four clear things:
1. Measurable health improvements for people of all ages.
2. Social benefits for staff, carers and families.
3. A low risk of harmful side-effects.
4. The potential for substantial cost savings.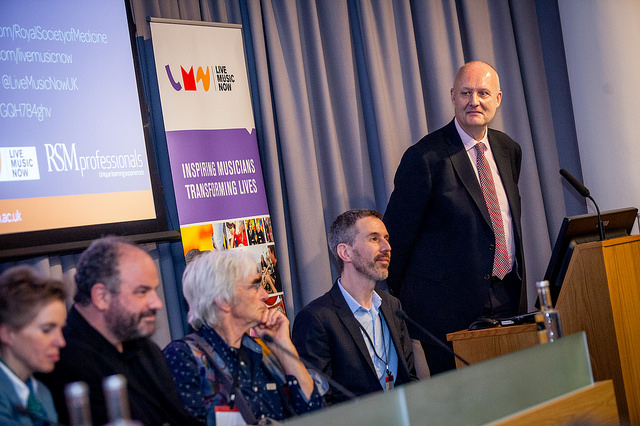 Professor Martin Green (Care England) chaired the afternoon sessions.
One question in the plenary session led to a very interesting discussion. Someone asked (a little cheekily perhaps) whether, given the amount of music they experience, musicians are the most healthy people in society. This led to a debate about why it is so very difficult to be a musician delivering this type of work, in contrast with someone simply experiencing music in the normal way. Musicians are incredibly skilled people, and those who take their art into healthcare or care home situations face a wide range of very difficult challenges.
If society is to embrace the opportunities and benefits that music offers, then we must begin by valuing musicians. They need to be nurtured and supported, to receive training for the specific work they do, and be drawn into the development of these important new areas of practice.
The broad conclusion of the conference was that the time has come to make the beneficial impacts of music an important tool in the future of UK healthcare. Live Music Now and its hundreds of musicians around the UK are ready to develop more projects and initiatives in this area, and I would be delighted to hear from anyone who wishes to help us do so.
My sincere thanks to Dr Peter Freedman, the Royal Society of Medicine, the Rayne Foundation and the British Association of Music Therapists for making this wonderful event possible.
Evan Dawson
Executive Director, Live Music Now
Photography: Ivan Gonzalez