Live Music Now is pleased to welcome four new ensembles to the branch in the North West. They will embark on a programme of specialist training and development to hone their facilitation skills for a range of groups, including children with additional needs and disabilities and older people in care settings.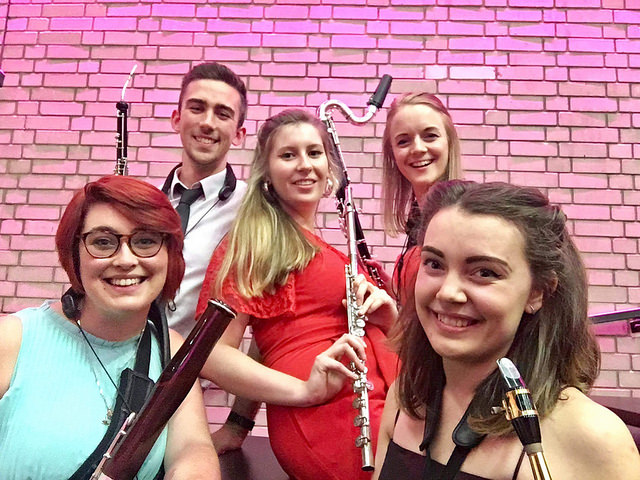 Anna Murphy (Flute, Piccolo, Alto Flute, Alto Sax)
Freya Chambers (Soprano and Alto Sax, Clarinet, Flute)
Jessica Tomlinson (Clarinet, Bass Clarinet, Alto Sax)
George Strickland (Oboe, Cor Anglais, Tenor and Baritone Sax, Clarinet)
Eleanor Mills (Bassoon, Clarinet, Tenor and Baritone Sax)
Chameleon is a group of multi-instrumentalists who all met at the Royal Northern College of Music in Manchester. The group is based on a traditional wind quintet, replacing French horn with saxophone. Each member is a specialist on one instrument (flute, oboe, clarinet, bassoon and saxophone), and doubles on one or two of the others. Something Chameleon is very proud of is our ability to do our own arranging. As there was no music written for this unique ensemble, the group have arranged their own music and have recently started working with composers to create new works. Since forming in 2016 they have had multiple competition success, winning the Brodsky Prize (2018),the Trevor Wye Woodwind Prize (2017), the June Emerson Launchpad Prize (RNCM 2017) and both the Audience Prize and a special commendation at the Chris Rowland Chamber Music Prize (2017).
How did your quintet get together?
Chameleon formed almost two years ago whilst all members were still studying at the Royal Northern College of Music. We were all interested in playing in a group where we didn't just play our first study instruments. Some of us have a lot of experience playing in musical theatre pit bands where it is the norm to swap and change instruments, and others wanted to challenge themselves to learn something new. And so our rather unique quintet formed and we now often have 20+ instruments on stage with us!
Why did you want to join LMN?
A huge part of Chameleon's performance diary is playing and running workshops round the community. We felt like LMN would be a perfect platform to branch out further in this area, to receive the best training to develop this part of our practice and to be able to deliver really exciting music to people that might not always get the opportunity to hear it.
What have you learnt so far?
It has been interesting to explore the strengths of each individual in our group through the LMN training – as a large group it is important for us to allow space for all 5 members and LMN have really been supporting our development in nurturing each other's individual talents to use in the chamber group setting. It's also been invaluable to learn new ways of communicating through music, body language and signing and we're really looking forward to putting it all into practice.
What are you looking forward to?
We can't wait for our first concert with LMN – something our quintet gets told a lot is that we look like we have a lot of fun on stage, and we do! So we're really looking forward to sharing our joy of playing as a group with the audience.
What's your quintet up to outside of LMN?
Outside LMN, Chameleon has a busy concert diary, playing regular concerts for music societies, evening recitals and lunchtime concert series. This season has seen us start to collaborate more with composers, so new music can be written for our unique group. We can't wait to premiere some of them in the coming months. Check out our YouTube channel here: https://www.youtube.com/channel/UCkIJ62l4GT3pNutIif4W01w
———————————-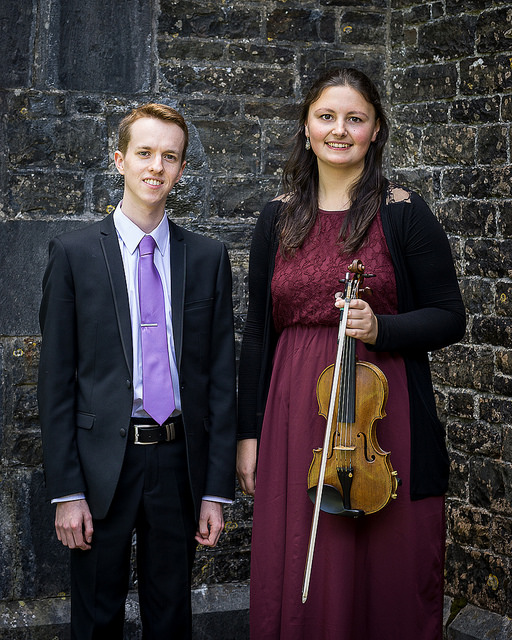 Abigail Hammett (Violin)
Iwan Owen (Piano)
Abigail and Iwan formed a duo at the Royal Northern College of Music, and have enjoyed collaboration for over two years. They enjoy performing a variety of repertoire; from the Brahms violin sonatas, to their own arrangements of folk songs. They have received coaching from eminent chamber musicians such Susan Tomes, Donald Grant, Jeremy Young, Benedict Holland and Benjamin Frith, and both are excited to have been recently accepted on to the Live Music Now Scheme.
How did your duo get together?
We formed the duo at the Royal Northern College of Music in 2016 for a performance at Llandeilo Festival in Wales, and having enjoyed playing together we decided to continue as a duo.
Why did you want to join LMN?
We both enjoy playing music, and we find it rewarding to perform for people who do not often see live music being performed. Seeing the pleasure that people get from hearing music is an enriching part of being a musician.
What have you learnt so far?
Through the performing experience we have gained so far, and also the numerous training sessions, we have developed a much greater understanding of SEN schools and also of some problems encountered by older people who live in care homes, and in particular those who have dementia. We have learned how to present a programme of varied musical content to different audiences, and how to engage with the audience and make the music accessible to everyone.
What are you looking forward to?
We are looking forward to bringing music and enjoyment to many audiences, and look forward to meeting people and hearing their stories. Every place we have been to so far has been different, and we have met some lovely and interesting people who want to share their stories with us.
What's your duo up to outside of LMN?
We are both very busy outside of LMN. Abi plays with various chamber music groups, including two string quartets; with one of the quartets she has just finished doing concerts in North Yorkshire. Iwan is busy combining solo performances with accompanying and also is on the last year of his Masters course at the RNCM. We also look forward to duo concerts coming up in the next year!
———————————————————–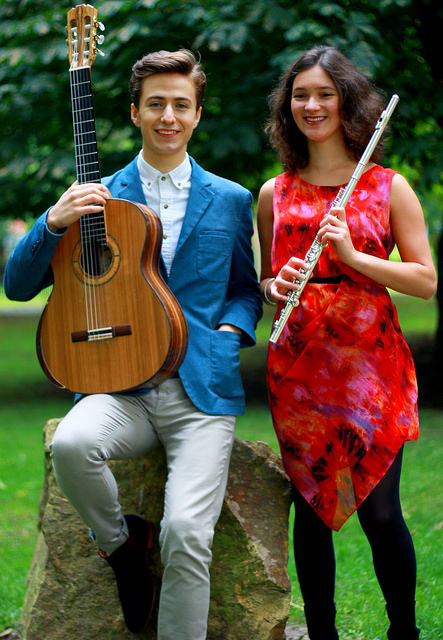 Meera Maharaj (flute)
James Girling (guitar
Formed in 2013, Meraki Duo enjoys exploring the diversity of repertoire available to the flute-guitar pairing while contributing new arrangements. Meera and James both studied at the RNCM, sharing a passion for chamber music that extends to jazz, works by contemporary composers, and Brazilian folk. They love performing in a wide variety of settings; most recently, these have included Swaledale Festival, St James's Church Piccadilly, Manchester Cathedral, and the Bridgewater Hall at Craig Ogden's Guitar Weekend. They regularly perform for recital series across the UK, and last year they advanced to the semi-final of the Royal Overseas League Competition in London.
How did your duo get together?
We have been playing together for 5 years now and we met in our first week as undergraduate students at RNCM. Following this, we decided to play some Piazzolla together and we're still doing so to this day, although we have learnt a few more pieces since then!
Why did you want to join LMN?
We had heard some much about LMN over the years from many eminent musicians who spoke fondly of their time on the scheme. In addition to this encouragement from teachers, we have both engaged in music making in the wider community as this is something we both feel is a fundamental aspect of being a musician, so the opportunity to work as a duo in such settings was very appealing for us.
What have you learnt so far?
Our training days thus far have been really fascinating and we have learnt a great deal already regarding our approach to programming, engaging audiences and most importantly how to share our love of music with others in the most effective way.
What are you looking forward to?
We are extremely excited about our first LMN engagements which so far consist of a number of workshops in Special Educational Needs Schools and a similar session at the Bridgewater Hall as well as visiting care homes. We think this will be the start of a hugely enjoyable and thought-provoking time on the scheme so we are very much looking forward to that!
What's your duo up to outside of LMN? 
On a community music making note, we are giving two performances at Wigmore Hall, one of which is for those living with dementia and their carers and the other is for parents with very young children. Last month we enjoyed giving some recitals in the South as well as a few in and around Manchester and we look forward to returning North for upcoming concerts in Burnley, Warrington and Wensleydale.
————————————————————-
Charlotte Badham (soprano) and Rachel Fright (piano)
Charlotte Badham (mezzo-soprano)
Rachel Fridge (piano)
How did your duo get together?
We met as students at the RNCM. Back in 2015, Charlotte was looking for someone to perform Samuel Barber's Hermit Songs with her in the RNCM lunchtime concert series. I offered, and the experience of learning that set of songs together shaped the duo. Charlotte's teacher, Ann Taylor, had performed the set with my teacher, David Jones, whilst they were at the RNCM together, so we had a sense of history! We went on to collaborate on a regular basis, and this has led us to various performances including a concert at the Leeds International Festival as part of the RNCM Songsters.
Why did you want to join LMN?
We were both strong believers in the ethos of LMN and wanted to bring live music into settings where it might be rarely seen. Charlotte had previously worked for Lime Music for Health, which brings music to hospitals, and I had experience of the Artis scheme, which takes music into disadvantaged schools. In addition to this, we both had personal experience of close relatives with dementia and knew how powerful music could be in that context. The chance to do all this and develop our relationship as a duo at the same time seemed too good to miss.
What have you learnt so far?
I think the thing I have enjoyed the most so far has been the strong sense of community amongst LMN musicians. We have met each other on training days that have been designed to prepare us for different aspects of the work, and we have really enjoyed sharing ideas and creating workshops together. It has also been extremely touching to see how much our audiences have enjoyed the concerts. We might think nothing of dressing up for a concert in normal life, but we could see how it brought them a real sense of occasion and a chance to meet others.
What are you looking forward to?
So far, I have mainly performed in concerts for LMN. I am greatly looking forward to putting the things we have practised on our training days into action with more interactive events, particularly with children. We are looking to expand our repertoire and see how some new pieces go down, so it'll be fun to have some direct feedback from our performances. Children are very honest audience members!
What's your duo up to outside of LMN?
We perform together regularly in standard concert settings. Recently, this has involved a trip back to my alma mater: Pembroke College, Oxford. When we're not working together, we are both starting out on freelance careers. Charlotte has recently graduated from the RNCM as a Master of Music and is pursuing a career in opera, having recently performed with Buxton Festival Opera and Clonter Opera. I am a Junior Fellow in Accompaniment at the RNCM and work for other organisations including Yorkshire Young Musicians, Sheffield Philharmonic Chorus and King Edwards Music Society, Macclesfield. I am also a private piano teacher and accompanist.