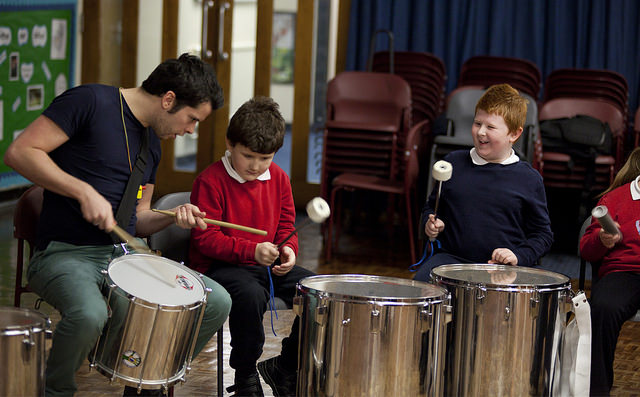 Talented early career musicians in Wales are being given the opportunity to join a renowned training and development scheme which provides regular performance opportunities, and follow in the footsteps of celebrated Alumni such as Tim Rhys Evans (MD of Only Boys Aloud/Only Men Aloud), Llyr Williams (International pianist), Jamie Smith (Mabon) and Hannah Stone (former Harpist to HRH Prince of Wales).
Live Music Now is the UK's leading musician development and wellbeing charity, delivering over 6000 concerts across the UK each year, in residential homes, schools, hospitals and more. Their work focuses on health and well being with an emphasis on isolated elderly and those living with dementia, as well as children and young people with special educational needs and disabilities.
Live Music Now Wales is currently looking for new musicians (soloists and groups) in Acoustic, Rock & Pop, Classical, Jazz, Folk and World Music genres to audition in Cardiff this April. The scheme helps musicians kick start their professional career, whilst allowing them to engage with a wide variety of audiences. The charity is seeking exceptional artists who want to develop themselves professionally, with the spark and passion to share their music to a wider audience, including older people in care homes, children and young people with disabilities, hospitals, schools, festivals and more. If accepted, musicians join the scheme for 4-6 years, benefitting from an ongoing programme of training and development, and regular performance opportunities. 2016 saw LMN soloists and groups performing not only in schools and care homes, but also on top of Snowdon, on boats, at a zoo, in a cave, at festivals and many more interesting locations and events.
Bridgend based John Nicholas (singer/songwriter/guitarist) joined the LMN scheme in 2015 and has found the benefits have developed him as an artist in multiple ways. John recently beat over 12,000 hopefuls to come second in The Open Mic UK championships, while also winning the award for Best Original Song for the track 'Better Things'.
"Applying for Live Music Now was a great move in my career as a musician, and one that I most certainly don't regret!", comments John. "The wide range of performance opportunities I have had, have given me invaluable experience and helped me no end as a musician and with my professional development.  I would 100% recommend the scheme to any musician, of any genre, what have you got to lose!"
Auditions for LMN Wales are held in Cardiff each April, with the next round due 5th and 6th April 2017. Applications must be received six weeks before, with a deadline of 21st February 2017.
To register your interest and request an application form visit: livemusicnow.org.uk/request_an_application_form For more information, please ring Gillian Green, Auditions Director: 029 2055 4298 or email [email protected]