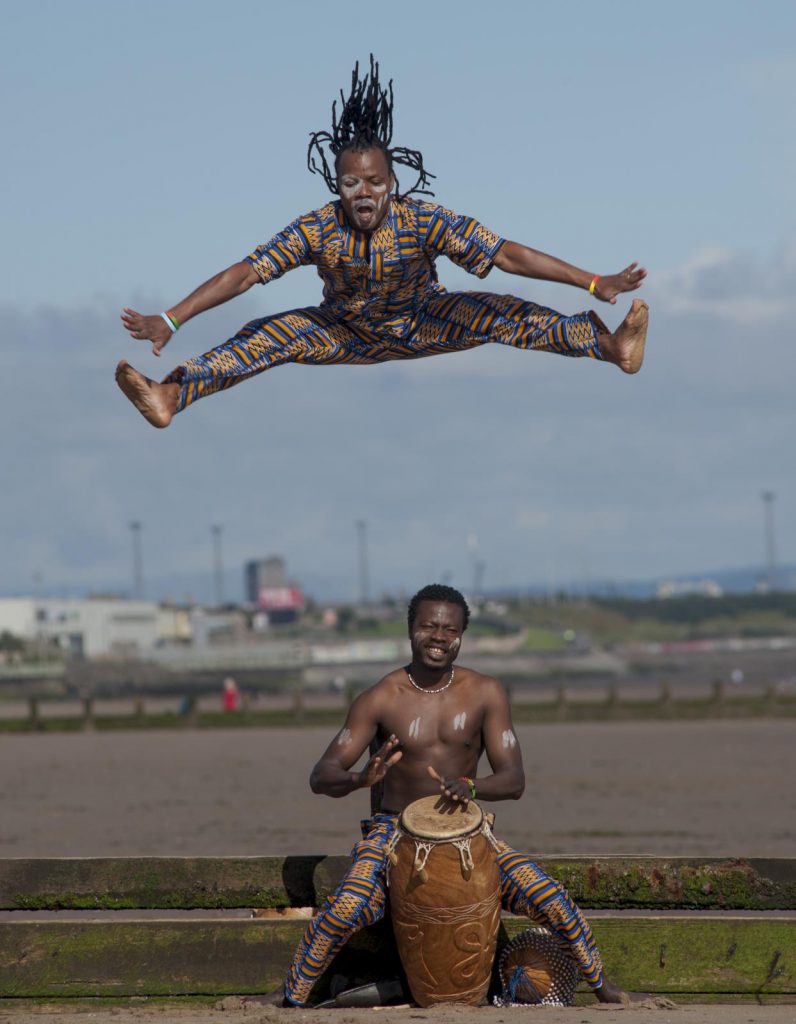 Leading musicians' development charity, Live Music Now, is pairing up with the producers of Stendhal, voted Ireland's best small festival for three years running, for an ambitious and exciting new two day festival for children in Limavady, called ArtAbyss.
Over 21st and 22nd June, over 600 school children aged 8-11 will travel to the Stendhal festival site at Ballymully Farm for a whirlwind of arts experiences, including music, dance, drama and crafts. Live Music Now is bringing Ghanaian dance and drumming duo, Akrowa to the festival to give children a taste of Ghanaian traditional culture.
Akrowa comprises Thomas Annang and Adie Baako, from a tiny fishing village in Ghana. As teenagers they studied drumming and dancing under the watchful eye of Master Drummer Okoe Ardifyo, leader of the Akrowa group in Ghana to this day. Now living in Belfast and Edinburgh, Thomas and Adie bring the exuberance and energy of their traditional music and dance to UK audiences. With the Live Music Now scheme they have developed extensive experience in engaging audiences of all ages, including children with special educational needs and disabilities.
Ross Parkhill, Festival Director, from Stendhal said,
'We are delighted to have connected with Live Music Now and the incredible work they are doing in bringing opportunity to the region, often for people more isolated, to engage and enjoy first class music. The partnership is a natural step in ensuring we continue to develop creative capacity and opportunity, year round. With thanks to Causeway Coast and Glens Borough Council for supporting the start of what we think will be a beautiful relationship.'
Alice Lewis, Branch Director of Live Music Now, said,
'As someone who lives in Limavady, I've been a fan of Stendhal for many years – their vision and creativity is extraordinary, and their ethos is very much in keeping with Live Music Now's aim of bringing high quality music to excluded areas and audiences.
I'm very excited about their new ArtAbyss festival for children – and delighted that Live Music Now is partnering to bring drumming and dance workshops to the mix. We're grateful to Causeway Coast and Glens Borough Council for funding us to bring this unique cultural experience to children in Limavady.
We're also very pleased that Akrowa will be giving workshops at two special schools while they're in Northern Ireland, as part of a project funded by our Principal Funder, the Arts Council of Northern Ireland through its National Lottery programme.'
This project is supported by a Culture Arts and Heritage grant from: