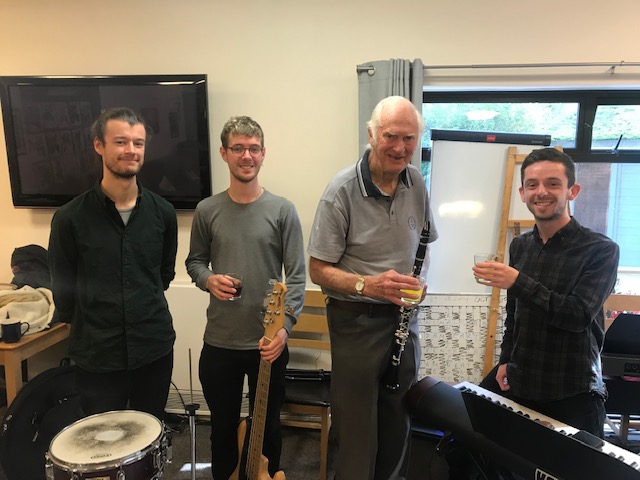 A professional cricket player and BBC Sports commentator, Mr Peter Walker was well known for his contributions to the sporting world, but he had a secret talent. After an Alzheimer's diagnosis, Mr Walker rediscovered his passion for jazz clarinet, which he played most days at his home in Llandaff, Cardiff. In 2019, Mr Walker's wife Sue contacted Live Music Now to enquire about musical opportunities for people living with dementia.
After learning that Mr Walker frequently attended the Alzheimer's Society day centre in Oldwell Court (Cardiff), LMN Wales organised for jazz ensemble The Michael Blanchfield Trio to perform there and invited Mr Walker to bring his clarinet along for a jam with the band.
Peter Walker Clip – 2019 from Live Music Now on Vimeo.
Following this, LMN Wales began developing Mewn Tiwn (In Tune), a music programme specifically for people living with dementia. Sadly, Mr Walker passed away in April 2020. Mewn Tiwn was launched in Febraury 2021 in Mr Walker's memory, thanks to support from ICF Dementia Friendly Communities, who have agreed to fund two virtual pilot Mewn Tiwn groups in Cardiff and the Vale.
"It was a real privilege to meet Peter and to see him take such great pleasure in playing his clarinet. I hope that his time with our jazz group brought both him and Sue some joy, and that Peter's story will inspire others living with Alzheimer's." – Heather Chandler, Project Coordinator LMN Wales
Michael Blanchfield, a musician on the Live Music Now scheme in Wales pays tribute to the late Peter Walker in a touching virtual concert that's been made available to care homes through the Live Music Now Online Video Concert library.