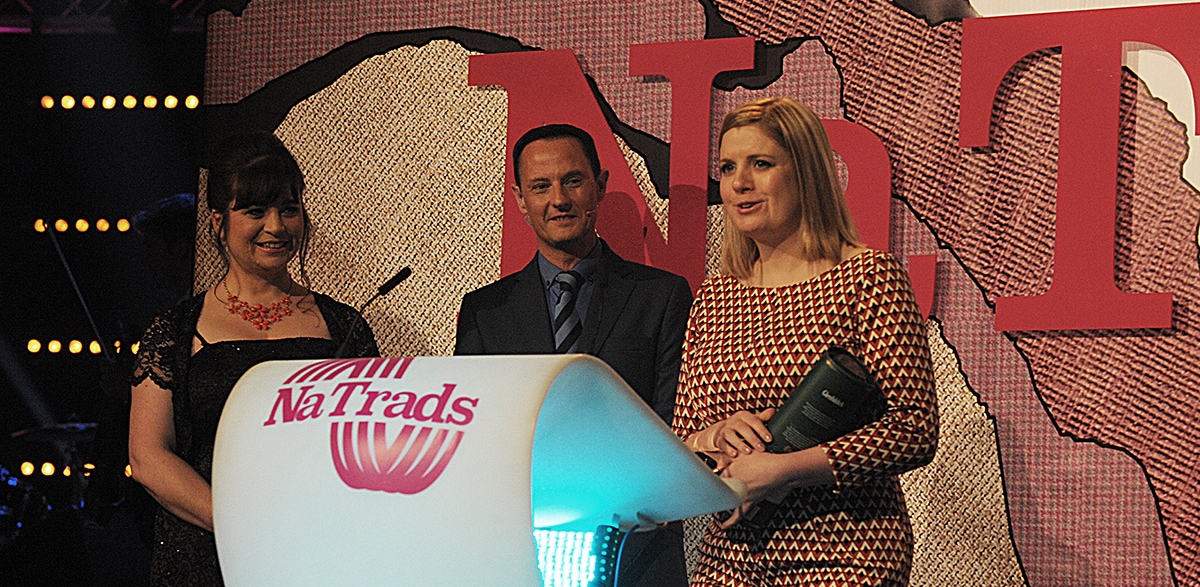 Live Music Now Scotland was awarded Community Project of the Year in the 2015 MG ALBA Scots Trad Music Awards on Satuday the 12 December in Dundee.
"We are so delighted," said Live Music Now Scotland's Assistant Director, Daniella Keenan, who collected the award at the prestigious ceremony in Dundee's Caird Hall.
"Huge congratulations to all the other winners and many, many thanks to all those who voted for us – we're thrilled!
"We ran over 600 projects and workshops across Scotland this year – down in the Borders, up in the Orkney Islands and everywhere in between," said Daniella. "We've brought live music to babies, toddlers, schoolchildren, adults with disabilities, elderly people living with dementia – it really is a privilege for us to support the incredibly talented musicians who deliver these special performances to the community."
The Trad Awards ceremony takes place every year, and aims to bring together stars of the Scottish music scene to honour the very best of traditional talent. The Awards are organised by Hands Up for Trad, an organisation founded by composer/ musician Simon Thoumire in 2002 to increase the profile and visibility of Scottish Traditional Music. Earlier in his career Simon took part in Live Music Now's scheme, which supports emerging artists at the outset of their professional life. He was joined onstage on Saturday by the Trad Awards presenter, Mary Ann Kennedy, another Live Music Now alumnus, and the first Scottish traditional musician to join the scheme.
The ceremony was broadcast live on BBC ALBA and BBC Radio Scotland, following several weeks where the public was able to cast votes online for their favourite musicians, bands and organisations.
It was a particularly exciting year for Live Music Now Scotland, as an impressive number of Live Music Now Scotland artists had also been nominated for awards. Siobhan Miller's 'Flight of Time' was nominated for album of the year; Ainsley Hamill was nominated for Gaelic Singer of the Year; Claire Hastings and Robyn Stapleton were each nominated for Scots Singer of the Year; the duo Gráinne Brady & Tina Jordan Rees were nominated in the Up and Coming Artist category, and fiddlers Jeana Leslie, Kristan Harvey and Rua Macmillan were also featured, as their bands Blazin' Fiddles and Fara were nominated in the Album of the Year and Up and Coming categories.
Congratulations to all the nominees and winners!
To read more about the Trad Awards and see photos from the night, go here and here.
For further updates on Live Music Now Scotland, please check the Facebook page.