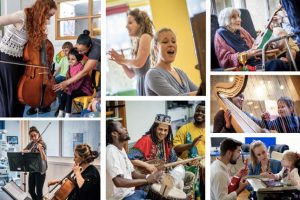 Live Music Now (LMN) was created by Yehudi Menuhin and Ian Stoutzker in 1977. Over the last 40 years, it has developed a training and delivery framework which focuses that impact on individuals and communities where the need is greatest, and the benefits are maximised.  Each year, it trains and supports over 350 professional musicians to deliver evidence-based music workshops, mainly in settings of special education needs and care for the elderly.
Our work enhances lives of not only the children and adults we work with but also the lives of teachers, care staff and families. LMN is the leader in this field, with growing recognition for the quality and impact of their work. Yet so many people who would benefit from engagement through music remain unreached.  The Board is determined to close this gap.  It is seeking a Chief Executive with the skills, experience, and ambition to lead the organisation on this quest. The successful candidate will work closely with the Board and its Chair, Sir Vernon Ellis, to develop and execute a transformative strategy.
The successful candidate should demonstrate:
Clear leadership experience and a compelling vision for LMN
Demonstrable experience of transformational change in a complex organisation
Experience of financial management with the ability to balance short term financial controls with long term ambitious plans
Excellent people management skills and a track record in distance management
Knowledge of fundraising, marketing, and brand management and a network of relevant contacts
Proven ability to forge and sustain successful partnerships
Demonstrable experience of working with and influencing policy makers
High levels of business acumen and commercial awareness
Experience of working with and supporting a Board of Trustees
The post holder will be a highly motivated, entrepreneurial, and innovative individual with excellent communication and presentation skills who is adept at building lasting relationships with both internal and external stakeholders.
You will be resilient, forward thinking and demonstrate strong negotiating and influencing skills at all levels. A true belief in the ethos of the charity and the services they offer is essential and a background of working within the arts, culture, education, or social care sectors is desirable.
Download Chief Executive Candidate Pack here.
This is an exceptional opportunity for a charismatic and ambitious leader.  If you have the skills and experience to succeed in this role, please submit your CV with a supporting statement, to Jenny Warner, Managing Director, Charisma Charity Recruitment – [email protected] quoting our reference JO2781.
Live Music Now is committed to being an Equal Opportunities employer and as such we actively encourage applications from LGBT (lesbian, gay, bisexual and transgender) people, people with disabilities and people from Black, Asian and minority ethnic backgrounds.
Closing date for applications:  15 November 2020
1st Interview date: end November 2020, TBC / 2nd Interview date: TBC