Earlier this year we welcomed some talented and exciting musicians to Live Music Now in the South East.
In the third part of our 'Meet the Musician' series percussionist Joe Steele talks in his own words about his work and what brought him to join Live Music Now.
Saxophone with duo Boubakiki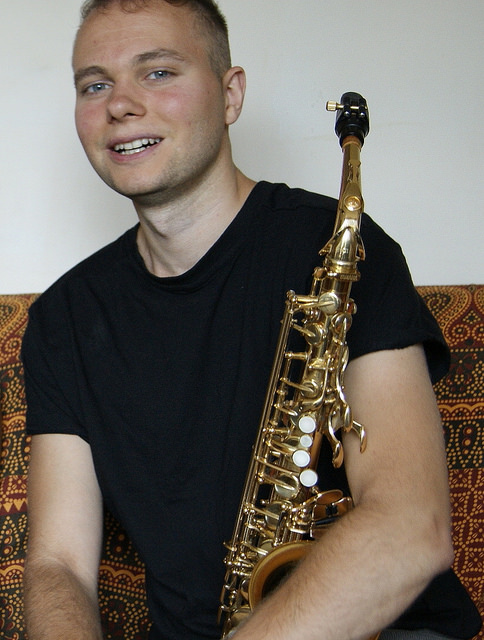 My Musical Journey
My musical journey began when I was nine; my parents encouraged me to play an instrument and I immediately chose the saxophone – I'm not sure why! I only became truly passionate about music when I started to compose my own material as a teenager. I started off making pieces for piano or saxophone, then moved on to score pieces for ensembles. In my teenage years I also began to get involved in theatre. I studied for a BA in Music at the University of York in which I furthered my interest in combining music and theatre, leading me to study on the MA in Opera Making & Writing (Composition) at the Guildhall School of Music and Drama. I got a place on the Spitalfields Trainee Music Leaders scheme which introduced me to the world of workshop leading and I found that I loved it! I enjoy the diversity of my work now: some performing, some workshop leading, some composing – with the lines between these being often blurred, which is great!
Why Live Music Now?
LMN is a brilliant scheme in so many ways. It provides a great structure for musicians and ensembles to develop their craft, whilst diversifying their skills to make them into more effective communicators and music leaders. For Boubakiki, we are also particularly interested in the format of the 'interactive concert' – something we've not really done previously but forms a large part of LMN engagements  – since it provides an interesting synthesis of the 'standard' concert format and a full-on creative workshop. Most importantly for us, Rosie and I simply love performing and leading together, so any opportunity which helps us to do more of that is great! And of course, getting to share our passion for music with different groups of people is what makes it all worthwhile.
My Playlist for Life
Mahler – 4th symphony
Sade – Is it a Crime?
Kate Bush – Army Dreamers
Bernstein – 'Dance at the Gym' from West Side Story
Toshio Hosokawa – Three Love Songs for saxophone and mezzo-soprano
To learn more about Joe and Boubakiki visit livemusicnow.org.uk/lmn-musicians-info/id/1599
If you would like to join Live Music Now and you are based in London and the South East APPLY NOW – request an application online here. 
Closing date for applications is  Tuesday 16 October 2018.
Auditions will be held in London on 27th, 28th & 29th November.
Help us spread the word! Download the auditions poster here.
For more information on the application and audition process http://livemusicnow.org.uk/auditions-home
*A 'Playlist for Life' is a list of songs or pieces of music that make up the soundtrack to your life. Lullabies your mum sang to you. Your first 'slow dance'. Music that reminds you of special holidays or special people. Playlist for Life taps into a recognised phenomenon: personally meaningful music has the ability to improve life for people with dementia, their family and their carers. For more information visit www.playlistforlife.org.uk