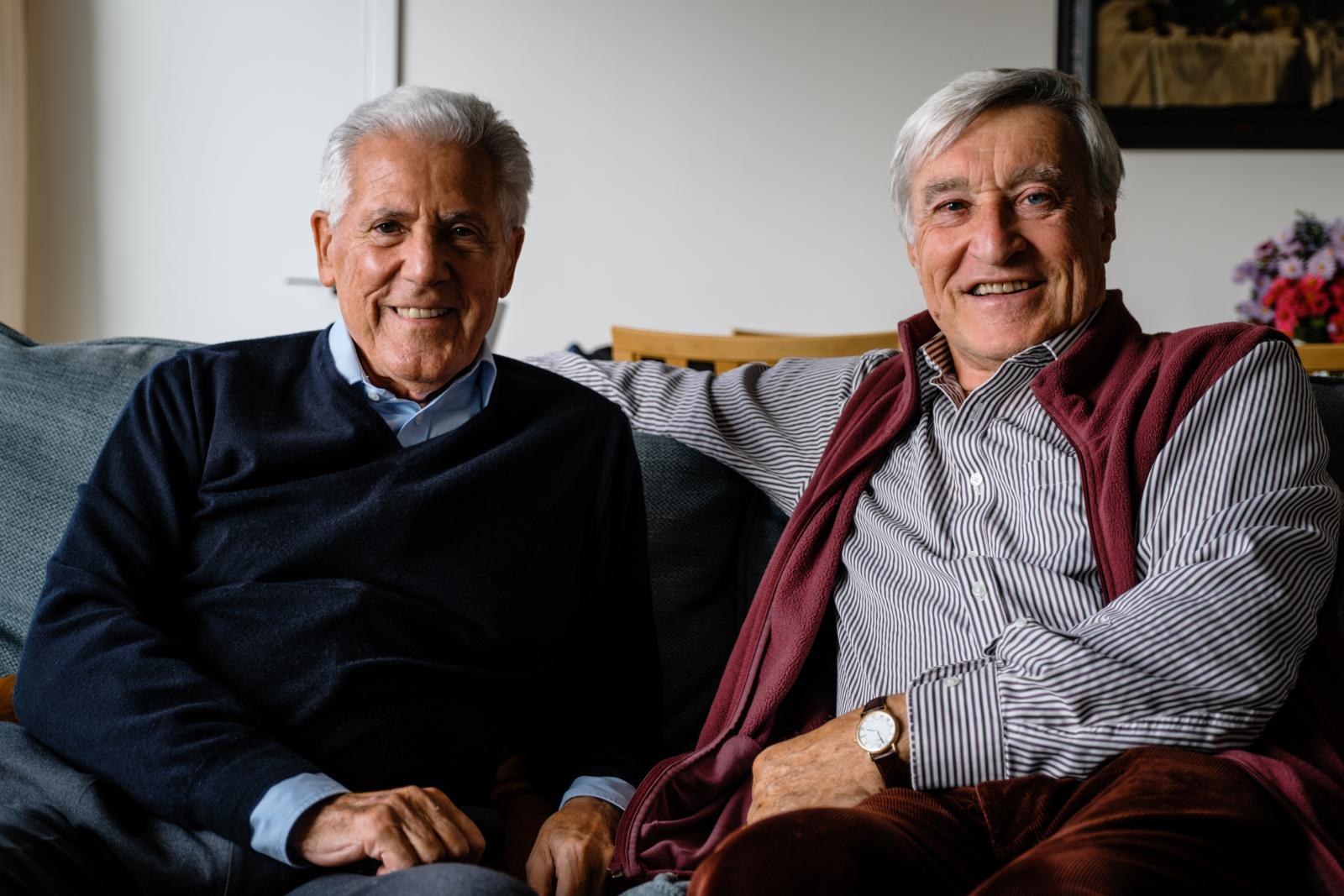 Live Music Now (LMN) was founded in 1977 by Yehudi Menuhin and his great friend Ian Stoutzker. After 41 years in the role of chairman, Ian Stoutzker retired on 4 October 2018. The board has elected Sir Vernon Ellis to succeed him as chair, and Ian has been elected Founder President of LMN.
Throughout the years, Ian Stoutzker has been LMN's chairman and driving force, involved directly in shaping its growth and development.
Menuhin and Stoutzker's vision was to bring interactive live music to disadvantaged people, delivered by young professional musicians of the highest quality. Since its foundation, LMN has provided over 80,000 interactive music workshops for over 2.8 million people throughout the UK. Independent evaluations have shown significant benefits for the mental wellbeing of those who take part, as well as their families and carers. There have been lasting benefits for children with special educational needs and disabilities, older people living with dementia, and those affected by loneliness and social isolation.
"Often there is some reluctance to pass on responsibility for one's creation. However in this case it has given me the greatest pleasure that Sir Vernon Ellis has accepted our invitation to carry the scheme forward. I can think of nobody more qualified to take this on.
In our earlier years, music as a therapy was not appreciated. Today it is becoming well understood and significant, especially in the area of healthcare. This opens up the opportunity for Live Music Now to make an even greater contribution based on its long experience.
I would like to thank our governors past and present who have taken the scheme throughout the United Kingdom, the generations of the devoted staff who have been in the front line of our work and the very many trusts, foundations and supporters who believed that we are making a difference. A very special word of thanks to His Royal Highness The Prince of Wales whose interest goes back to our early days and whose support during the years of establishing the scheme was crucial.
It has been a great personal satisfaction to know that so many of the thousands of young musicians who have been on the scheme say that this experience was significant in their development as musicians. Yehudi Menuhin who was our original inspiration would be well satisfied."
                                                                                                                                    – Ian Stoutzker CBE
"Music can make an extraordinary impact on people's lives.  Live Music Now focuses that impact on individuals where the need is greatest and the benefits are maximised.  Ian Stoutzker leaves a wonderful legacy in this organisation; it is a huge privilege to succeed him.  I look forward to working with Evan Dawson, the Executive Director and his talented colleagues to take the impact we make to an even higher level, an exciting prospect."
                                                                                                                                       – Sir Vernon Ellis
Live Music Now has become known as a pioneer in the field of music engagement. Its work has been endorsed by the Care Quality Commission, Public Health England and the Royal Society for Public Health. LMN provides high quality music experiences for over 130,000 children and older people each year, and is leading national campaigns for wider access to music amongst special schools and the adult social care sector. There are over 320 professional musicians on the LMN scheme at any time, who come from a wide range of backgrounds and music genres, who themselves benefit significantly from the experience of taking their music to so many different audiences.
Over the coming year, together with musicians and friends around the UK, we look forward to celebrating Ian Stouzker's incredible legacy as LMN's Founder Chairman.
Sir Vernon Ellis
Sir Vernon is a major supporter of the arts in roles that include the President of English National Opera, Chair of the National Opera Studio, the Britten-Pears Foundation, the Leeds International Piano Competition and as a trustee of the Royal Philharmonic Society and London Music Masters. From 2010 until 2016 he was the Chair of the British Council, prior to that he was International Chairman at Accenture.
Through his Foundation he hosted over 80 concerts a year in support of musicians and musical organisations at his London home but also has taken an increasing focus in supporting organisations and projects which make an impact through the arts on health, education and wellbeing.
He is a Fellow of the Royal College of Music. He holds an honorary fellowship from Trinity Laban Conservatoire of Music and Dance and honorary doctorates from Goldsmiths, University of London, Queen's University Belfast and Warwick University. In the 2011 New Year's Honours he was knighted for his services to music.
He has also has made a major contribution to other arts organisations over many years
Ian Stoutzker CBE
As well as Founder Chairman of Live Music Now, Ian Stoutzker has been Chairman and President of the Philharmonia Orchestra, Chairman of the Advisory Council London Symphony Orchestra, a Trustee of the Musicians Benevolent Fund, Co-chairman of the Voices Foundation and Chairman of the Royal Concert Committee. He is a Vice President of the Royal College of Music, an Honorary Member of the London Symphony Orchestra and is currently Co-chairman of the European Union Youth Orchestra.
He is a Fellow of both the Royal College of Music and the Royal Welsh College of Music and Drama; and an Hon. Fellow of the Royal Academy of Music. He was awarded CBE in 2012, and The Prince of Wales Medal for Philanthropy in 2013. Among his wide support for the arts has been a major gift of British Art to the Tate Gallery.