I ddarllen hwn yn Gymraeg cliciwch yma.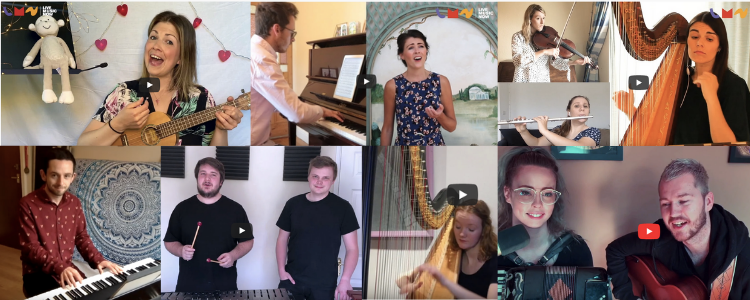 Whilst the global pandemic continues to challenge the arts and live music scene worldwide, Live Music Now Wales  responded by developing multiple virtual opportunities thanks to funding from the Moondance Foundation, Rayne Foundation, South Hook Fund, Arts Council Wales and Awards for All.
Alis Huws, The Royal Welsh Harpist to HRH The Prince of Wales, performs a variety of pieces with a magical theme.
From April 2019 to March 2020, Live Music Now Wales' musicians delivered 336 sessions in schools, care homes, hospitals and hospices reaching more than 10,000 people across 18 Welsh counties. Since lockdown began, LMN Wales had to cancel 49 in-person events. Despite these testing times, LMN Wales was determined not to let the pandemic stop them from reaching vulnerable audiences. It was also clear from the offset that we needed to support our early-career musicians during this time, with many of them left with no income from other sources.
LMN consulted with care homes and schools early-on in the lockdown to determine what musical input would be most helpful and worked quickly to adapt delivery and create:
In addition to the national offer, LMN Wales is also developing:
a digital mental health project called Soundtrack complete with online resources;
DVDs for care homes who aren't able to access the online video library page.
The 44 musicians on the LMN scheme in Wales responded quickly to the increasing demand for online content, with great enthusiasm, flexibility and creativity, resulting in some exciting opportunities for them to develop their digital skills and continue working remotely. With support from The Moondance Foundation, LMN Wales musicians contributed to the video libraries with a series of fifteen recorded concerts within their homes, specifically for early years and children with additional learning needs and disabilities. In addition to this, thanks to re-purposed funding from the Rayne Foundation and South Hook fund, LMN Wales has also been able to create fifteen more bespoke concerts for isolated older people within the community and those living within care homes. We were delighted to discover that some care homes, hospitals and hospices are already starting to use these resources to connect and uplift their service users during these difficult times.
"I have to email you with thanks. We have had a fantastic morning with Live Music Now artists this morning. It has worked so well and the residents have thoroughly enjoyed a variety of new faces, sounds, instruments and personalities. We really appreciate you sending the recordings. Thank you so much for making our day and to know that there is much more to listen too."
Bethshan Nursing Home, Powys.
Thanks to funds from Arts Council Wales, we are able to make every concert fully accessible and available with both Welsh and English subtitles. We have also commissioned Welsh-language concerts such as the following produced by fiddle player Angharad Jenkins of traditional Welsh folk group Calan.
"Imagine trying to experience the world in a language that isn't your mother-tongue, and how much more difficult it could be if you have additional learning needs. The provision for first-language Welsh speakers with learning difficulties is thin on the ground at the best of times. I passionately believe that children should have access to music in their first language. It's so important that there are Welsh-language resources available, and I'm delighted that LMN are able to offer these sessions through the medium of Welsh." Angharad Jenkins, LMN Wales musician
An extra special recorded concert from jazz pianist Michael Blanchfield has been dedicated to the memory of Peter Walker, a former BBC Sports presenter who was diagnosed with Alzheimer's in his late 70s. After his diagnosis, Mr Walker rediscovered his passion for jazz clarinet and had the opportunity to jam with Michael's jazz trio at a dementia-friendly concert last year. Sadly, Mr. Walker passed away in April.
Percussionists Luke Baxter and Iolo Edwards from LMN Wales ensemble Quartet 19 have also been busy making a short training video for care home staff, which teaches and encourages the use of percussion in music-making activities and singalongs with residents.  This resource will be shared as part of LMN UK's Live Music in Care project.
Whilst all concerts from Live Music Now across the UK are available in our video libraries, LMN Wales is creating DVDs of the concerts so that older people at home without access to the internet can also benefit from live music. LMN Wales is working with Age Cymru and other similar third sector organisations to help reach those not online. If you are interested in finding out more, please email the branch at [email protected].
"Wow! Hugely enjoyable, the tension just melted from my shoulders! A great idea too, for the option to download a sing-a-long sheet. Thankyou!" YouTube viewer