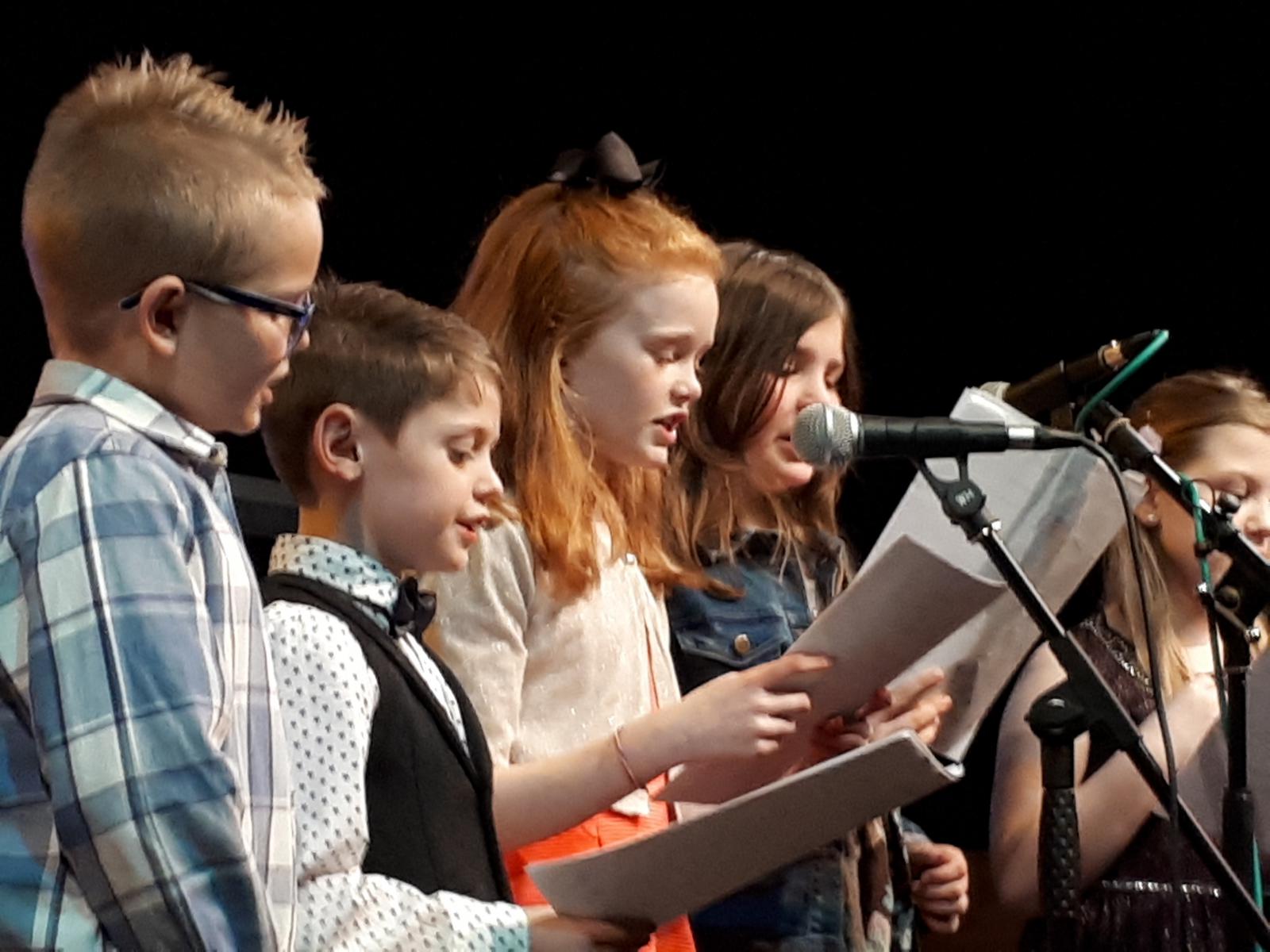 Photo credit: Dorothy McDonald
Beautiful music was made on the Isle of Bute earlier this week, in a concert that marked the successful end of a ten-week songwriting project. Back in January, the Live Music Now Scotland collective began working with two groups of primary and secondary school pupils, helping them to write their own songs. The results of the Belt It Oot Bute! group were then performed live on stage on Tuesday night at Rothesay Joint Campus.
The songwriting project was a collaboration between Live Music Now Scotland and Achievement Bute, a charity on the Isle of Bute that provides support to children with additional support needs and their families. They also organise trips, clubs and events for all children.
For this project, various musicians from the Scottish roster of Live Music Now were chosen to team up with the school children and teach them about writing songs, as well as how to perform and produce a live concert. Scottish folk singers Robyn Stapleton and Claire Hastings, fiddler and pianist Ron Jappy, accordionist Grant McFarlane and drummer Gus Munro all mentored the pupils during the project, and delivered participatory workshops and performances. Some of the older pupils were invited to shadow the musicians, in order to learn more about delivering music workshops, improve their songwriting skills and assist in the set-up and delivery of the concert – on the day of the event, the performance gave the children a crash course in stage management skills.
Alongside the ten-week project, Live Music Now Scotland ran monthly events with Achievement Bute which were open to everyone, featuring workshops with LMNS musicians and visual arts activities. The all female bassoon group, Genovia Quartet and folk ensemble Barluath have led workshops, and the African drum and dance duo Akrowa UK will visit the island at the end of the month, and the trombone, tuba and trumpet trio, Granny Green, will take part in a special Easter project.
Achievement Bute is a fantastic organisation that Live Music Now Scotland was delighted to collaborate with. In keeping with Live Music Now Scotland's values, Achievement Bute was set up to be inclusive and welcome children with a variety of different needs, so we were particularly pleased that a real mix of children were able to get involved and share a love of live music.