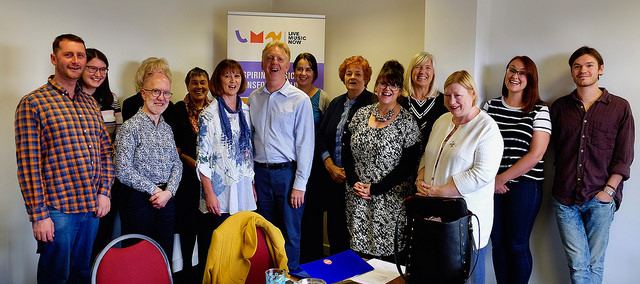 Live Music Now is indebted to the support of volunteers who give up their time and expertise to guide regions through our Advisory Committees. This year in Wales we bid farewell to not one, but two long standing voluntary committee members who have supported the growth and delivery of our work in Wales almost since it was founded by our current Auditions Director, Gillian Green around 27 years ago.
Stephen Harris
A few years into the life of LMN Wales, Trustee and Chair of the Advisory Committee Lady Ann Crickhowell, sought with then Director Gillian Green, a suitable Treasurer to support the financial proceedings of the branch. They managed to secure the assistance of Stephen, who was then working at a Senior Level in Finance for the University of Wales Hospital. His expertise has been essential to the smooth running of the branch in the years that passed, as annual income increased through grants and donations.
The now infamous exchange of words between Stephen and Gillian "I'm not a musician and you're not an accountant" led to Stephen's wife, Sue joining the team as Book keeper, a role she undertook until very recently when the branch moved their accounting procedures over to Quickbooks. The generous level of support in which Stephen and Sue have provided the branch through quarterly and annual accounts over the past 25 years has been remarkable. Their daughter, Lauren also played her part when she held her own cake stall to help raise funds for LMN Wales whilst still at school, and is now training to become a professional ballet dancer.
LMN Wales is but one of several charities Stephen has lent his skills to over multiple years, demonstrating his generosity and compassion for those less fortunate, and his commitment to give what he can to make a difference.
Geraint Lewis
Renowned Welsh composer Geraint Lewis has been a founder member of the LMN Wales Advisory Committee, and a regular panelist on auditions in Wales for almost 27 years. Working at Nimbus Records and The Concert Hall of the Nimbus Foundation, Geraint was crucial to the development of our work in Wales, helping arrange a concert by the English Chamber Orchestra, conducted by our founder Yehudi Menuhin to be a fundraising and profile raising for LMN Wales.
Upon hearing of Menuhin's death, Geraint dedicated performances of the Faure Requiem and his own The Souls of the Righeous, which were scheduled to take place at Nimbus, to the memory of Menuhin, with a bucket collection to go towards our work.
Geraint has  also written numerous works for LMN musicians to perform, and his song cycle Penllion y Plant (written for Elen ap Robert and Manon Morris to celebrate LMN's 20th Anniversary), is a much loved work in the soprano and harp repertoire. Furthermore it was Geraint who organised the CD recording of all the new works that were written by composers from all four countries of the UK in celebration of the anniversary, with introductions given by Menuhin.
We are grateful that Geraint will maintain his voluntary role as a very valuable panel member at Wales annual auditions.
The commitment of any volunteer to charity work is always to be praised, and without the care and dedication of such selfless individuals it is safe to say the charity sector in the UK would not survive. LMN is extremely proud of and grateful for all those who have volunteered for us as trustees, committee members and in office based roles over the 40 years we have been running, but the level of dedication that both Stephen and Geraint have shown LMN in Wales for almost 50 years together is above and beyond what anyone could expect.
Claire Cressey, Director for LMN Wales commented, "On behalf of the LMN Team across the UK, the many musicians we have worked with and continue to work with, and the thousands of isolated older people and children with special educational needs and disabilities whose lives have been changed because of your selfless support of our work, to both Stephen and Geraint we offer you our warmest regards, deepest respects and a huge THANK YOU!"