Live Music Now is working in perfect harmony with the NHS to launch the Lullaby Project, a ground-breaking initiative which aims to improve peri-natal healthcare and reduce health inequalities caused by economic, cultural and education disadvantage through the medium of music.
Created by New York's Carnegie Hall, the Lullaby Project pairs pregnant women and new mothers and fathers with professional musicians to write and perform personal lullabies for their babies to support maternal health, childhood development and family bonding.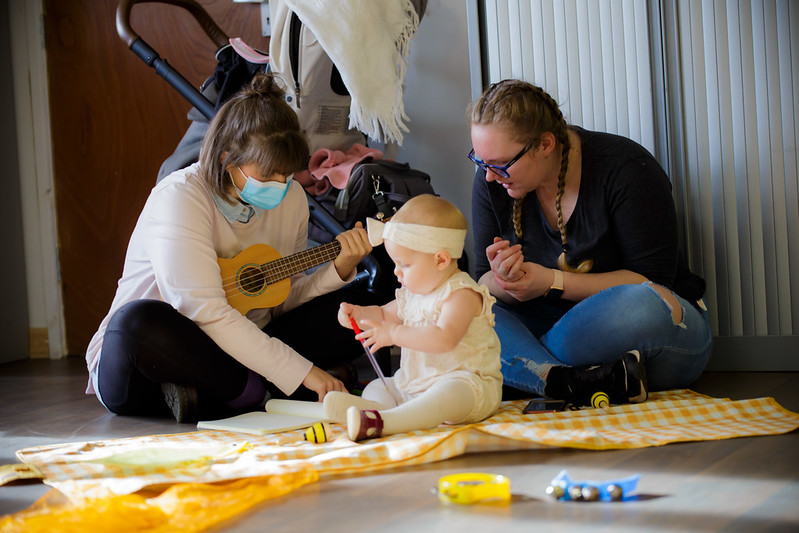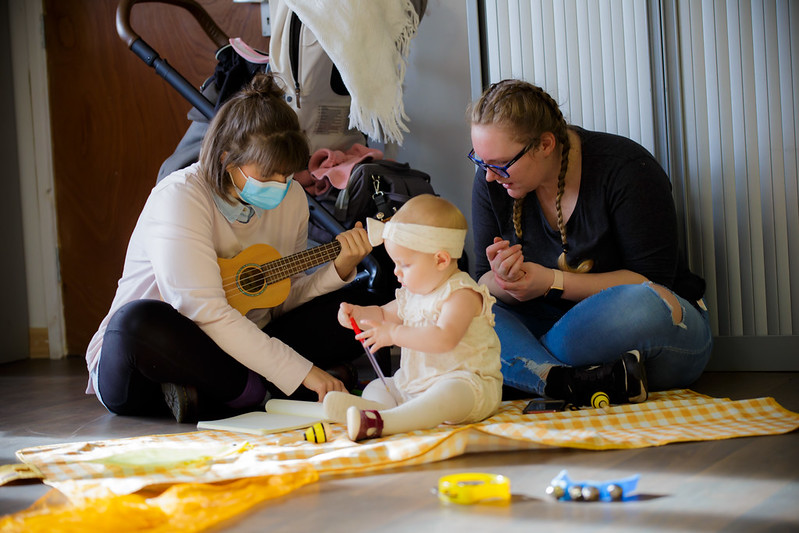 The programme powerfully explores expectant or new parents' feelings and hopes for their children, using the universality of a lullaby, drawing on all music genres and styles, carefully reflecting the participants' interests and tastes. Once the writing, performing and recording process is complete, the project will culminate in a series of celebratory concerts featuring the new songs.
The original creators, Carnegie Hall's Weill Music Institute, have been involved with the project from the outset, providing training for Live Music Now musicians and sharing research, resources and best practice. In New York City, the Lullaby Project has already helped thousands of parents in healthcare settings, homeless shelters, high schools, foster care, and prisons.
Working alongside NHS peri-natal mental health services with Cheshire and Merseyside Women's Health and Maternity Network, South West Yorkshire Partnership NHS Foundation Trust and Swansea Bay Health Board and Perinatal Mental Health Unit, pilot projects are planned or underway with first concerts planned for late November following Baby Week.
In partnership with NHS services, the Lullaby Project will roll out across the UK, helping prospective partner organisations support vulnerable families and assisting the NHS's early intervention and prevention agenda in the long-term by promoting early engagement with both the arts and health.
Janet Fischer, CEO, Live Music Now says:
"Some of the earliest sounds from our childhood have a profound impact on the rest of our lives. By inviting families to join forces with professional musicians to create and sing personal lullabies for their babies we hope to improve parental confidence and creativity while nurturing mother and baby attachment and early bonding. It's all the opportunity to expose young children to language and music they might not normally have the chance to discover and bring communities together."
Karen Irwin, Strategic Director, Live Music Now says:
"New mums have had an especially tough time over the past 18 months – often attending appointments and ultimately giving birth alone without the support of partners and isolated from family support. Bringing a newborn into the world during a pandemic has had profound impacts on new mothers, cut off when they need support and care the most. The Lullaby Project sets out to offer musical support and solace at the time when any new parent is vulnerable.
The project is launching with three bespoke projects across the UK:
In Cheshire and Merseyside with the Improving Me Partnership, two cohorts of eight mums are working with four musicians in a blended project offering a mix of digital and live interactions supported by an NHS community engagement team. The first performance of the new lullabies takes place on 27 November hosted by the Museum of Liverpool.
Jo Ward, NHS Cheshire and Merseyside says:
"Mental ill health is a huge issue during pregnancy and in the first year after the birth of a baby for as many as 1 in 5 women but we still fail to talk about it openly. We need to change this especially as maternal suicide stands as a leading cause of preventable deaths. The cost of these mental health challenges is considerable; impacting on women, their families, the NHS and the economy. By working with Live Music Now, we can drive early engagement and offer beautiful, nuanced emotional support through the simplicity of a lullaby creating a unique and special bond between a mother and her baby; whilst supporting women to develop agency and trust to access timely support."
In Calderdale, Yorkshire with the South West Yorkshire Partnership NHS Foundation Trust, Live Music Now launched a pilot project in the summer, with musicians Simon Robinson and Rosie Hood working with three new mums who had their lullabies recently recorded in studio. Funding is now in place for a larger scale project in coming months.
David McQuillan, arts and health programme manager at South West Yorkshire Partnership NHS Foundation Trust, says:
"The Lullaby Project is fantastic initiative and I've thoroughly enjoyed launching this locally in South and West Yorkshire.

"The project sessions have created moments of real intimacy and connection in what has been a worrying and strangely disconnected time for new and expectant parents.

"Participants have also shared how much they've enjoyed the project and how Simon and Rosie's sessions makes them feel uplifted for the rest of the day… I can't wait to hear the final recordings!"
This project is running in conjunction with partners Calderdale Metropolitan Borough Council, Calderdale Clinical Commissioning Group and Arts Council England.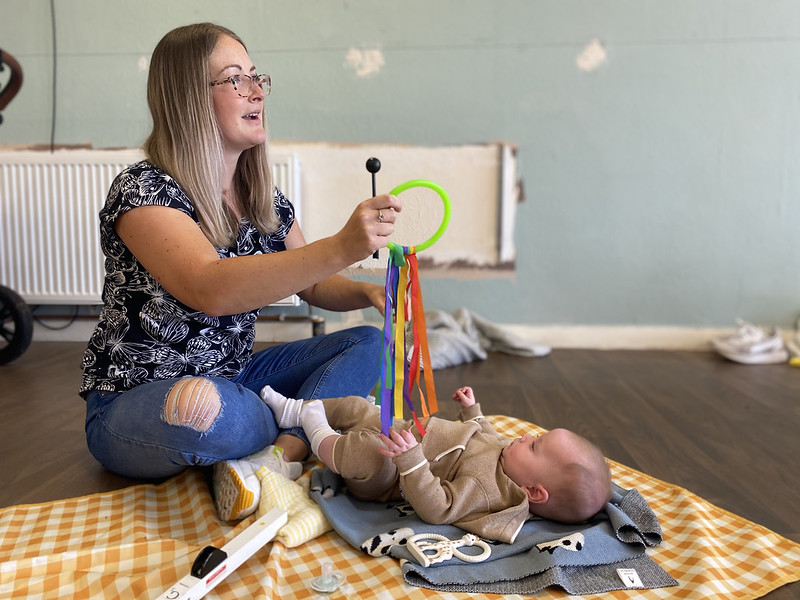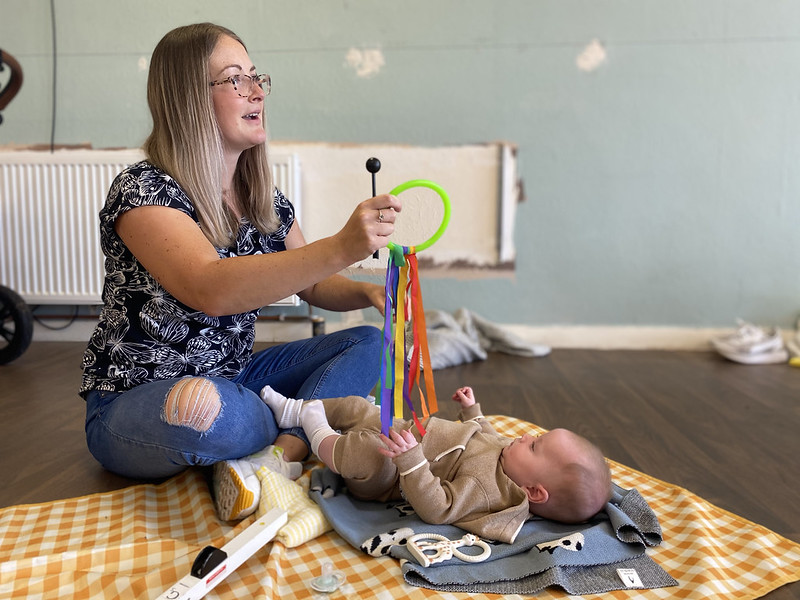 In Wales, two Lullaby projects are already underway. This autumn a pilot project launched in conjunction with Cardiff Flying Start and Operasonic with three Live Music Now musicians – Angharad Jenkins (fiddle), Nicola Boardman (mezzo) and Helen Woods (composer) – delivering in person sessions for seven families, culminating in November, funded by Cardiff Fusion and the Wesleyan Foundation. This will be followed by a partnership with Swansea Bay University Health Board and Perinatal Mental Health Unit with funding from Arts Council Wales.
Iori Haugen, Music in Health Facilitator said:
"We at Swansea Bay University Health Board are incredibly excited to be working in collaboration with some wonderful partners, ahead of a beautiful project with our Mother and Baby unit at Tonna Hospital. This project comes at much needed time, and we're looking forward to see the impact that it has on our patients and service users."
"Each lullaby is unique," explains Karen Irwin. "The lyrics of each piece are inspired by a letter that the mum writes to her baby. Our Live Music Now musicians then work with each participant to explore the music that means the most to them. The resulting song is then performed and recorded, creating an intimate, personal keepsake."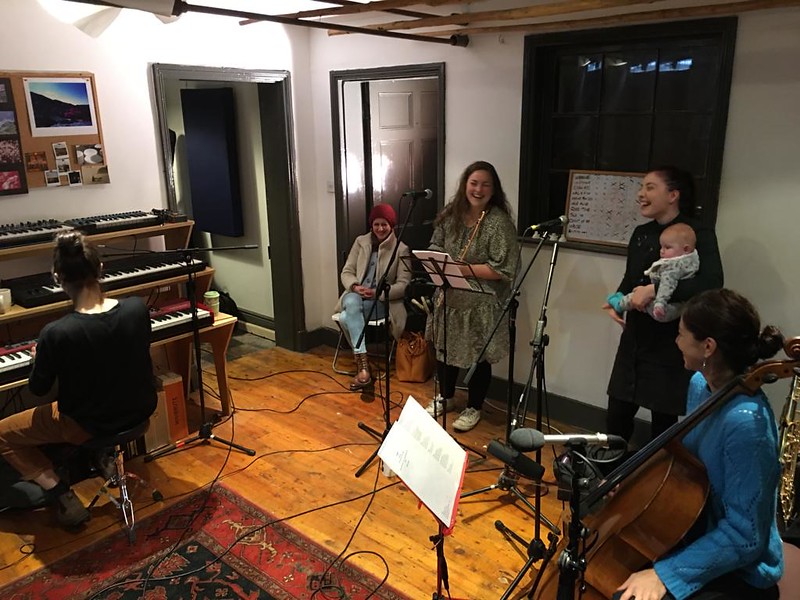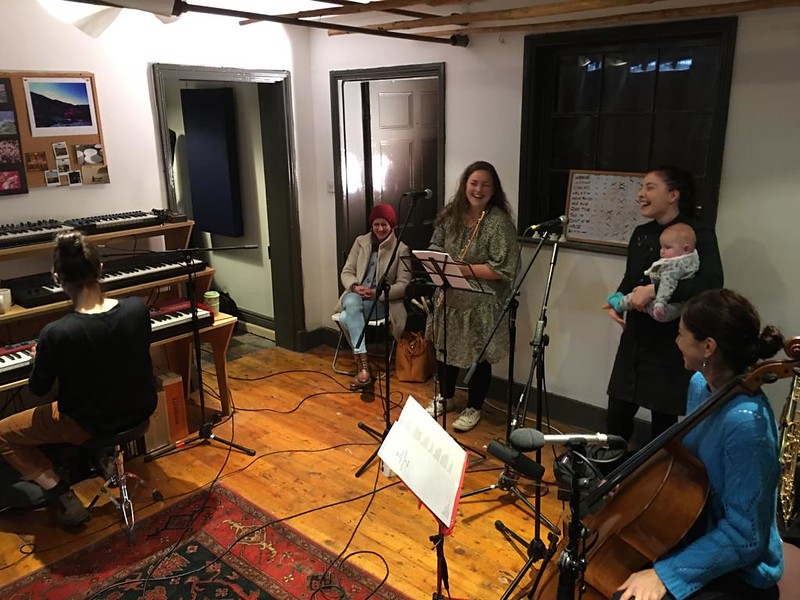 You can have a listen to the lullabies parents and musicians recorded together here: