"Music for Torbay Schools" has been planned for Torbay schools in consultation with Torbay teachers.  It's an opportunity for pupils to experience a professional concert, tailored to their age group and brought directly to their school.  It meets the national curriculum guidance to provide pupils with opportunities to listen to and develop understanding of a wide range of high-quality live music, and because it happens in school, there are no travel costs to find, just a contribution towards the musicians' fees.  The project is presented by Live Music Now and was commissioned by Torbay Music Education Hub.
How to get your school involved:
Please contact Live Music Now South West on email: [email protected] or call 07880 437526, and clearly indicate your preferred day/time.
Autumn term project:
VOCAL GLOBAL
Monday 7 November-Thursday 10 November 2016
This duo including instrumentalist / beatboxer DavidX and singer-songwriter Noga Ritter present a musical journey around the world. In their music they mix influences from both of their origins (the Middle East and French-Caribbean) with other music they love such as African music, Brazilian, Jazz and more… The result is music that crosses borders and cultures and carries a strong message of cultural celebration!
Times are:
9.10am-10.10am; 10.45am-11.45am; 1pm-2pm
Times can be flexible depending on other bookings. 
Vocal Global can present a large-group concert or single-class workshop:
The concert will include an introduction to beatbox, introducing the loop pedal, and music including a West African song, Mediterranean song, Indian Carnatic song, Calypso song, Gypsy Roma song and a Middle-Eastern song, with opportunities to join in throughout.
The workshop will include vocal and rhythmic warms ups, teaching basic beatbox elements and a hip hop rhythm, learning a song, demonstrating loop pedal, and composing a song together in which participants apply what they have learned. Max. group size is 30.
Download an introduction to Beatboxing
Spring term project:
PAPER HORSE
Monday 30 January-Thursday 2 February 2017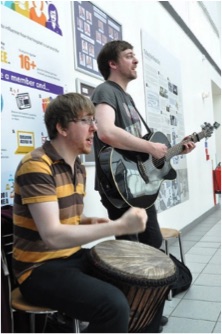 Brothers Zeb and Sam Haynes are Paper Horse, an explosive mix of alternative rock and power pop.  Both are accomplished singer-songwriters, with an emphasis on vocal harmony and a range of instrumentation – they bring guitar, bass guitar and djembe as well as making music literally on anything that comes to hand! The band have played countless gigs in and around the southwest and have shared the stage with the likes of Mark Morris (Blue Tones), The Futureheads and Matt Berry (I.T Crowd).
Times are:
9.10am-10.10am; 10.45am-11.45am; 1pm-2pm
Times can be flexible depending on other bookings. 
Paper Horse can present a large-group concert or a single-class workshop.  Both will include some of their own music as well as acoustic pop covers to introduce a range of styles.  Workshops can focus on songwriting and / or percussion.
How to book: contact Live Music Now South West on email: [email protected] or call 07880 437526, and clearly indicate your preferred day/time.  Spaces are limited, so please book soon to be sure to get a place.
The cost per session is £138.00
MORE INFORMATION
Spaces needed:
For concerts, a school hall would be ideal.  For workshops, either a hall or a classroom that can be cleared of tables and chairs would be fine.
Numbers:
Concerts can accommodate large groups, up to your whole school, space permitting.
Workshops are for a maximum of one class, up to 30 students.  Special schools – we will discuss group sizes with you; we usually recommend no more than 8-12 students depending on their needs.
Tailoring the project to your curriculum:
When you book, we will ask you about age group, ability, and we'll also ask if there are any particular topics that you would like to link to that your students are studying right now.  The workshop summaries above give you a taste of what the musicians can offer, but they are very happy to adapt to your school's requirements.
Linking with other schools:
If you would like to share a concert with a neighbouring school, please get in touch with them and then make ONE booking with us, confirming which school the event will take place at, and who the main contact will be.
Scheduling the concert:
Our musicians need to have time to travel from one school to another: if you know that your school and a nearby one would both like a session, how about booking at the same time – then we can place the concerts on the same day.
About Live Music Now:
The musicians are all part of the Live Music Now programme. We select the most talented performers who are at the outset of their professional careers, support their development, and work with them to bring music to schools, care homes and hospitals across the UK.  Our musicians all complete DBS checks, which they will provide on request. Please explore the rest of this website for more information about our work.
We would like to thank our supporters, Torbay Music Education Hub, Devon Educational Trust and the Norman Family Charitable Trust for subsidising the cost of the project for schools, and all of the teachers who helped us design the programme by responding to our consultation.