On Friday 12th May, pupils across Liverpool and Ukraine joined in song in celebration of Eurovision.
In this 'Musical Mondays Eurovision Special' in partnership with Resonate – Live Music Now musicians Fernleaf presented a mixture of UK and European modern and folk songs and tunes, including some participatory songs and dances that the audience can join in with.
The concert was streamed online via Zoom Webinar – with 73,000 pupils tuning in from schools across the Liverpool City Region along with some in Ukraine and Poland.
Fernleaf are Emily Bowden (fiddle and vocals), Jo Veal (clarinet), Mikey Thacker (guitar and vocals). Jo, Mikey and Emily bring joy, fun, energy and a deep sense of connection through their music. From swing and music hall songs to traditional folk songs and tunes from the European folk dance and ceilidh scenes, their music covers a range of different genres. Clarinet, guitar, fiddle and voices combine, often using improvisation, giving each performance a unique feeling.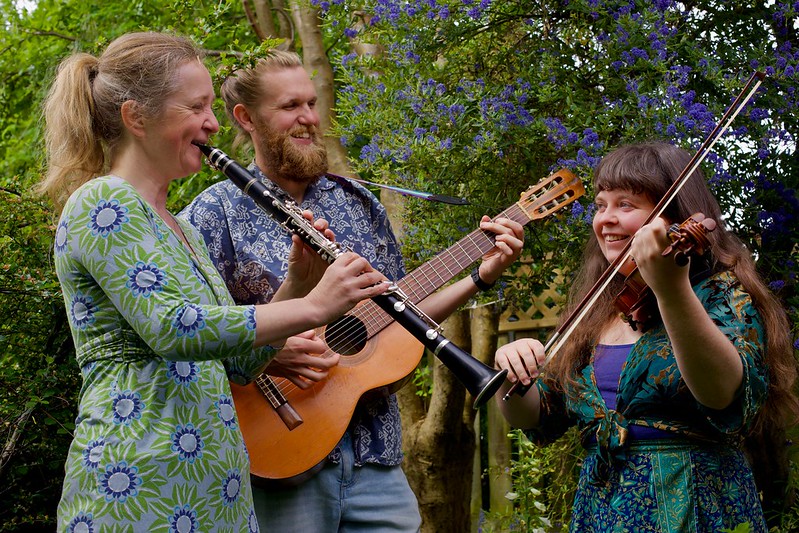 Fernleaf are all accomplished dancers as well as musicians, dancing ceilidh, swing, tango and balfolk between them.  This dance enthusiasm comes out in their music, making you tap your feet and wanting to move as soon as the music starts!
After pupils were warmed up by Fernleaf, more than 180 pupils from schools across Liverpool and Ukraine joined in song with the Liverpool Philharmonic, in celebration of the Eurovision Song Contest. The event is one part of "United By Music", a British Council led project which has partnered classrooms across Liverpool and Ukraine together for pupils to collaborate and develop a deeper understanding of each other's cultures.
Inspired by Eurovision 2023, when the UK hosts the Song Contest on behalf of 2022 winners, Ukraine. United By Music celebrates this special event by supporting schools in the UK and Ukraine to work together in partnership, connecting and collaborating through music.
For more information on working with Live Music Now to develop your schools music offer click here.