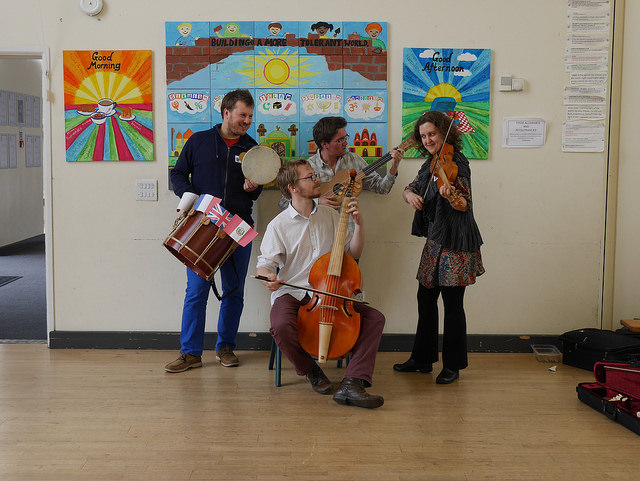 We asked Ruth Hopkins, Soprano and Director of K'antu Ensemble, to reflect on her career and work with Live Music Now.                                                                                                        
Deciding to train as a professional musician is not for the faint-hearted. Dedication to years of training, saving every penny to buy expensive instruments, navigating the inevitable audition knock-backs, as well as the well-meaning suggestions from friends about when you might do the sensible thing and get a "proper job", are just some of the pitfalls.
When I graduated, I was very aware that only a lucky few step straight into regular paid performing work. This is where the charity Live Music Now made such a difference. Established by Yehudi Menuhin in 1977, his vision was to embrace the power of music to transform lives.  Following a rigorous selection and training process, young professional musicians like myself deliver participatory performances and workshops in care homes, special schools, hospitals and community centres. In the past 39 years, more than 2 million people have benefitted from Live Music Now's work, and being on the scheme helps graduates during the uncertain transition from music college to real life.
Since being on the scheme, I have had access to training and delivered performances which have influenced my approach to concerts and programming, as well as my teaching and outreach work. As many Live Music Now musicians will agree, some of the most meaningful and rewarding musical experiences have happened while leading participatory performances in special educational needs schools and care homes.
Personal highlights of leading workshops include introducing children with complex needs to conducting. Many of these children are unable to speak and have very limited mobility. As a result, they have limited control over many aspects of their lives. The moment you see a child realise that the tiny movements they are able to make with one finger can influence the speed and volume of a group of musicians is extraordinary. From an initial smirk emanates a whole stream of creativity as they explore the boundaries of their newfound autonomy.
Some of my most creative moments have happened when finding ways to communicate with SEN children. One of my favourites was after a session where a deaf and non-verbal child had enjoyed the activities immensely, from experiencing the vibrations of our instruments to joining in with percussion. After the performance he pointed at my glasses, so I pointed at his. He wiggled his glasses, I wiggled mine. We swapped glasses and then couldn't see each other properly. Neither of us had spoken but we had found a way to connect.
Every musician on the scheme has their own stories like these, and it is these experiences which reinforce my passion for live music performance and its therapeutic importance in society.
When I return to the concert platform, the idea of non-verbal communication is crucial and it is the responsibility of the performer to communicate clearly and effectively while they are on stage. My studies at university and music college gave me an incredibly strong academic and technical base for performing. Yet it is only through going out and performing in front of real, varied and challenging audiences that you get to hone your craft properly. Creating musical experiences which engage people in new ways that make truly meaningful performances both help me grow as an artist and realise the important differences a musician can make to people's lives. Rather than seeing working as a musician as a frivolity and feeling lucky to extend my hobby into my job, I see working as an artist as a responsibility that shouldn't be underestimated.
When I look at the development of my career over the past 4 years, it has surpassed my expectations. I've opened Göttingen International Handel Festival's Historische Reihe, toured to Romania, Hungary and Egypt and recorded two CDs with K'antu Ensemble. Whilst these have been amazing experiences, some of the most challenging and rewarding elements of my work have been during outreach projects and I hope I am able to continue this work throughout my career.