We are thrilled to announce the launch of the music videos for 'Round Here, as part of our work with Historic England across six of their High Street Heritage Action Zones.
In July, in Chatham, musicians Thomas Harvey and Dani Osoba worked with Trinity School to write and compose a brand-new song about the High Street.
"Chatham Intra Is Where We Meet" was born out of workshops between the musicians and members of the local community, celebrating icons of Chatham's heritage: The Ship Inn, Sun Pier and the dockyard.
On 15 July, the song was premiered at Sun Pier House, as part of IntraFest 2022.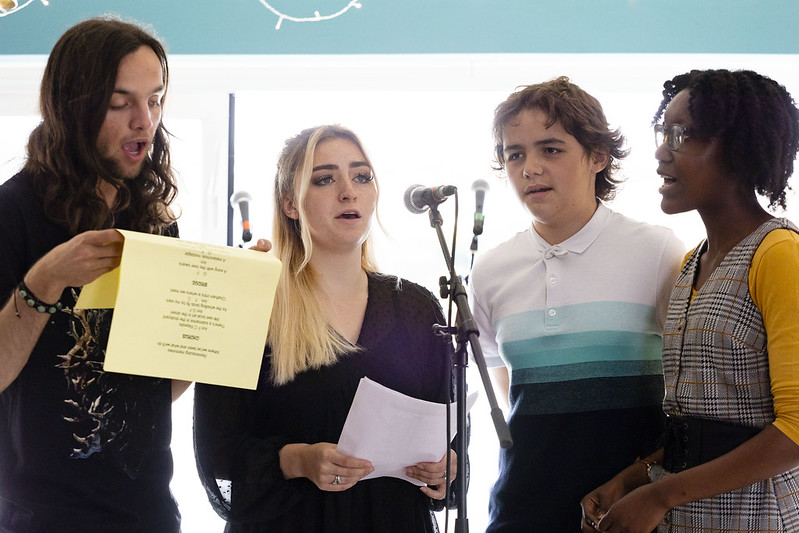 Thomas Harvey said: "In Chatham, the Round Here project brought a true sense of community between the various classes involved in creating our song. One of my favourite memories had to be witnessing the joy and laughter when we managed to fit the lyric 'Batman shoes' which came from something they had seen in a local shop on a tour of the local area. Managing to place that within the song brought an awareness that you can write songs about anything and everything! The children could see there is no limit to the creativity they can foster."
Dani Osoba said: "Throughout the process, it was really nice to hone in on what's important in one area. Projects like this are so important because people don't necessarily find the joys in their local area, and I think being able to bring those out and show those off really make those known through the kids and through the performance of the song. It was really great."
Biographies
Thomas Harvey is an award-winning songwriter, producer and multi-instrumentalist. Raised in Kent, Harvey is based out of his home studio in Hackney, London where he lives and works out of a creative hub. Surrounded by many artists of different disciplines, Harvey has collaborated with many on various projects including his artist project, T. Priestly.
Thomas is excited about the opportunities that 'Round Here presents to connect with local communities and discuss their memories through music. Songwriting is a form of storytelling and, Thomas feels that, to be able to create a composition collaborating with local residents is a very special way to share the joy of music.
Dani Osoba is a singer-songwriter from Sittingbourne, Kent, writing mostly about home and belonging. Dani loves the area for having so much to explore, both in historical landmarks and contemporary culture and arts. It is Dani's hope that writing music from the Medway community raises people's opinions of the area.
Video produced by Con Divers and Harriet Mellor.
Lyrics – by Thomas Harvey, Dani Osoba and the pupils of Trinity School

Sweet sweet candy in the shops
Walking in my batman shoes
I've spent my daytime in the school
But when I leave that's what I'll do
Art is painted brightest blue
I smell food everywhere we go
I'll spend my evening in the Ship Inn
And the places we all know
There's a submarine in the dockyard
We see local art in the street
As the whistling birds fly by my ears
Chatham Intra is where we meet
Angels in the hospital
Living on, becoming new
I'll walk along the quiet pier
Set on fire by the evening sun
Dancing with the blue-grey waves
With my friends and I'm with you
Reminiscing memories
Where we've been and what we'll do
There's a submarine in the dockyard
We see local art in the street
As the whistling birds fly by my ears
Chatham Intra is where we meet
A song with the river swans
A melancholy nostalgia
Weighing down like an anchor
We let go and we take flight
There's a submarine in the dockyard
We see local art in the street
As the whistling birds fly by my ears
Chatham Intra is where we meet
Produced in association with Medway Council and the Old High Street Intra Cultural Consortium.
Listen to the all the tracks here:
'Round Here is commissioned by Historic England as part of the High Streets Heritage Action Zones' Cultural Programme, led by Historic England, in partnership with Arts Council England and the National Lottery Heritage Fund. The Cultural Programme aims to make our high streets more engaging and vibrant places.