We are thrilled to announce the launch of the music videos for 'Round Here, as part of our work with Historic England across six of their High Street Heritage Action Zones.
In July, in Huddersfield, musicians Chris Ruffoni and Jessica Whyke worked with Castle Hill School to write and compose a brand-new song about the High Street.
"Come With Me" was born out of workshops between the musicians and members of the local community, celebrating the icons that make up Huddersfield's heritage: the castle, the warmth of the people and the centre of town.
On 15 July, the song was premiered at Brian Jackson House.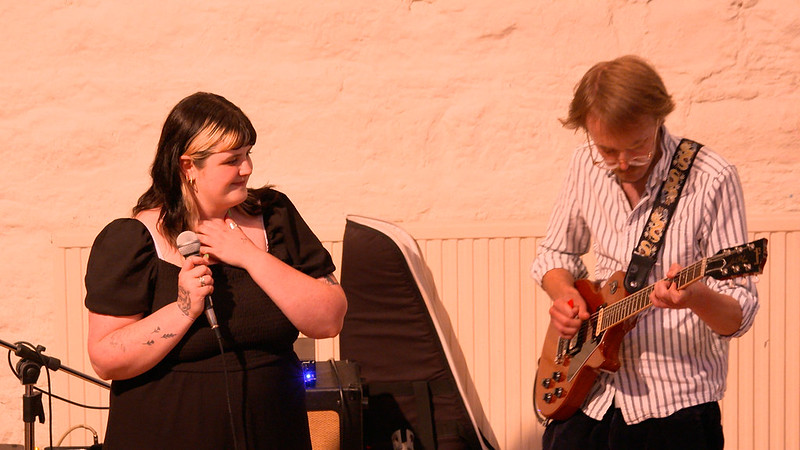 Chris Ruffoni (of Band of Jays) said: "We perform for Live Music Now in schools for children with additional needs and disabilities, and for this project we wrote a song with the brilliant Castle Hill School. Playing music is amazing way of making a connection with someone. You can do it without even needing language. During the process, we played songs with the children, and you look into each other's eyes, and you feel this kind of rapport, you feel this connection, this relationship build incredibly fast. If you're lucky, you get these reactions and responses that the teachers tell us they just don't see in other contexts."
Biographies
Chris Ruffoni is a member of Band of Jays, a Huddersfield-based trio playing original songs about people turning into birds, communication with aliens and other unexpected matters. Their music oozes luscious three-part harmonies, supported by delicately entwined acoustic guitar, bass and percussion. Over the years they have enjoyed performing in unusual places including meditation centres, libraries, narrow boats, a milk float, a truck, a farmyard and in the smallest venue in the UK. The whimsical nature of their songs lends itself to playful, light and interactive performances.
Jessica Whyke (PENNY) is a Huddersfield based artist, with sweet and bewitching vocals, irresistible melodies and West Yorkshire charm. PENNY bares all on her songs, as she displays sentiments on toxic relationships and self-worth. While supporting the likes of Sophie Ellis Bextor and Selah Sue, through a series of upbeat, electro-pop ballads, PENNY tackles her dreams, her queerness and her mental health journey.
Video produced by Con Divers and Harriet Mellor.
'Come With Me'
by Chris Ruffoni, Jessica Whyke and pupils of Castle Hill School
We can wander through the trees
We can see the castle tall,
amongst the fields of green
If you come with me,
We can wonder through the streets
We can see the mast so tall
Amongst the fields of green
Wander into the centre,
What can you discover?
There're places to gather, talk and hug
I'm sure you'll feel the sense
Of community, wherever you go
There's always a good time to be had
Even if you're feeling down, the people will make you glad
That you're from our little town
Produced in association with Kirklees Council and the Huddersfield High Street Heritage Action Zone cultural consortium.
Listen to the all the tracks here:
'Round Here is commissioned by Historic England as part of the High Streets Heritage Action Zones' Cultural Programme, led by Historic England, in partnership with Arts Council England and the National Lottery Heritage Fund. The Cultural Programme aims to make our high streets more engaging and vibrant places.