Thank you to all the staff, patients and carers who took part in twelve Live Music Now music sessions featuring over 21 musicians at East Kent Neurorehabilitation Unit at East Kent Hospitals University NHS Foundation Trust and University of Kent's School of Psychology.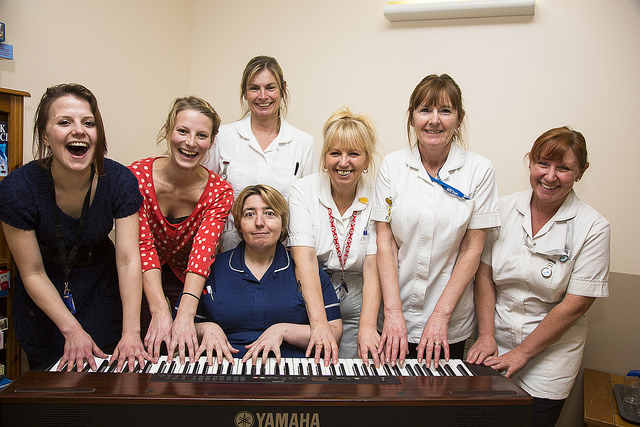 The study looked at the impact of live music on recovery from brain injury. Patients' conditions at the hospital range from severe brain injury from trauma, stroke, tumours and MS. The sessions featured live music (jazz, classical, folk and West African) in the Harvey Ward day room every Saturday and for patients and visitors.
"It was a joyous event; music with viola, violin & melodeon. I felt one patient with minimally conscious state became more engaged; he locked eyes onto me & smiled. Twice. A sense of happiness & togetherness was clearly in the air." Dr Mohamed Sakel East Kent Neurorehabilitation Unit at Kent and Canterbury Hospital
Ann Marie Boyle, LMN staffer who organised the series, said 'Musicians are at the heart of our work, and the exceptionally talented ensembles who played for patients on Harvey Ward are highly skilled communicators, trained by LMN to work interactively in these settings. We all look forward to reading the results of the study.'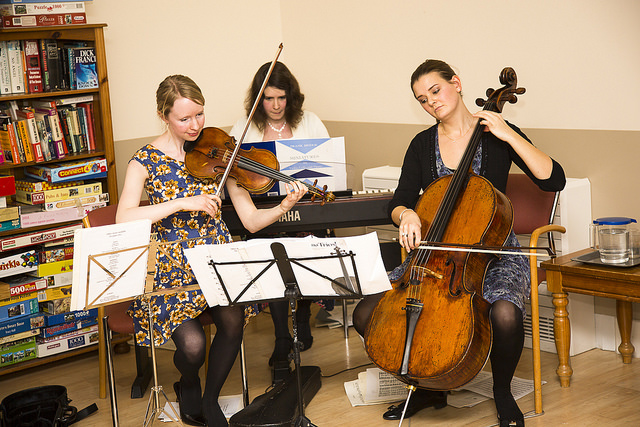 At the final session The Albany Piano Trio played to an audience of patients, carers and relatives in the Day Room of Harvey Ward at Kent & Canterbury Hospital.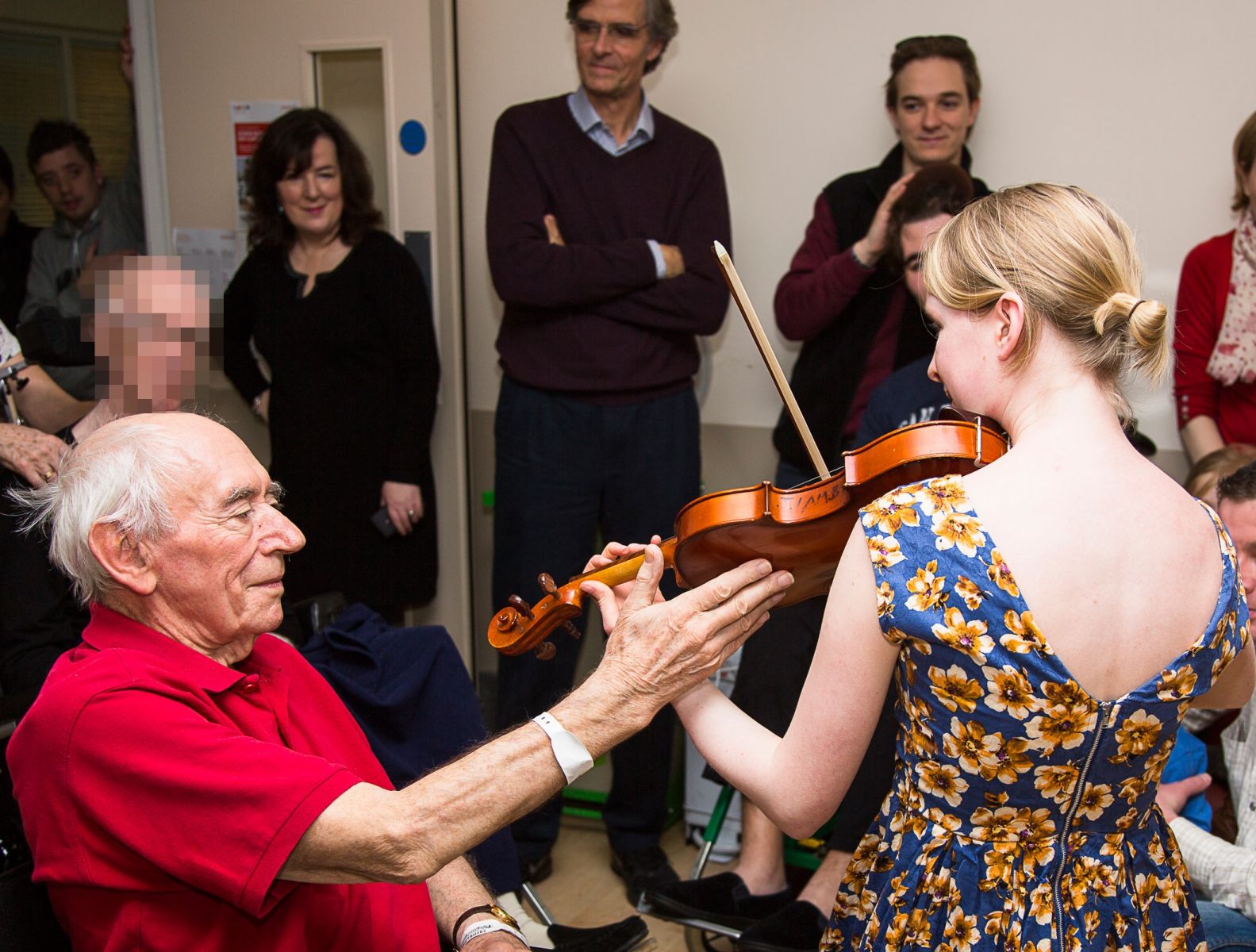 Bob Baker is recovering from Guillain-Barré syndrome, a rare and serious condition of the peripheral nervous system, 'The music sessions have given me something to look forward to. I have been to four sessions during the time I have been here – the musicians have been very empathetic and enthusiastic. I am recovering fast and have been fairly upbeat, and the music has made me feel good.'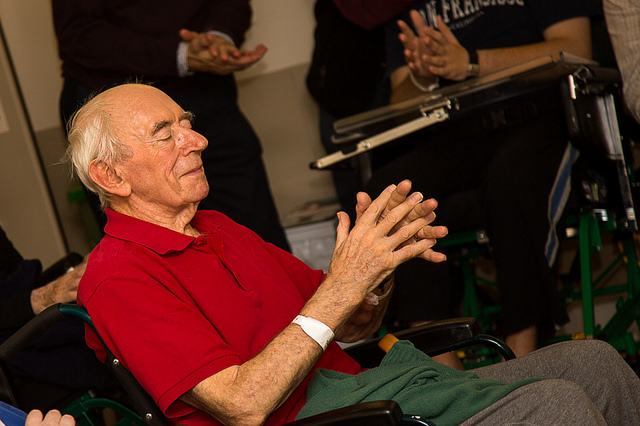 Timothy, aged 20, is recovering at Kent & Canterbury Hospital. His father, Devon, wrote to us after the concert, 'Timothy certainly enjoyed the concerts, as he loves music. He was not able to sit through the duration of the first concerts he attended, due to his weak condition. However, he clearly wanted to attend.
He placed his hands together to applaud the musicians and initially was not able to clap, but by the last weekend he could, in fact, clap, although lightly. It was important for him to be able to bring both hands together to the midline as a kind of therapy and to recover the ability to clap his hands.
We appreciate the work Live Music Now is doing. The program at the Harvey Ward offered an attractive variety of musical styles and the musicians were all of a high calibre. Each of the performers had different ways/styles of interacting with the patients and did a very good job communicating. Thank you, again, for making these concerts possible.'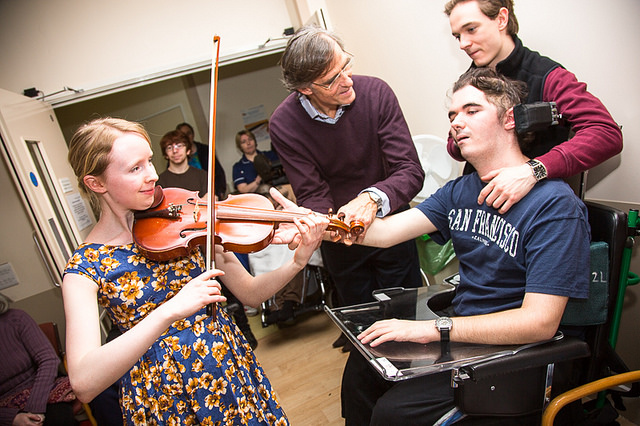 The study is the result of a long-standing research partnership of Dr Mohamed Sakel (Director/Consultant Neuro-Rehabilitation, EKHUFT) and Dr David Wilkinson (School of Psychology, University of Kent) who have completed several studies together on improving care of neurorehab patients. Two student researchers (Anna Biller and Katie Richards) have designed and are administering the measurement system of the programme.
"The music project at the Kent & Canterbury holds particular promise because, unlike similar projects conducted elsewhere, it is founded on a rigorous methodology", said Dr. Wilkinson
Live Music Now would like to thank Dr Stuart Field, who served on the LMN Advisory Committee in London for many years, for introducing the work of Live Music Now to Dr. Sakel.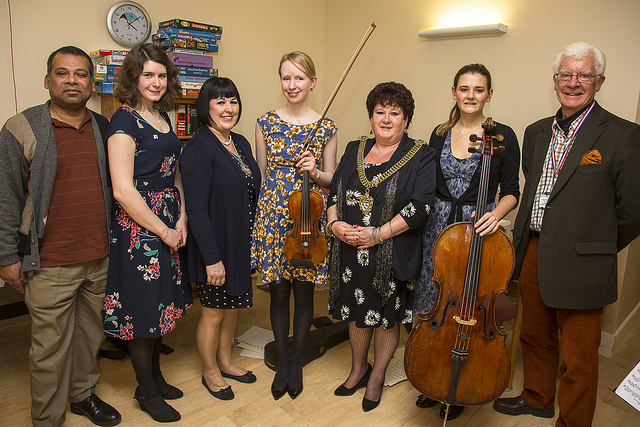 This concert series was supported in part by Golsoncott Foundation, Promenaders' Musical Charities and an anonymous donor. Additional support provided in kind by Kent & Canterbury Hospital and the School of Psychology, University of Kent. If you would like to further the aims of music in recovery please visit our website or contact [email protected] / 0207 014 2829.
Ensembles/Musicians who took part include:
Fontane Liang (solo harp).
Radigun (fiddle, guitar, songs)
Tom Millar (piano)
Hermione Jones (solo cello)
Evropska Violin Duo
Josh Doughty (West African kora)
Maciek Pysz & Alice Zawadski (guitar, songs, violin)
Antara Duo (flute, harp)
Karelia Duo (cello, violin)
Haddo (melodeon,viola, harmonica)
Albany Piano Trio (piano, violin, cello)
Above photo, from left to right: Dr Mohamed Sakel (Director NeuroRehabilitation, Consultant Physician, Director Research & Development, East Kent University Hospitals University NHS Trust), Phillippa Harrison (piano), Linda Taylor, Lady Mayoress of Canterbury, Gemma Sharples violin, Heather Taylor, Lord Mayor of Canterbury, Verity Evanson, cello, Dr Stuart Field MBE
Photo credit: Simon Jay Price