When the pandemic hit in March 2020 one of the biggest impacts on society was an overwhelming sense of disconnection from community and culture, leaving an already isolated society feeling more alone than ever. In some parts of the country local lockdowns followed national lockdowns and wellbeing plummeted alongside the enforced isolation. Since Winter 2020, thanks to funding from the Heritage Lottery Fund five musicians from Live Music Now Wales have been working with local community groups using song writing as a means to connect and share stories regardless of these barriers.
Unlocked (Datgloi) is an album of 10 songs, created by 10 different communities, working with 5 LMN musicians, over 5 Welsh counties, strengthening connections with their local area through sung stories of local heritage. From refugees in Cardiff to the elderly in Anglesey, care leavers in Swansea to pupils in Gwynedd and men in Bridgend – the voices of diverse communities are celebrated through song, creating connections at a time when the world was on lockdown, whilst unlocking the secrets of the heritage on our doorstep.
Live Music Now Wales musicians Jordan Price Williams, Patrick Rimes, Angharad Jenkins, Pixy Tom and John Nicholas worked with Mentor singer/songwriter Gavin Osborn to facilitate the creation of music and lyrics within each of the ten community groups involved in the project. The result is a diverse collection of voices and music which captures the stories and shared experiences of many across Wales.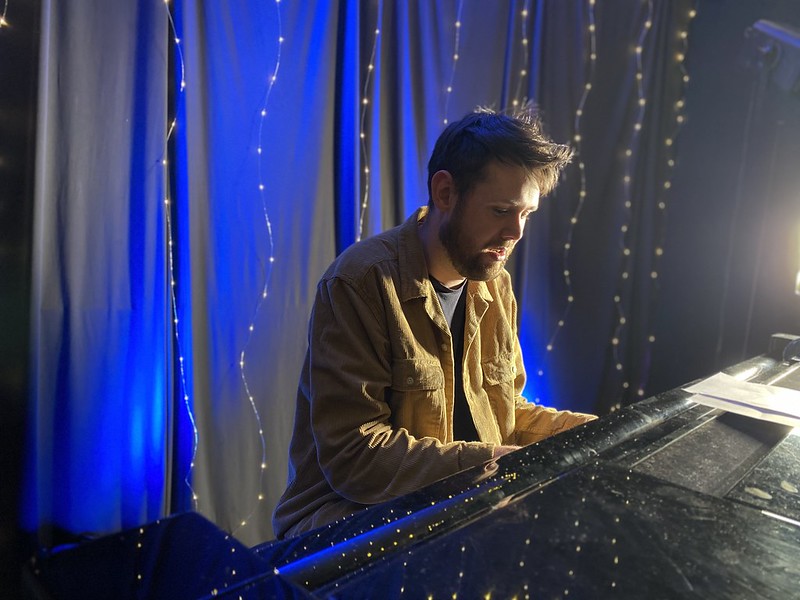 Multi-instrumentalist folk musician and composer Patrick Rimes (Calan/Vri) was born and raised in Bethesda, in the county of Gwynedd, North Wales. His musical style is firmly rooted in the area's distinctive fiddle tradition, though his music draws on a wide variety of influences from chamber, orchestral, jazz, bebop and more as he continues to strive to bend and break the perceived 'boundaries' between folk roots and other genres. During Unlocked Patrick virtually 'returned' home to work with residents of The Pines Care Home, Criccieth and pupils at Ysgol Brynrefail, Llanrug. The former chose Criccieth Castle and coastline as their local heritage to write about, the latter a group of disused Quarry Cottages which they had been using as a hangout during the pandemic.
"I am so very grateful for the opportunity to be part of this project," Patrick commented. "As a composer/musician I feel I have developed through taking part and I am no longer afraid of song writing – it is one of the most valuable things I have done, even though I found it very challenging at times delivering interactive sessions virtually. The Care Home enjoyed having a chance to talk and listen to regular live music sessions whilst they dealt with difficult circumstances. The school were a joy to work with and the pupils had so many ideas of the direction they wanted the music to take. It was also wonderful after so much time apart to have the chance to record the songs together at Cobra, Newport and fantastic to hear and play on other's songs as well."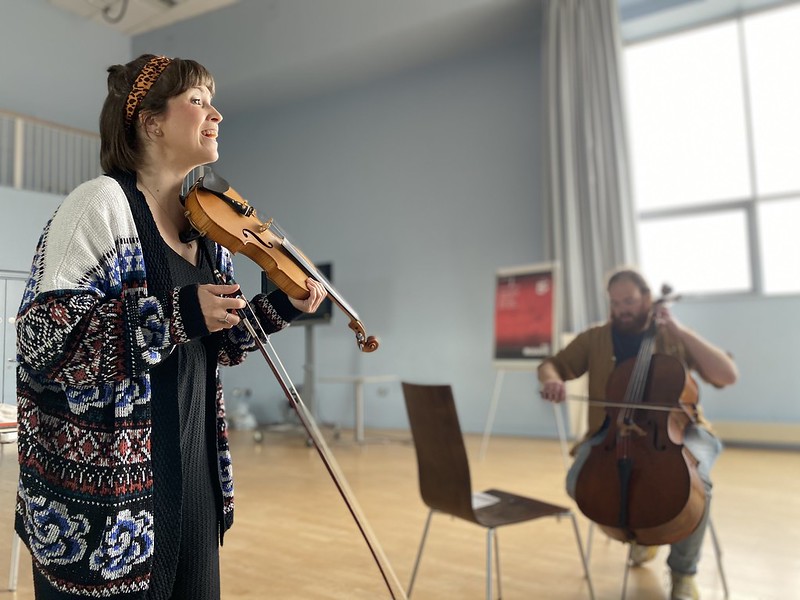 Fiddle player Angharad Jenkins, who also plays as part of Calan with Patrick , as well as with her mother, harpist Delyth Jenkins in their duo DnA, worked with care leavers at Roots Foundation in Swansea and members of the Rosehill Quarry Community Group who look after Rosehill Park right behind Angharad's own home.
"The park began life as a quarry in the 1800s and provided much of the building stone for use across Swansea," Angharad began. "It is a beautiful space now that promotes biodiversity and is managed by a team of volunteers. Unfortunately, they have struggled with some criminal activity there and so the hope was in writing a song to celebrate the park we can raise the profile and importance to protect it as a community resource. In fact I have been so inspired I have written several more songs about the area outside of the one we created for Unlocked! This project has definitely unlocked the song writer in me, I can't stop writing now."
"Working with Roots Foundation was also such a privilege," she continued. "We focussed on the building itself which is a place of family for so many of these young people who have nowhere else to call home. The song itself is almost an anthem for their work. When the Staff first heard it they were moved to tears, so I think we have done a good job, but all the songs on the project sound so good. The variety is amazing, and the standard of song writing is just incredible. Our Mentor Gavin has also been so supportive and helpful, we have all learnt so much and I am so pleased to have been a part of it."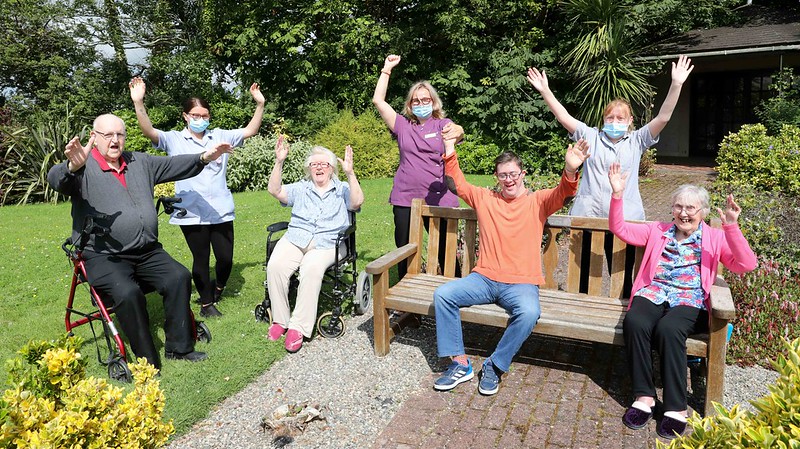 The 52 residents in Glan Rhos Nursing Home on Anglesey, North Wales love singing with many members of choirs for most of their lives. The home has struggled with the lack of face to face connections and live music opportunities for the residents since the pandemic hit and so jumped at the chance to write their own song with musician Pixy Tom over the start of 2021.
"Our residents enjoyed the sessions with Tom so much," shared Activities Coordinator Wendy Rogers. "It is exciting to think that we will be able to hear the music inspired by the sessions. Tom was brilliant, during lockdown the residents really missed their families and so chatting with a friendly face really brightened up their day, and they loved the music he played. One of the songs we sang was 'Ar Lan a Mor' and we made some artwork by decorating the words to the song which we hope will feature as part of the music video."
The ten songs created will form a lasting legacy of local voices in each of the five counties, celebrating community and heritage in a musical time capsule. LMN will work with local museums and archives to ensure the songs are kept safe as a part of the history of the time as well as shared widely across the counties within which they are created.
The full album is free to download on Bandcamp here: https://livemusicnow.bandcamp.com/releases