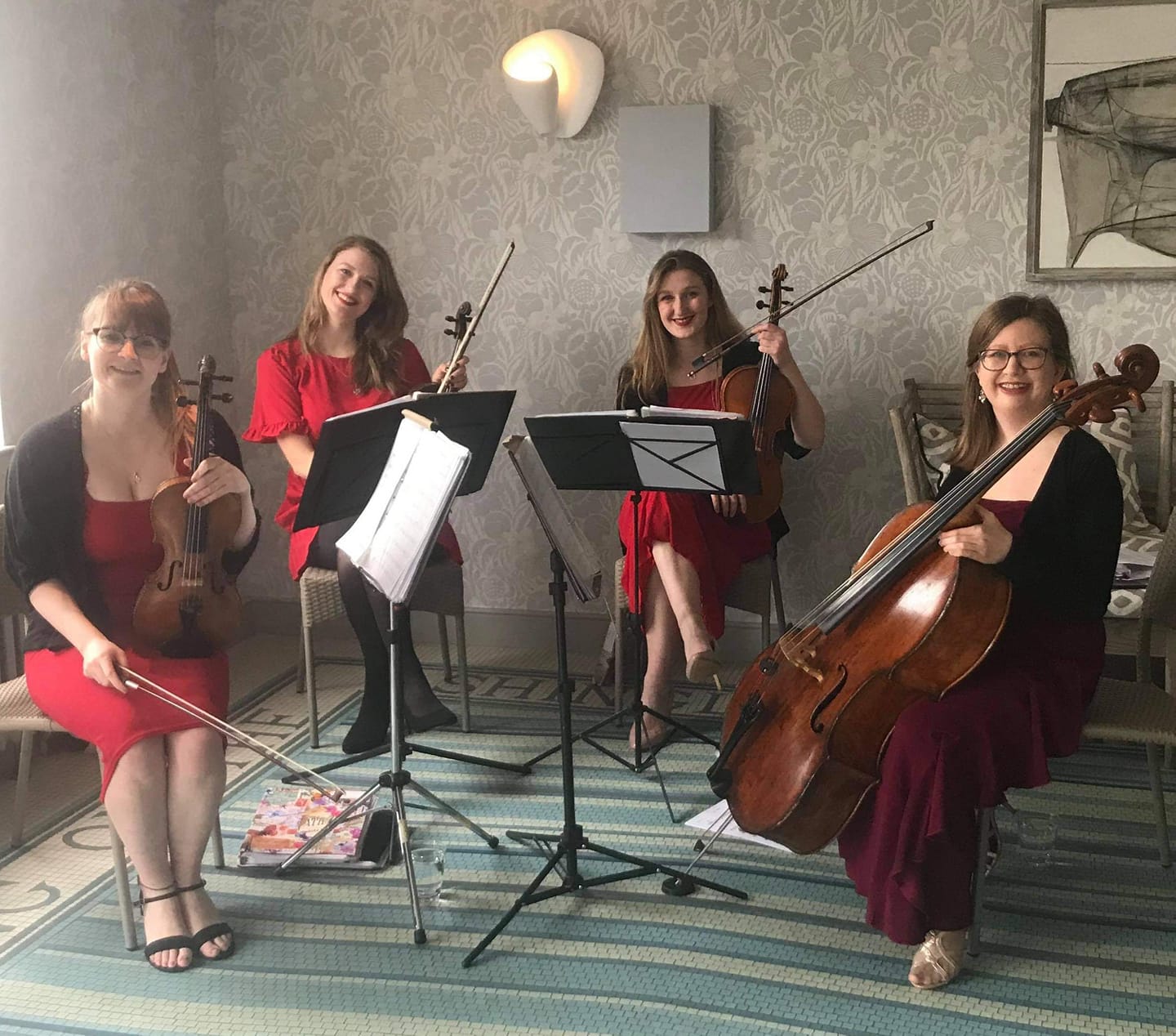 It was Saturday 13th March 2020 and I'd squeezed into a car with one violist, two violinists, and four string instruments, heading from Cardiff to Cornwall for a wedding ceremony. A typical Saturday! We wore red, which was unusual, but a request from the brides. This turned out to be my last gig before lockdown.
The previous Saturday, I had taken part in Porthcawl folk festival, playing with Bagad Grwndi, the Welsh fiddle orchestra set up by LMN's Jordan Williams from the group Vrï. Scenes from the folk festival still come to my mind, because they are my last memories of a packed out, buzzing room of musicians and music fans. After our set, I had stayed on into the evening to watch performances by singer and violinist Phoebe Rees, and Jamie Smith's Mabon. Rows of us sat on the floor, closely packed together, drinks were flowing from the bar, children and adults were dancing, and there was an atmosphere of carefree fun. There was some talk of coronavirus, but we couldn't have known all that was to come.
Just over a week later, and I was scribbling chamber rehearsals, orchestral concerts, weddings, and recording sessions out of my diary left right and centre. Right up to July I suddenly had no performance work at all; a familiar story for all professional musicians at this time, but daunting nonetheless.
My private cello teaching all went straight online, and I was relieved to discover that it was possible to teach successfully this way. My other job as an Alexander Technique teacher was going to have to stop for a while. The strong hands-on element of the Alexander work meant that I could not offer virtual lessons.
I saw this time as a gift that might not come again; some space; and an opportunity for change.
My initial response to everything was not to panic, and instead my creative brain went into overdrive, coming up with all the ways in which I would make it through this time. I'm the sort of person who enjoys finding a positive slant, and thinking outside the box in order to overcome obstacles. I made a long list which consisted of money-making ideas, long-term work goals like "make website", and fun ideas for passing the time.
Thanks to this list, throughout March and April I remember feeling surprisingly positive. It was significantly later that the dread started to set in, along with worries that our profession as we knew it might be changing forever, and that live orchestral concerts might even become a thing of the past.
I saw this time as a gift that might not come again; some space; and an opportunity for change. One positive was that I now had the extra hours I was always craving for some really decent cello practice. So I made notes, set myself goals, and proceeded to give my cello playing the biggest technical and musical overhaul it had had since Music College!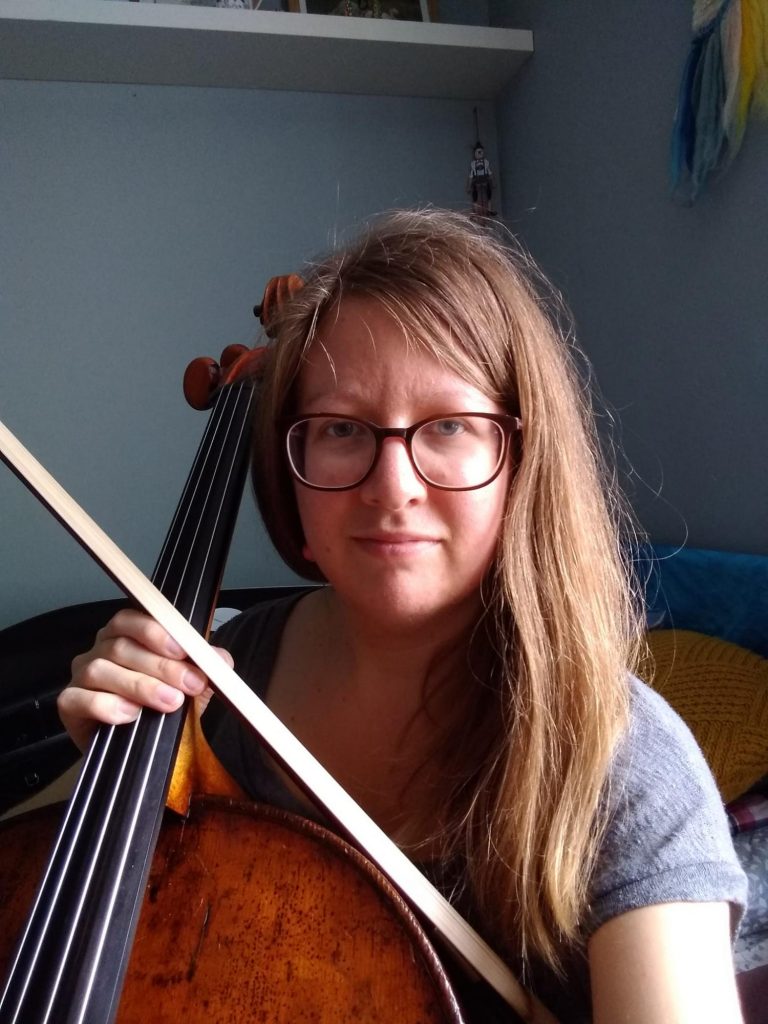 I revisited all those exercises and studies I'd hardly touched since my RWCMD days; I played every kind of scale, adding on extra octaves; I played new repertoire; and I listened to workshops and performances by cellists I admire. I also drilled myself in daily sight-reading practice, to keep my reading at the high standard it needs to be for freelancing. My playing developed significantly, and I seriously grew in confidence!
I played a lot of Bach – an obvious choice for quarantine as he wrote 6 suites for solo cello. I also played sonatas I loved – Debussy, Shostakovich, and Brahms in particular. It was refreshing to be able to enjoy my cello so much, without the pressure of preparing for live gigs. Here is a recording I made of Rachmaninov's Vocalise.
In the evenings I relished in lying on my bed and listening to big works in full, including The Rite of Spring, Gorecki's symphony no.3, and Copland's Appalachian spring, a personal favourite. This is something I used to do a lot, but hadn't really found the time for in years. (It's so easy to get caught up in the hustle and bustle of work, socialising, and all those adult life tasks, and forget to give yourself rest, and nourishment.) This newfound time was allowing my creative juices to flow.
However, as the hot, sunny days of May progressed, and it became clear that this "new normal" was going to last a long time, I began to struggle with the lockdown. I was living as a lodger at the time, with an artist and activist in her 50s. We got on, but the quarantine rules meant that I couldn't see my girlfriend, Jenny, who lived on the other side of the city. Jenny and I were too honest to break the rules and so for the first few months of lockdown we didn't see each other at all. It was so hard, and it got more challenging with every uncertain week! Life began to feel very lonely, and deficient in human touch. I did have my cat Tigger to cuddle, and I think he appreciated the extra company and increase of Dreamies cat treats that lockdown was bringing him!
It seemed genuinely uncertain whether live music as we knew it was going to make a return after the pandemic was over…
As May turned into June, my mental health dipped significantly, and I became overwhelmed with anxiety. I was worried about catching coronavirus, or passing it on, and I missed Jenny, my friends, and my family so much. In addition, I kept having existential crises about whether my musical ambitions were actually going to come to anything. It seemed genuinely uncertain whether live music as we knew it was going to make a return after the pandemic was over, and this was such a painful thing to contemplate.
Podcasts became my friends during this stage. They were such a good distraction from my thoughts. Deborah Frances White's The Guilty Feminist in particular provided warm companionship, with the perfect mix of humour, and acknowledgement of what we were all going through. I also got very into the BBC quiz show Pointless. Perhaps it was the name that appealed, or the fact that it was on every day, but in my anxious state, it became a daily routine that temporarily covered up the quiet solitude.
Eventually I called my GP, and took action, and when I started to feel a little better, two new projects came onto the agenda. One was the now essential task of house-hunting with Jenny, and the other was trying to find more performance work. If social distancing was going to stick around, then I figured that playing at weddings as an ensemble was going to be more difficult, so I decided to market myself for the first time as a solo cellist for functions. A friend leant me a microphone and interface, to record some demos and I created a profile on Encore Musicians. Very soon I had my first wedding in the diary. Progress!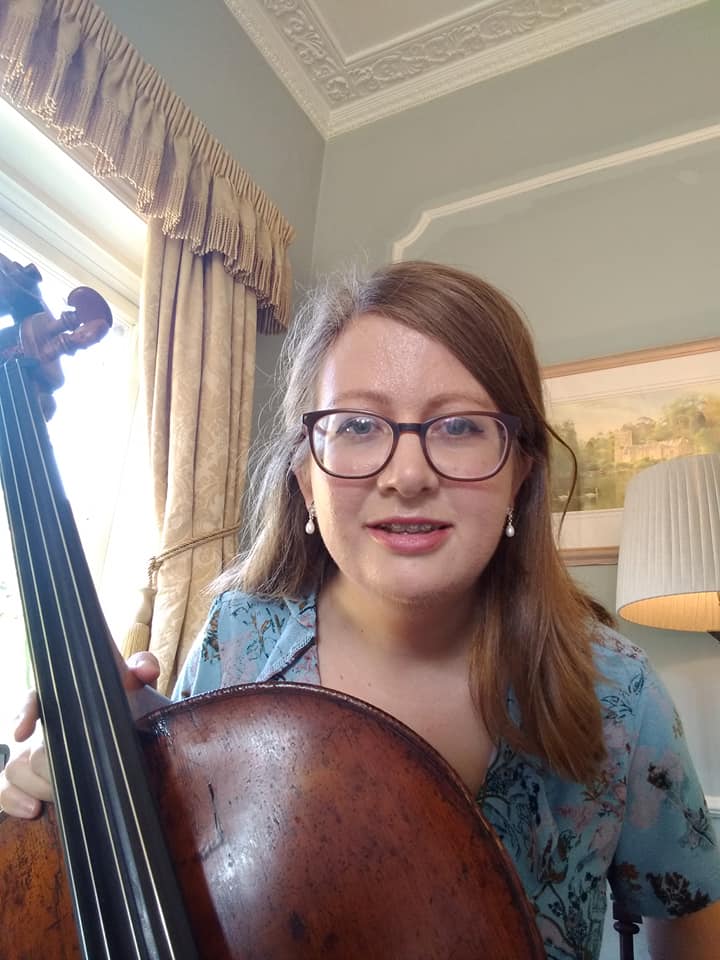 Things got much better in the height of summer. I saw my family, went camping with Jenny, and had jam sessions in various gardens and parks with musician friends.
We began to talk about how we were coping with life. It helped me to open up and share with the others, and I get the impression that we all benefitted from it…
In the autumn, Jenny and I finally moved into a cosy flat together. This was such a happy relief. Around the same time, LMN Wales' Claire Cressey started up a weekly "virtual cuppa and chat" session for LMN musicians and alumni. This turned out to be a very positive and healing thing for me.
In these sessions, we began to talk about how we were coping with life. It helped me to open up and share with the others, and I get the impression that we all benefitted. The group is still ongoing, and has become a supportive place where we share all kinds of thoughts about the music profession, from our experiences with misogyny, to performance nerves. We also recommend books, share teaching tips, and offer each other helpful advice.
I strongly feel that this is something we should have been doing long before the pandemic. It has been so reassuring to hear other musicians talk about experiences that I thought were only true for me. It can be a real taboo in the music industry to discuss your wellbeing, or to admit that you feel anything but on top of your game, but having these kinds of conversations at a time when we are all facing the biggest crisis of our lifetimes, has set a dialogue going that I think should continue.
In October I became even more involved with Live Music Now. Claire Cressey asked me to join the LMN Wales committee as a representative of alumni and of LGBT+ musicians. I also performed 3 LMN doorstep concerts; a fab idea of Claire's where musicians played outside their front door, or somebody else's (with their agreement!) in order to cheer people up during the second lockdown. It was a fantastic way to help the local community, and to connect with a live audience again.
"We cannot escape fear. We can only transform it into a companion that accompanies us on all our exciting adventures." Susan Jeffers
I was surprisingly nervous before my first doorstep concert, having been out of the performing saddle for so long.  Playing on the street also felt out of my comfort zone. What would the neighbours think? What if I had forgotten how to play in front of other people? Or worse, what if nobody took any notice at all? I was so nervous in fact that I felt the need to revisit Susan Jeffers' book Feel the Fear and Do it Anyway! This is a must-read for any performing musician, and has influenced me a great deal over the years. My favourite idea of hers is, "We cannot escape fear. We can only transform it into a companion that accompanies us on all our exciting adventures".
As it turned out, the concert went very well, and the neighbours and passers-by loved the diverse programme, which included the Allemande from Bach's 1st cello suite, and Go the Distance from Disney's Hercules! Elderly people and their carers listened through the open window of a residential home over the road, so I announced every piece as loudly as possible, making me feel as if this was a regular LMN gig. The experience lifted my spirits, and brought back a sense of purpose that I'd been missing for months.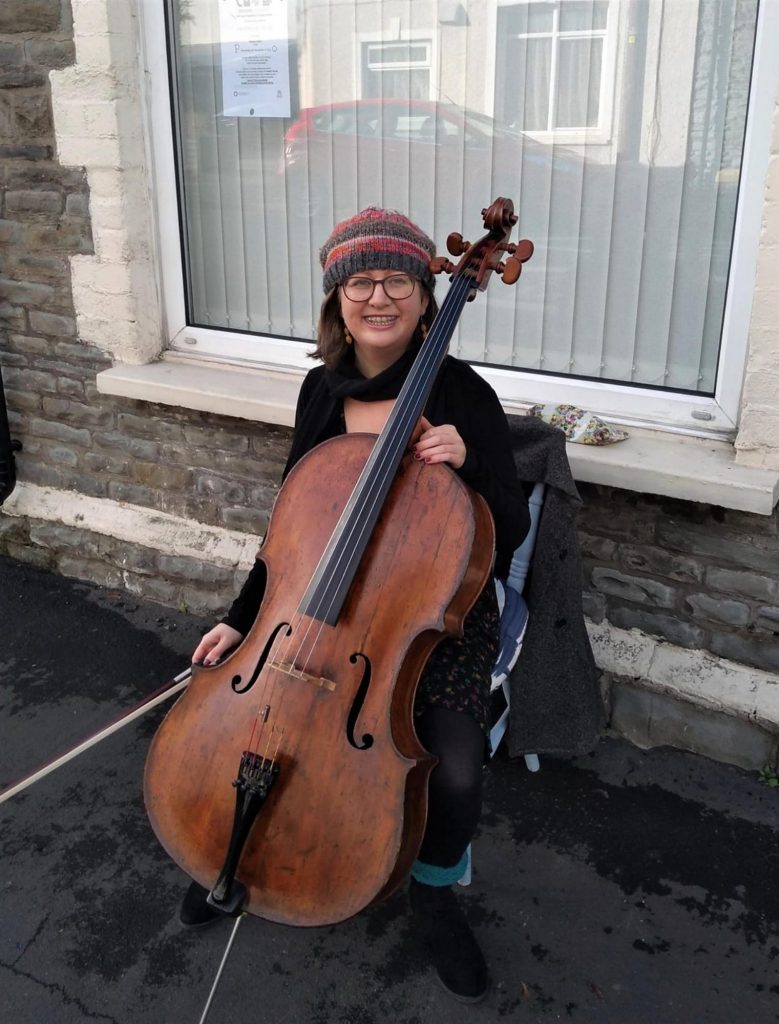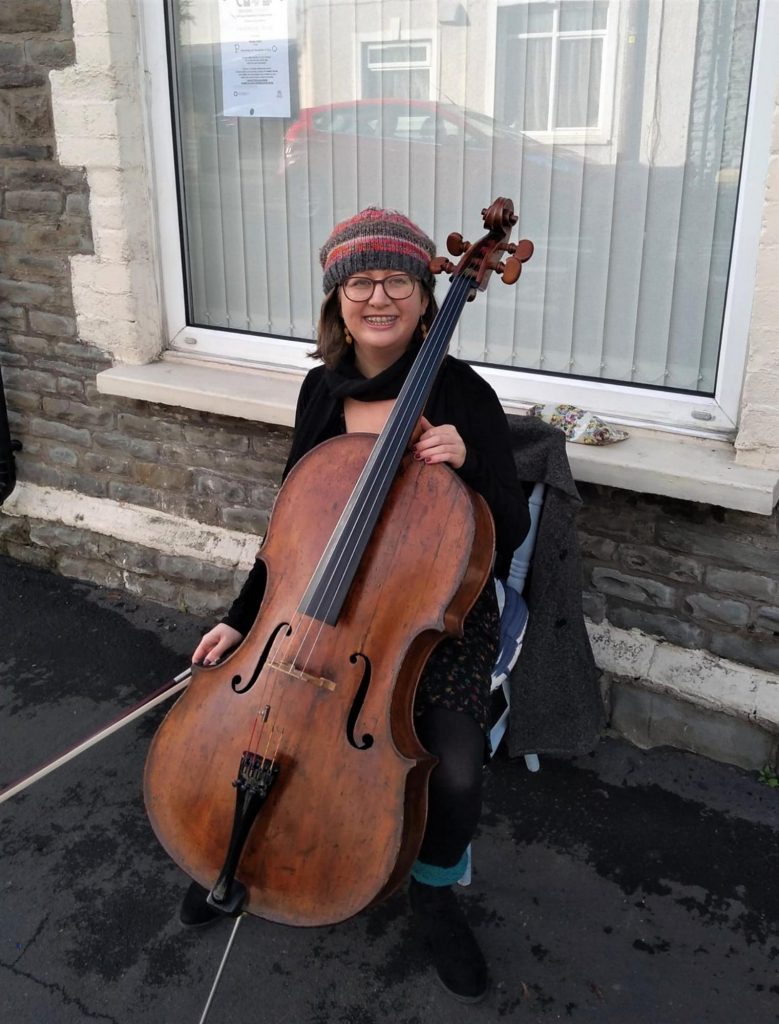 December to March dragged on a bit, what with the cold grey weather, and the Groundhog Day vibe of working from home every day! Thankfully I got a flurry of recording work, including playing for an album, an outreach project, some virtual concerts, and a Young Composers Workshop.
In February, I became fascinated in a new personal project: discovering women composers, and particularly women who wrote music for the cello. I was surprised at the sheer volume of names I didn't know, and how good all the pieces were. Many evenings were filled with listening to new works, conjuring up memories of those lockdown #1 nights.
I became particularly interested in a composer named Ethel Smyth, who was a queer woman, and a suffragette. She wrote two beautiful cello sonatas which I am keen to learn. I also have plans for chamber concerts post lockdown in which l will programme some of my other favourites; Fanny Mendelssohn's Fantasie in G Minor, Nadia Boulanger's 3 Pieces for cello, Elizabeth Maconchy's Divertimento for cello, and Imogen Holst's The Fall of the Leaf. Here's a little recording I made of Vigil from Maconchy's Divertimento, with Jenny on piano.
And now I'll skip to April, when I've been enjoying the daffodils, anemones, and tulips that I planted in the autumn colouring the garden with their resplendence. More importantly, I saw my parents for the first time in 8 months. I also met up with a lot of friends in all weathers, including an interesting picnic with my best friend on the beach – in the snow!
Musically, I achieved something that had been on my list since the beginning of lockdown #1. I did a livestreamed concert, featuring Bach's first cello suite! It felt like a celebration of all the extra hard work I had dedicated to my cello over the last 12 months, and was such an enjoyable experience. An added bonus was that family members who live abroad were able to watch, which would never normally be possible. I even had friends watching from Kampala in Uganda! Despite my only live audience being my girlfriend, Tigger the cat, and a cuddly toy orangutan, I was still left with that natural high after performing. I plan to do more of these virtual concerts, and I'm considering streaming all of my live concerts from now on! Here is my rendition of the Prelude from Bach's G major suite.
I don't think any of us are going to forget the year we've just had. For us musicians, it has been filled with so much uncertainty and worry for the future. Sitting down and chatting (virtually) with other professional musicians has made me realise that we share the same worries and the same obstacles, giving me more courage for the future. And missing making music with others has taught me not to take my career for granted. We've all experienced the fragility of life, and I feel inspired to make the most of it when live music returns. I want to get back out there and do the things I love. And this time I plan to step outside my comfort zone a bit more often, and to head for the ensembles and projects that I feel passionate about.
Most of all, I will remember the year as time well spent, despite the hard parts; the year I stopped being a serial self-doubter, and realised, 9 years into my career, that I'm actually a good cellist. Better late than never!