Last year Live Music Now Scotland launched a brand new project which brought together traditional Scottish musicians with musicians who are refugees or asylum seekers from Syria, Iran and El Salvador. 'Traditions of the World Unite' was set up to support the refugee and asylum seeker musicians who find themselves living in Scotland whilst also fostering a deeper cultural understanding across different countries and cultures.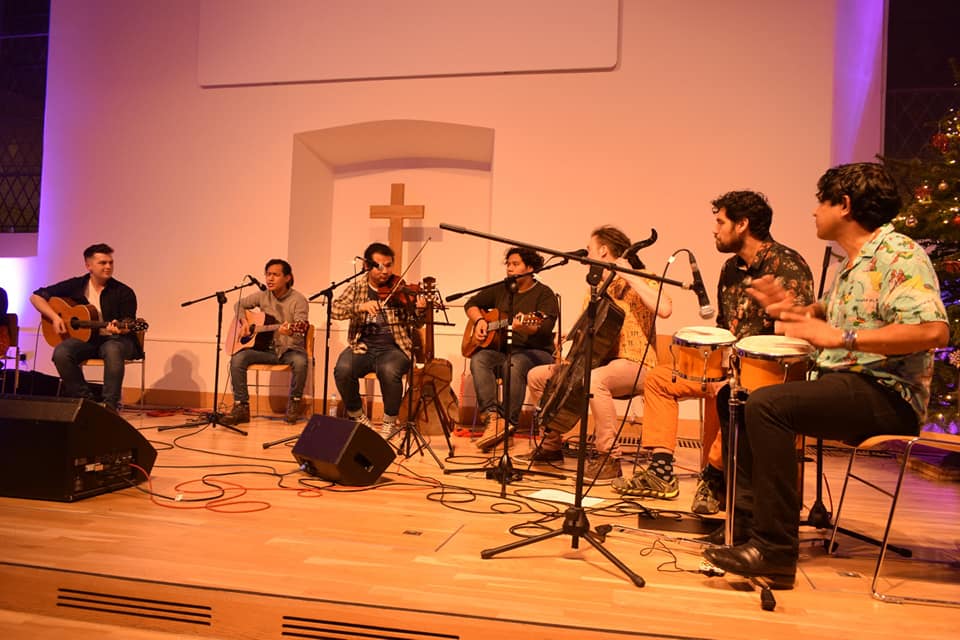 Live Music Now Scotland worked with Musicians in Exile, a community project for asylum seeking and refugee musicians formed by The Glasgow Barons, "an orchestra for Govan" in Glasgow. Together they ran a series of six workshop sessions where the musicians could share music with each other and get to know each other as individuals and musicians. After rehearsing together during October and November, the project finished with a community concert open to the public on Sunday 1 December at Govan and Linthouse Parish Church, followed by a second performance on Tuesday 17 December at The Steeple Church in Dundee (pictured).
Scots and Gaelic singer Catherine Tinney and guitarist Hamish MacLeod from Live Music Now were involved in the skill sharing project.
"Working with Musicians in Exile was a great experience and an excellent opportunity to closely examine how our own practice relates to the music of other countries and continents," says Hamish. "The final concert in Govan felt like a vital celebration of cultural collaboration in a time when the borders of our own country feel increasingly restrictive."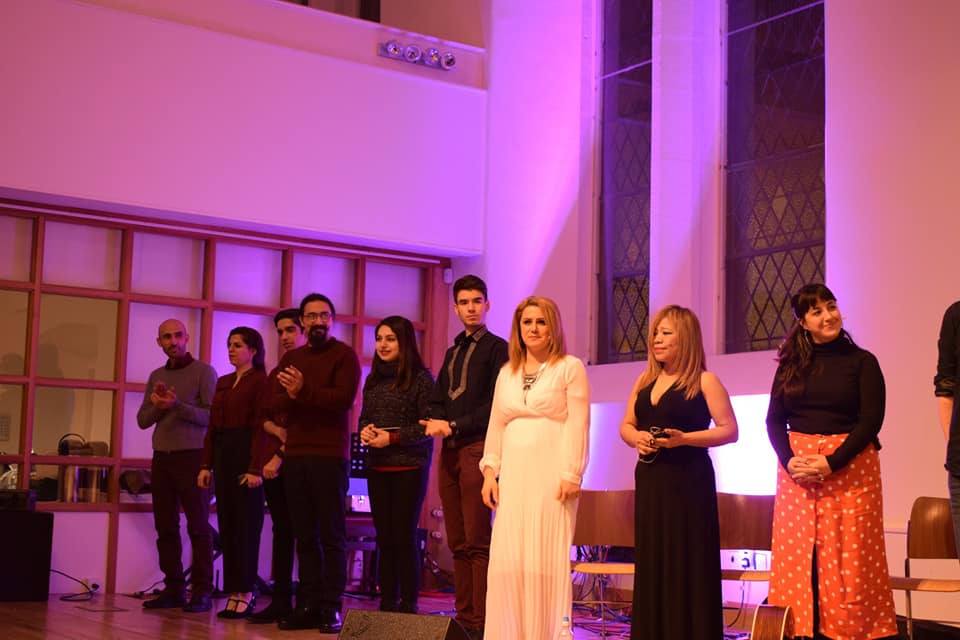 Paul MacAlindin is founding musical director of The Glasgow Barons and organiser of Musicians of Exile:
"For Musicians in Exile, working alongside Hamish and Catherine gave us a chance to tune into Highland and Island culture close up over six weeks. Whilst music unites us, the journeys we made between each other in the ensemble, from Gaelic to Kurdish to Spanish and back, spanned large psychic distances and required quite some courage and confidence. These are the extraordinary projects which deepen our understanding of cultural differences, take us out of our comfort zones and create unforgettable artistic fusions.
"I remember Afshin and his son from Iran letting rip on drums at the end of a session, and Catherine looking on transfixed. The energetic signatures of each musical tradition are so distinct they can surprise, delight and startle, especially in our confined rehearsal room."
Live Music Now Scotland is very keen to replicate Traditions of the World Unite in other parts of Scotland and is currently exploring possible opportunities to repeat the project, including sources of potential funding.
The main funder for the project was Tasgadh, a fund devolved from Creative Scotland and managed by Fèisean nan Gàidheal which supports traditional arts projects in Scotland.
For more info on Musicians in Exile, visit
https://inews.co.uk/news/scotland/musicians-in-exile-meet-britains-most-unorthodox-band-made-up-of-asylum-seekers-and-refugees/