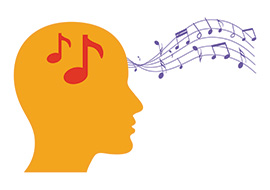 Experts in the field of neurology, psychology, rehabilitation and music therapy will gather at the Royal Society of Medicine in London on Monday 16 November to discuss the use of music interventions in older people with conditions including stroke, dementia, brain injuries and motor disorders.
A collaboration between the RSM and Live Music Now, the conference will provide the platform for an academic review of the current evidence and a discussion around areas of future research.
Professor Grenville Hancox, honorary professor of music and wellbeing at the University of Kent, will show that singing for people with motor disorders, especially those with Parkinson's, offers physical, emotional and psychological support. Drawing on six years of developmental work and research he will offer evidence to suggest that not only pleasure is derived from singing but positive personal changes that are not the result of pharmacological intervention.
Professor Norma Daykin, a social scientist at the University of Winchester, will present with colleague David Walters the evidence for the effectiveness of music for people with dementia. Together they will describe the hospital-based music project they are currently involved in which uses interactive music making to support the wellbeing of patients, carers and staff, and to enhance the general ward environment.
Dr. Wendy L. Magee, Associate Professor in Music Therapy at Temple University, Philadelphia, will discuss how music-based therapeutic interventions are used to address disorders resulting from acquired brain injury.
Professor Frederike van Wijck, a movement scientist with a background in physiotherapy and professor of neurological rehabilitation at Glasgow Caledonian University, will present the evidence on music as a complex intervention to improve life after stroke and explore the implications for clinical practice.
The keynote lecture, which will focus on future research and barriers to implementation, will be given by Professor Stephen Clift, Director, Sidney de Haan Research Centre for Arts and Health, Canterbury Christ Church University.
Evan Dawson, Executive Director, Live Music Now, said: "Live Music Now musicians have been taking music to people in care homes, hospitals, special schools and more for nearly 40 years. It is powerful and very moving. We believe music should play a much greater role in society, and are thrilled to be working with the Royal Society of Medicine to examine the latest evidence base for such work. In this unique event, we will see what is actually happening when music interventions help older people, particularly those living with longer term neurological disorders, such as dementia. This will be both an academic and a practical discussion, with leaders in the field, shaping the future of our own organisation, and those we work with."
The programme will include a short cello performance by Live Music Now musician Hermione Jones and will conclude with a panel discussion with all speakers and LMN alumnus and creative music leader, Julian West, led by Professor Martin Green, Chief Executive, Care England.
For further details about the event, and to book online, please visit the RSM's website at www.rsm.ac.uk/livemusicnow
The Royal Society of Medicine is one of the country's major providers of accredited postgraduate medical education. Each year, the RSM organises over 400 academic and public events, spanning global health, medical innovation and over 60 medical specialties, providing a multi-disciplinary forum for discussion and debate. Videos of many key lectures are also available online, increasing access to the Society's education programme. The RSM is home to one of the finest medical libraries in the world, with an extensive collection of books, journals, electronic journals and online medical databases. As well as providing medical education, the Society aims to promote an exchange of information and ideas on the science, practice and organisation of medicine, both within the health professions and with responsible and informed public opinion. The Society is not a policy-making body and does not issue guidelines or standards of care.