Thanks to D'Oyly Carte Charitable Trust, LMN's South East branch has completed a series of 10 Songs and Scones concerts, for older people living in London, in order to improve wellbeing and tackle social isolation.
Working in partnership with a range of care organizations including day centres, care homes, friendship clubs and older people's forums, we were able to invite elderly people out into their local community to enjoy inspiring music from LMN's professional musicians and to enjoy socialising together.
The series of concerts benefitted over 400 older people, reaching communities in London's inner and outer boroughs of Camden, Westminster, Lambeth, Haringey, Sutton, Wandsworth, Enfield, Hillingdon, and Richmond.
Included in the series was our first partnership with Highgate School, where our 'girl band' The Leading Ladies performed to a capacity audience of 45 older people from care homes and day centres in Haringey. This concert enabled us to form a new partnership with the school, and all present benefitted from a joyful blend of generations.
One of the pleasures of this project has been talking with older audiences and hearing their responses to music. Here is some feedback:
'Weren't the ladies who came to sing last week lovely? They had so much empathy. I mean, they took the time to give each one of us a bit of their love." 86 year old carer, Healthy Living Club, Stockwell
'I was feeling poorly this morning, but the music was the best medicine I could have asked for.' (audience member Highgate School)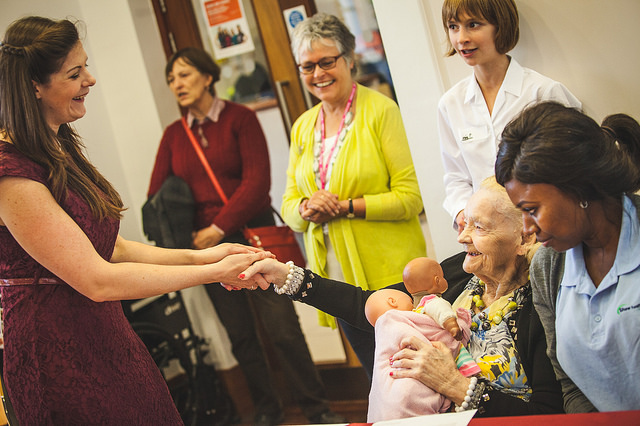 There was a real buzz in the air, and a sense of shared special time. It was evident that residents felt they had experienced something they felt part of and enjoyed'. Sarah Withey, Dalemead Care Home
The music helped me to speak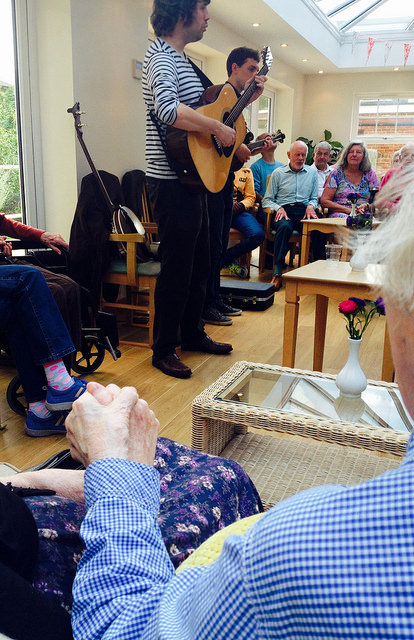 out. They sang my Mum's song 'Danny Boy'. audience member, Healthy Living Club, Stockwell.
'The session at the Healthy Living Club at Lingham Court was in short and absolute joy. Anna and Jocelyn were not only fine musicians but also incredibly sensitive to their audience. What was also very impressive was their ability, and willingness, to go with the flow and adapt their programme when Danny Boy was requested. ' Melanie Jones, musician in residence, Healthy Living Club
Songs and Scones audiences have enjoyed folk, jazz and classical music from LMN ensembles Anna Sideris and Jocelyn Freeman, The Leading Ladies, Acacia Flute and Harp Duo, Quintable Brass Ensemble, Antara Flute and Harp Duo, The Absentees, and Morph Trio.
LMN's South East branch would like to say a special thank you to the volunteers who supported this project – for their help in reaching out to older people and for their hands-on approach to serving tea and scones, and washing up!
LMN created the Songs and Scones programme to share the uplifting benefits of high quality live music concerts with older people in the community see how the programme's developed across the UK here.