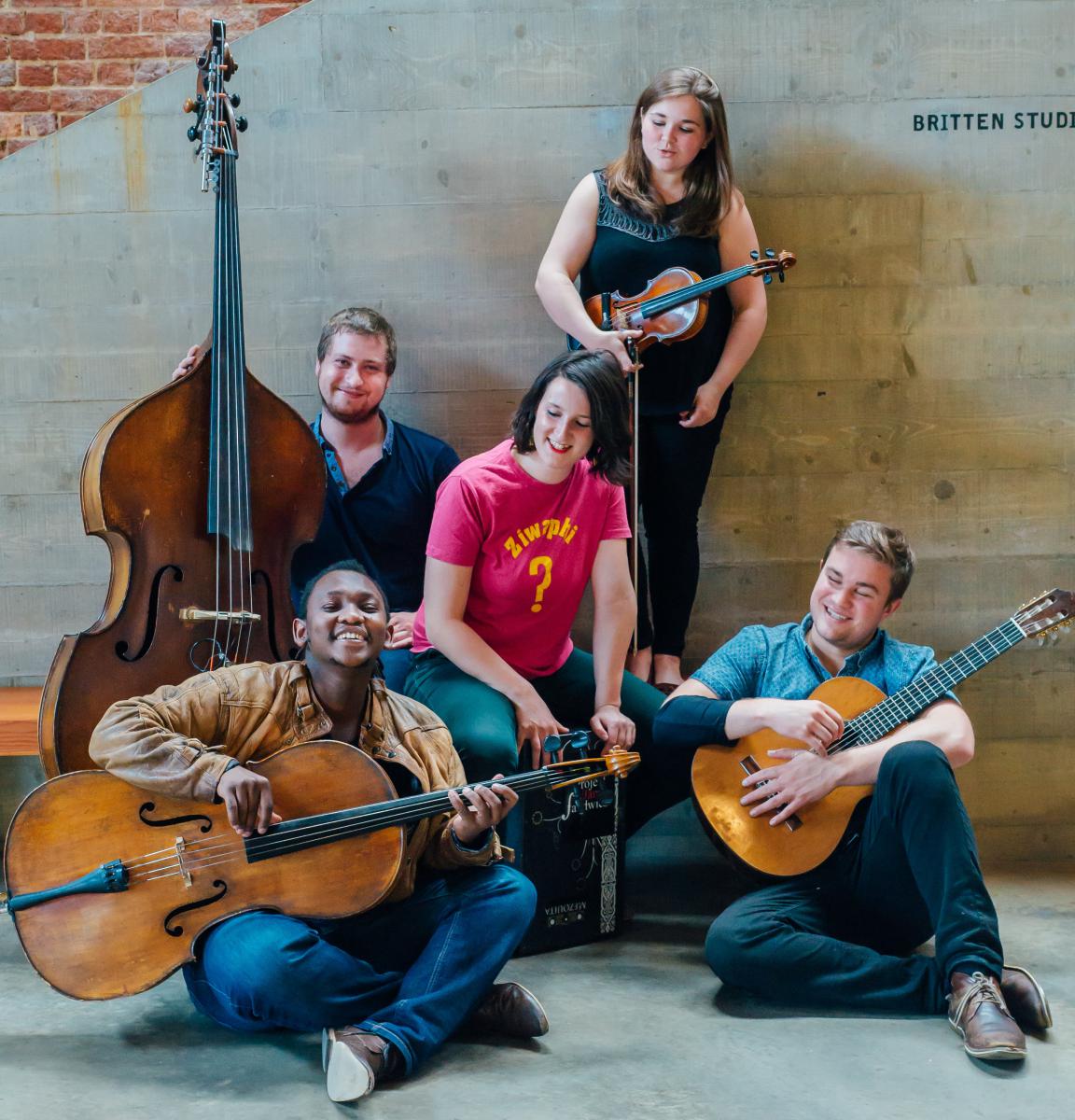 LMN North West ensemble Kabantu (formerly Project Jam Sandwich) is a dynamic collaboration of instruments and genres, adding their stamp to folk music from all over the globe. This impressive line-up of violin, cello, guitar, double bass and percussion includes BBC Young Musician of the Year Category Finalists, Royal Over-Seas League winners and international concerto soloists who met whilst studying at the Royal Northern College of Music in Manchester, UK.

Recent performance highlights include a BBC Radio 3 broadcast of their BBC Prom at the Royal Albert Hall, BBC Radio 3's In Tune Programme and a string of the UK's most prestigious music festivals including: Celtic Connections, Fishguard, Oundle and Ulverston International Music Festivals, Swaledale Festival (Top 10 UK Festivals – The Guardian), Greenbelt, Aldeburgh and Musicport Festivals and Ireby Folk Festival. They were also featured artists in the 2015 RNCM Day of Strings, Percussion and Chamber Music Festivals and were selected as part of the highly competitive audition process to play their own Bridgewater Hall Concert as part of the Manchester Midday Concert Series.
Live Music Now caught up with Kabantu violinist Katie Foster and asked her a few questions about her time on the scheme so far…
How long have you all been playing together? What made you decide to audition for LMN?
We started playing together in September 2013 after Delia and Abel fancied putting together a world music ensemble. In the first few rehearsals we experimented a little with fusing styles together, sharing elements of all our different musical backgrounds- folk, jazz, and pop amongst them, the end result being Project Jam Sandwich (renamed Kabantu in 2016)! We have such a lot of fun with our music that we wanted to share it with schools, hospitals and retirement homes, encouraging plenty of participation in performances which seemed to fit the ethos of Live Music Now really well. The nature of our music means that often our concerts showcase sounds and styles of music that are unfamiliar to people, but through performance, interaction and all-inclusive music making we hope to give our audiences a taste of some of the truly vibrant music out there.
You're now into your second year on the scheme. Can you tell us briefly about some highlights of your work with us so far?
Since joining the scheme in July 2014, we have enjoyed residencies, tours and numerous visits into primary and secondary schools, hospital units and retirement homes. From start to finish, LMN concerts are a chance to meet, chat to and make music with wonderful people, who's enthusiasm and interest in music is amongst the most genuine you will ever come across as a musician. We have delivered concerts where staff have spoken to us afterwards and explained that the child we had standing in front of their peers and conducting us had never engaged with any musical activity prior to that. Hearing the words "I hate music so I'm leaving now" from one child who then sits in awe of African melodies and salsa rhythms, and then reluctantly moves onto their next class after having a turn on the congas is an immensely special feeling for us. We don't ever intend to convert everyone to world music, our aim is simply to give our audience a jam-packed and original concert in which they can feel excited, happy and comfortable. Whether dancing at the front, sitting quietly at the back, remembered or forgotten by the following day, knowing our performance has made for an enjoyable 60 minutes is all that matters.
How has participating in LMN impacted your work as an ensemble?
Having to explain how we create and arrange music has led to us all thinking about how we build and structure our tunes, for example linking tennis to one particular tune by explaining that the melody is passed back and forth between two instruments. Now a year into the scheme, we definitely take more care in how we plan and set out all our new arrangements. The five of us are great friends and we like to showcase this friendship and the fun that we have whilst performing which involves lots of eye contact, communication and interaction. Prioritising this means being really tight as an ensemble and becoming LMN musicians has meant more time dedicated to knowing the music inside out and always having an extra trick up our sleeves! LMN concerts have also given us invaluable practice in confidently delivering introductions which has benefitted us hugely out with the scheme as well as in LMN settings. As an ensemble but also as individuals, we have taken on board the flexibility, organisation and creativity which is such a necessity in any LMN setting. Part of the fun of LMN is recognising that unexpected things will happen at some stage, but by learning from each experience and working as a team, we know that we have the necessary ensemble skills to deliver a successful concert regardless.
Would you recommend LMN to other musicians? If yes, why?
The amazing thing about LMN is the equal benefit it gives to both performers and audiences. It sets in motion a continuous cycle between even the smallest reaction to a concert, the smile on someone's face, the sense of achievement you feel as a performer, the recommendation of LMN concerts and the ongoing support for a wonderful organisation. Even though we have only been involved for a year, we would all recommend LMN. It teaches you how to put into action communication through music on so many levels. It encourages you to develop new skills and improve existing ones with the help and support of regional staff and invaluable training sessions. LMN can be challenging but is rewarding in return with audiences often giving you a refreshingly honest and genuine response to what you present as a musician, something which other concert settings lack. As a quintet we are so grateful to the ongoing support of LMN and hope to continue our work with them around the country for as long as they'll have us!
Any top tips you could pass on to other musicians just coming on to the scheme?
Assume that your 60 minute concert is the only live music event your audience has ever experienced. Pack it full of music that you're passionate about, information that will excite or inspire people, or get them reminiscing and set yourself the challenge of making it a really memorable hour. Don't hesitate to chat to your audience and say hello before you start- this often puts everyone (including yourself) at ease before you have even started. Finally, always give it 100%. In our experience, LMN audiences are some of the most supportive and appreciative you will come across so give it your best and you'll feel on top of the world by the end!
For more information, check out their website: www.kabantu.com