On 1 February 2023 we welcome Jennifer Abell as the new National Director for Live Music Now Cymru.
Jen joins us from South Riverside Community Development Centre, a central Cardiff charity dedicated to increasing social equality and reducing poverty, where she was Director, and before that was Community Fundraising and Area Manager for Royal National Lifeboat Institution (RNLI) and Peer Support Lead Cymru for National Autistic Society.
She will lead a restructured national team in Wales comprising newly-appointed Senior Project Managers Beth Caudle (Children and Young People) and Heather Chandler (Adult Health and Social Care), with support from new Projects Coordinator Laura Wood, Lullaby Project Manager Jay Mendivil and Musical Mondays Manager Philip May.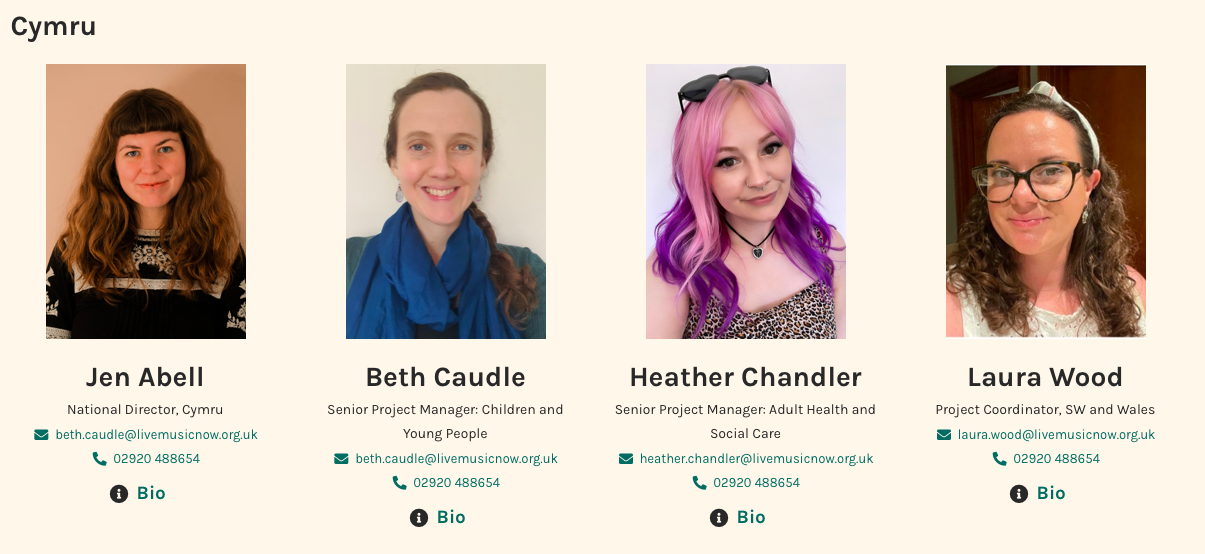 Live Music Now Cymru has been working to deliver significant and lasting change for the people of Wales and the UK. Many of our programmes have their origins in Wales, and with the Well-being of Future Generations Act and the Investment Review of Arts Council of Wales this is set to continue as we join forces with forward thinking and innovative partners.
With Jen's appointment, we look to increase our impact in North and West Wales and deepen our work with those communities we already serve. Welsh language mainstreaming, improving mental health, tackling health inequalities, exploring our heritage, and supporting our communities are at the fore of our Strategic Intent, and our musicians and staff team are excited to play their part in carrying on this vital work.
On joining Live Music Now Cymru, Jen says:
"At a time of acute economic and social challenge for many living in Wales, Live Music Now Cymru is a beacon of hope. Musical encounters hold a treasure trove of benefits; social connection, increasing focus levels and creative and social skills development.
I am already impressed by the contributions Live Music Now Cymru is making to the musical and cultural fabric of Wales; employing and training more than 40 ensembles in Wales per annum, providing musical experiences for people in every county of Wales and last year, providing a flagship conference for creative practitioners working with older people in St Fagans Museum.
I look forward to working with our restructured team in Wales, a blend of fresh eyes and experienced Live Music Now stalwarts. Together we will work to increase opportunities for people living in Wales to access meaningful musical experiences.
I leave you with this quote from Plato, a representation of my own experience of music, and a reminder to make time to listen to your favourite song today: 'Music gives soul to the universe, and wings to the mind'.
On behalf of the Live Music Now Board, Welsh trustee Lowri Clement welcomed Jen:
"We are delighted with Jen's appointment and look forward to her taking up the role.  Jen brings with her a wealth of business development skills and we look forward to her leading LMNC into a new and prosperous future which will see us continue to work across all areas of Wales.  Jen will lead a restructured Wales team working alongside newly appointed senior project managers, Heather Chandler and Beth Caudle.
With this enhanced strategic role, Jen will be part of the organisation's UK's senior management team, ensuring a closer working partnership across the whole of the organisation.
Jen's appointment will signal an exciting new phase of growth for LMNC and we look forward to an exciting new future for the charity in Wales. "