New opera company Theatre of Sound, together with Live Music Now and the London Sinfonietta, will present two special events in London alongside their exciting new production of Béla Bartok's opera Bluebeard's Castle this November.
Usually presented as a Gothic horror story centred around an abusive relationship, Theatre of Sound's new, fully staged presentation of Bartok's only opera reimagines the piece as a love story between a long married couple – Duke Bluebeard and Judith – coming to terms with living with dementia. A co-production with Opera Ventures, performances will take place at Stone Nest – a stunning former Welsh chapel in the heart of London's West End – from 4-14 November featuring a stellar cast of star singers with soprano Susan Bullock, bass-baritone Gerald Finley, baritone Michael Mayes and soprano Gweneth Ann Rand sharing the principal roles of Duke Bluebeard and Judith.
Inspired by the themes of this unique reimagining of one of opera's great masterpieces and in collaboration with Rare Dementia Support, Judith's Castle will see award-winning composer Electra Perivolaris working with families living with dementia to create new pieces of music drawn from their stories, experiences and musical memories. These works will have their world premieres this autumn, at 2pm on Saturday 6 November and Saturday 13 November in relaxed performances on the set of the opera at Stone Nest, performed by Live Music Now musicians Cathy Hare (flute) and Mary Reid (harp) and the London Sinfonietta together with singers Gweneth Ann Rand and Michael Mayes.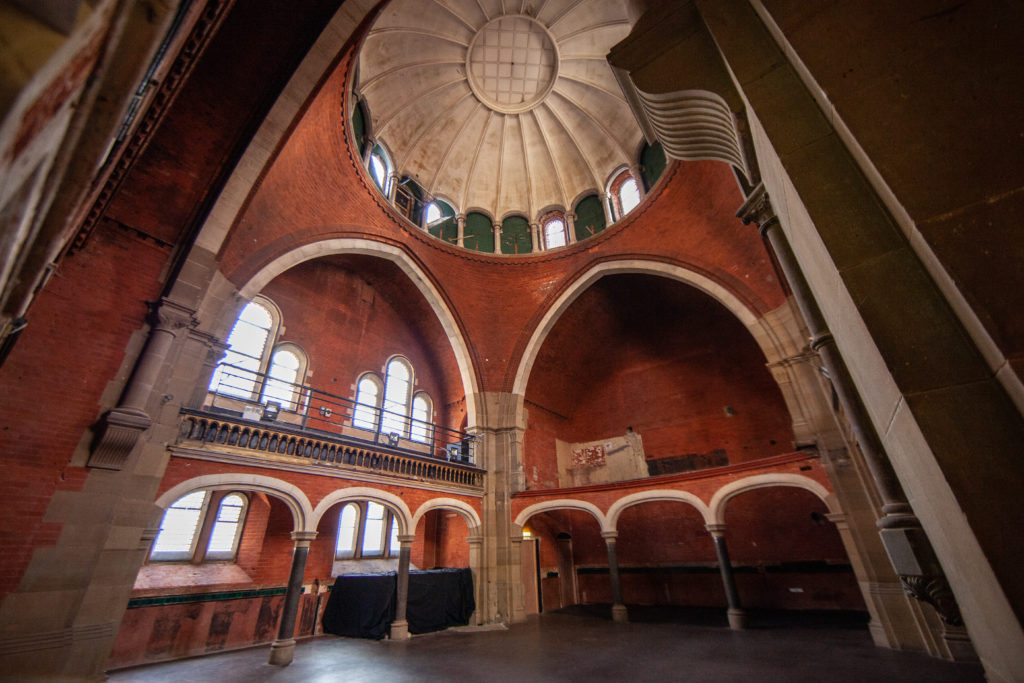 The concerts will also include reflections and insights from Live Music Now alumnus Julian West – a leading expert in the field of dementia and music research – alongside poetry readings by actor and Alzheimer's Society ambassador Kevin Whately. The performances will end with an opportunity for a dialogue between the audience and performers to discuss the role music can play to improve the lives of those living with dementia.
"Live Music Now is delighted to be working with Electra on this new commission. With this piece we want to challenge society's view of what it means to live with a dementia diagnosis; to celebrate the creative potential and shared musical identity of our families, forged over a lifetime's experiences together." – Nina Swann, Live Music Now Executive Director
Composer Electra Perivolaris says: "I am delighted to be working with Theatre of Sound, Live Music Now, and the London Sinfonietta on Judith's Castle. I see the composer as playing a significant role in the community and my work on inclusive projects with different societal groups has shaped my compositional practice. Having worked as a composer with the Wigmore Hall Learning department and Glyndebourne Opera on projects for people living with dementia, I am committed to challenging perceptions of dementia through music. Judith's Castle is an important initiative which will enable us to develop shared understandings through collaborative composition with families affected by dementia. Together we will create a lasting legacy through the new pieces of music. I am looking forward to sharing the stories of the people who I am working with, and to celebrating the intrinsic creativity and energy which exists within everyone regardless of age."
Stephen Higgins and Daisy Evans, co-founders of Theatre of Sound, say: "It was important to us from the outset to create a project to run alongside and complement our production of Bluebeard's Castle- celebrating creativity in aging and investigating the power and impact of music on those living with dementia. We are thrilled to be able to present this new collaboration between Live Music Now, the London Sinfonietta and composer Electra Perivolaris and are greatly looking forward to hearing the music that they create together through workshops with the families. We hope that this will be a catalyst for an ongoing partnership between us all and lead to many more events in the future, and we are immensely grateful to Sir Vernon Ellis for his belief in and support of our ideas. We passionately believe that age is not a barrier to creativity and invention."
The two relaxed and informal performances will take place at 2pm on Saturday 6 and Saturday 13 November lasting approximately 45 minutes. Thanks to generous support from the Sir Vernon Ellis Foundation, the events will be free of charge to all.
For more information and to book a place please follow this link.