Live Music Now musicians in Wales have been on their first creative retreat, in the glorious surrounds of sunny Somerset. Between 20th-22nd September 2021, five musicians took a wellness break with a focus on developing songwriting skills thanks to funding from Arts Council Wales' second round of the Cultural Recovery Fund.
As well as creative development, the retreat provided space for rest, relaxation and creative collaboration for the musicians after the last 18 months of the pandemic affected every aspect of their lives.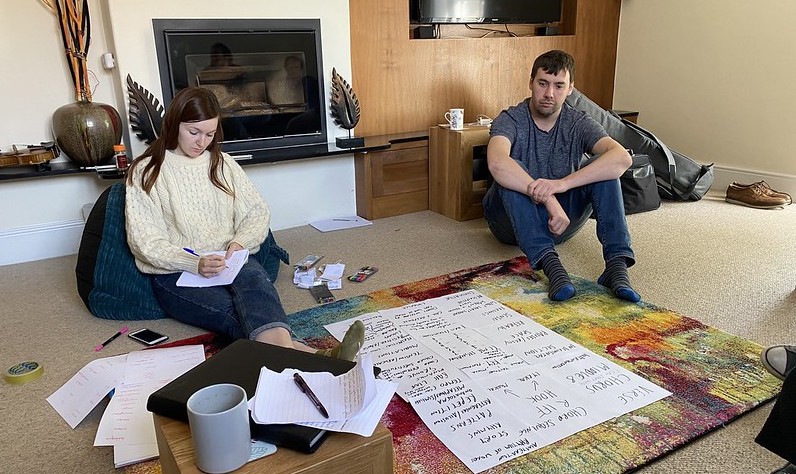 Folk alumni Maz O'Connor (singer/songwriter) and Dan Walsh (banjo/singer/songwriter) led the retreat which included special evening performances from both where they shared the stories behind their songs and introduced the musicians to their own song writing style and approach.
Multi-sensory tools for sparking inspiration and reminiscence helped musicians direct their own creative practice and support them in leading community songwriting projects.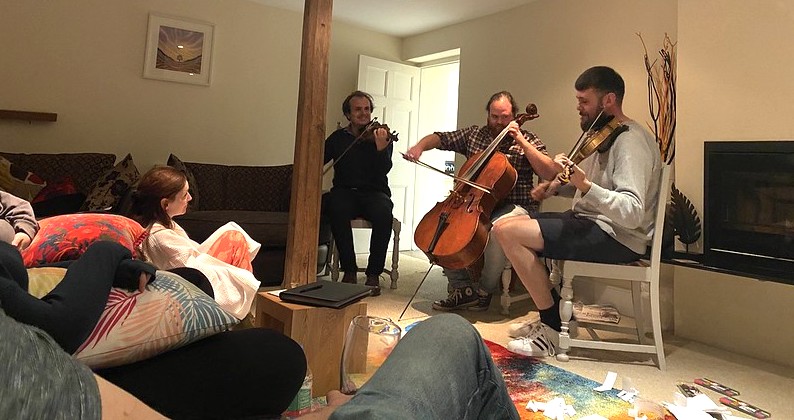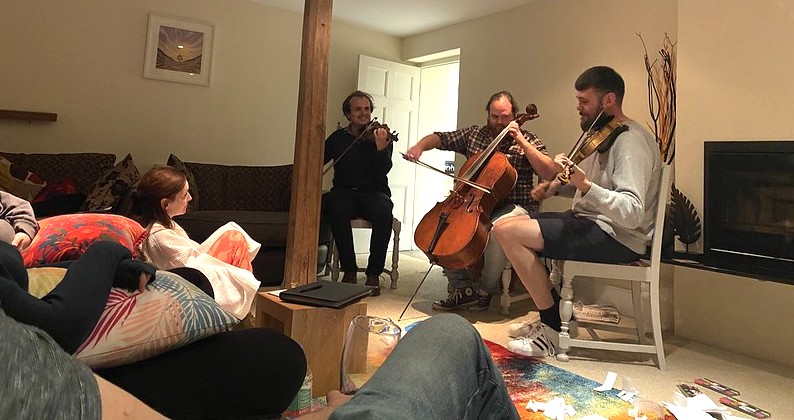 Sessions deconstructing songs from different artists and genres were extremely helpful in exploring intent when songwriting, from folk to pop and beyond, breaking down the ingredients of successful songwriting and choosing the right elements to fit alongside the purpose for your song.
Practical challenges included re-writing traditional fairy tales into point-of-view letters from minor characters, working in groups to turn these into the start of a song. Chamber folk trio Vrï used the retreat as an opportunity to kick start the writing for their second album which will be recorded in the New Year, and musicians Angharad Jenkins (fiddle/voice) and Nicole Boardman (Mezzo Soprano) found the opportunity to work cross-genre creatively inspiring.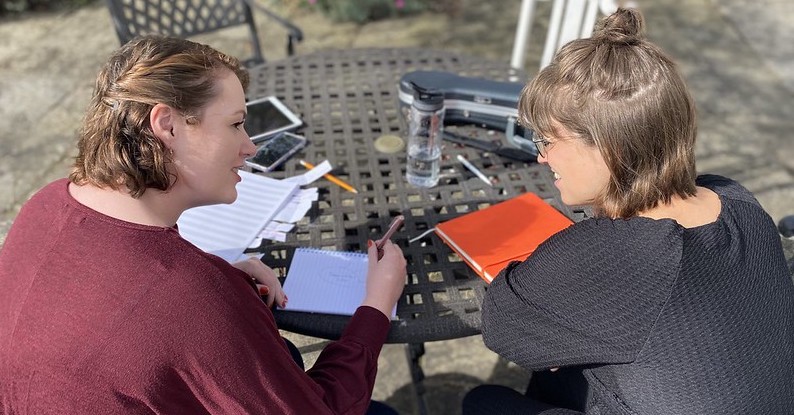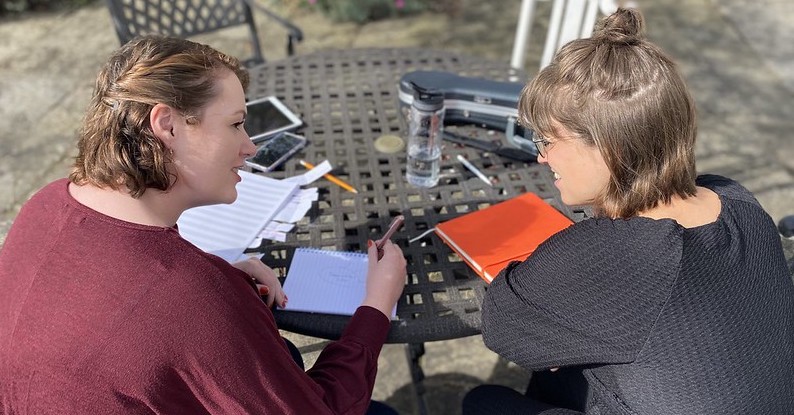 Most of the musicians had experience composing tunes but were less confident in their songwriting abilities, especially around crafting lyrics. The retreat was the next stage in a song writing journey for the musicians who worked on the Heritage Lottery funded project Unlocked/Datgloi earlier in the year alongside mentor, singer/songwriter Gavin Osborn and folk musician/composer/lecturer Stacey Blythe who explored for leading songwriting sessions within community groups.
All the musicians will be working on future songwriting projects with LMN Wales in areas such as early years and supporting NHS and care home teams amongst others.
Musician Angharad Jenkins wrote:
"I was hoping to be able to relax, and get away from home for a few days, to have some 'me time.' I haven't been away on holiday or anything really since having a baby (over two years ago)!
It was really nice to play with the other musicians, and to write a song with Nicole who is an opera singer. I haven't worked creatively with an opera singer before, and so it challenged me in new ways, and made me think outside of my comfort zone. I see huge benefit from working across-genres.
I have come away with lots of ideas on how to run songwriting workshops in the community. It was good to be reminded of some of the tools we used in song writing. I particularly enjoyed the smell exercise and the automatic writing. It was also a thrill for me to try out one of my songs with some of the other musicians – even though they are friends of mine, it's something we actually don't have much time to do.
Maz and Dan were very experienced songwriters and very talented musicians. I really enjoyed listening to their concerts and hearing about the background to their songs. They were very generous with their ideas, and I like the style in which they lead. One saying which will stay with me is something which Maz said, 'Songwriting is like opening a rusty tap. It can remain closed for a long time, but once you open it, the songs will flow.'

Thank you so much for organising this time LMN – I'm so grateful, it has been a lovely few days with some great musicians!"